Cornbread is the perfect complement to pretty much any meal. It's perfect for sopping up extra gravy. It goes great crumbled into a bowl of greens, just soaking up all that delicious potlikker (the liquid created from cooking collards and smoked meats). It can be enjoyed with extremely savory dishes like chili or sweetened up a bit and enjoyed as dessert. Cornbread has been a staple in my family for so long and everyone has a different way of making it. This recipe is halfway between cake and cornbread, only slightly sweet, then topped with honey butter and coarse sea salt for a salty-sweet burst of flavor in each bite.
Ingredients you'll need
Baking & Pantry Items
Corn meal
All-purpose flour
Baking powder
Baking soda
Granulated sugar
Kosher and/or sea salt (sea salt is for honey butter, optional)
Powdered sugar (for honey butter, optional)
Honey (for honey butter, optional)
Dairy
Unsalted butter
Buttermilk
Large eggs
Equipment you'll need
Measuring cups/spoons
Two medium to large mixing bowls
Whisk or sift
Rubber spatula
Cast iron pan
Why a cast iron pan?
Cast iron pans create a crust on the cornbread that is unlike anything you'll make in a glass, stainless steel, or aluminum pan. The dark color conducts heat better and the thick gauge of the cast iron helps cook things more evenly. So use a cast iron pan for your perfect pan of cornbread, if you can – it's science!
It's not necessary to use a cast iron pan though! You can preheat any oven-safe pan and pour in the batter to create a similar (but admittedly less crusty) crust.
Please remember to always use an oven mitt or towel to retrieve any pan, but especially cast iron pans from the oven. Sometimes we forget that, yes, even the handle will be hot enough to melt off the skin of your hand.
Making the batter
The best part about making cornbread is how easy it is to whip up the batter. Here are the steps to follow to get it done:
Step 1: Get prepped
Since you're baking, the first steps is to preheat that oven. For a cornbread with a deliciously browned crust, preheat the oven to 425º F and place the cast iron pan in the oven for 10 minutes to get it super hot.
The oven will eventually be reduced to 375º F to finish baking, but the piping hot pan will start cooking the batter as soon as it hits. It will sizzle and that's exactly what you want.
Step 2: Melt the butter
You can either melt the butter directly in the cast iron pan while it's preheating in the oven or use a microwave. Either way, most of the melted butter will end up in the wet ingredients bowl. The remaining 1-2 tablespoons should be poured into the pan you plan on using to bake your cornbread.
Spread this butter around the bottom and sides of the dish to create a barrier that adds a crisp texture, flavor, and helps the cornbread to release from the pan more easily.
Step 3: Combine the rest of the wet ingredients
In one mixing bowl whisk together melted butter, buttermilk, and eggs. The acid in the buttermilk helps keep the cornbread super moist.
Sour cream or plain greek yogurt can also be used instead of buttermilk. If you don't have any of the "soured" options, feel free to use whole milk or coconut milk.
A note about the butter: any fat can be used, but we all know how delicious butter makes everything. Other options are duck fat, bacon drippings, or even plain or vegetable oil.
Step 4: Whisk or sift together the dry ingredients
Flour. Cornmeal. Baking powder. Baking soda. Salt. Sugar. The dry ingredients should be whisked or sifted together to evenly distribute all of the different ingredients.
About using cornmeal and flour
Cornmeal gives cornbread that legendary yellow tint and a grittier texture that somehow makes it seem more hearty than a cake.
Flour adds light fluffiness.
A ratio of 1:1 or 1 part cornmeal to 1 part flour provides the best of both worlds. A hearty and filling cornbread that isn't too chewy and dense.
For a cornbread that is cakier, use more flour than cornmeal. For less fluffy cornbread, use more cornmeal than flour. The recipe is adjustable as long as the combined amount of flour and cornmeal stays the same.
About sugar
There's always a debate about the amount of sugar added to cornbread, and to that I will say one thing – do what you want. If you like your cornbread to basically be a corn-flavored cake, add up to 2/3 of a cup to your cornbread batter.
If you only want to balance the saltiness of the other ingredients and make a tender cornbread, use as little as 2-3 tablespoons.
Anywhere in between is obviously fine as well. This is truly a personal preference thing. Although, maybe you should get some opinions from whoever else you're feeding because there are legit lines drawn in the cornbread-sweetness-debate sand.
Why baking powder AND baking soda?
Both baking powder and baking soda are leavening agents used to help baked goods rise, which makes them airy and light.
When a recipe contains both baking powder and baking soda, the baking powder does most of the leavening. The baking soda is just added to neutralize the acids (buttermilk, in this case) in the recipe so the end result isn't excessively tangy. It also adds tenderness and some leavening.
Step 5: Fold the wet ingredients into the dry ingredients
Gently fold the dry ingredients from the outsides of the bowl over into the wet ingredients to combine the ingredients efficiently without the overmixing that's often involved in whisking and stirring.
You want the ingredients to be almost completely combined so a few streaks of dry mix peeking through won't hurt
Step 6: Bake the cornbread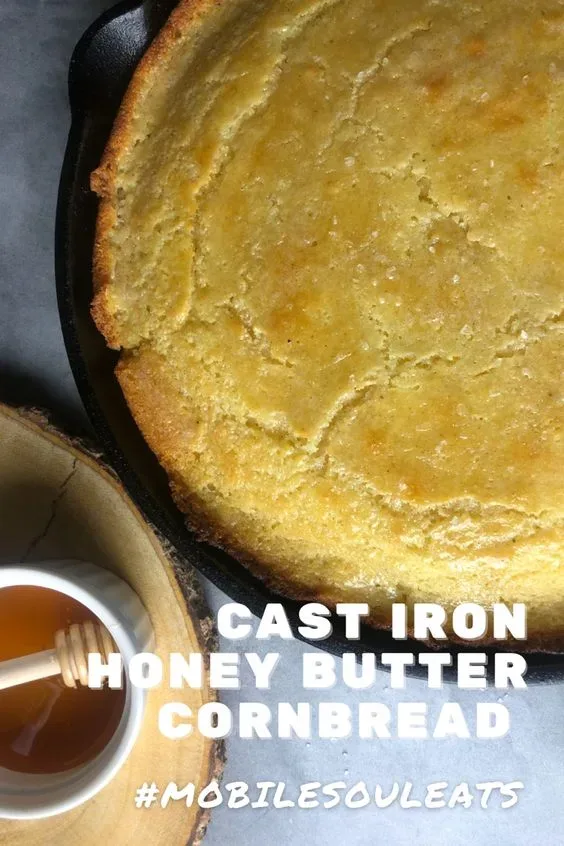 How to make the honey butter
Honey butter is one of those things that is almost impossible to mess up. It's made from basic ingredients that you probably already have on hand and the proportions are flexible. Use the following recipe as a starting point:
Ingredients
1 cup softened butter
1/3 cup honey
1/4 teaspoon sea salt (optional, if using salted butter)
3 tablespoons powdered sugar
1-2 teaspoons ground cinnamon (optional)
Instructions
Whip softened butter until light and fluffy. Add honey, powdered sugar, and ground cinnamon and continue whipping until smooth.
Check out our full honey butter recipe for more variations, tips, and tricks.
Other ways to add some flare to your cornbread
Want even more fresh corn flavor? Some folks like to add actual corn in their cornbread. It adds bright pops of color and flavor. Feel free to use canned corn or fresh corn that you've shucked, cleaned, and blanched. Adding a can of creamed corn will add that fresh corn flavor with some additional sweetness and creaminess.
Add some spice: Adding 1/2 to 1 teaspoon of cayenne pepper or red pepper flakes to add a little heat. Diced jalapeno peppers or half a can of green chiles can also be added to your cornbread batter for another layer of heat.
Like your cornbread super sweet? Just add 2-3x more sugar or honey. You can even try molasses or maple syrup for a more rustic and woody sweetness.
Add an herby kick: Add 1 tablespoon of freshly chopped herbs like thyme or rosemary to your melted (or browned) butter to infuse the flavor into the butter. Alternatively, the herbs can be chopped and folded into the batter before baking.
For some cool presentation: Top with sugar and toast to finish. The same can be done with cheese. They will both brown to add some interesting texture, color, and complex flavors.
---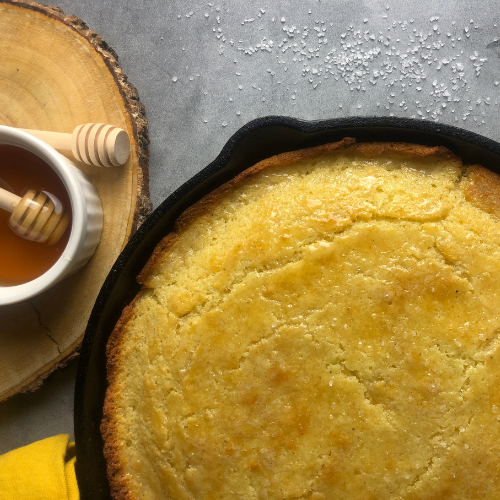 Honey Butter Cornbread
A perfect combination of golden, crusty cornbread and a slightly sweet fluffy cake. Smothered in honey butter.
Equipment
Cast iron pan

Mixing bowls

Measuring spoons/cups

Whisk

Rubber spatula
Ingredients
For the cornbread
½

cup

unsalted butter

or duck fat or bacon drippings

1

cup

coarsely ground cornmeal

1

cup

all-purpose flour

1/4

cup

granulated sugar

1

teaspoon

kosher salt

2

teaspoons

baking powder

1/2

teaspoon

baking soda

1/3

cup

whole milk

1

cup

buttermilk

2

eggs

lightly beaten
For the honey butter
1

cup

unsalted butter room temperature

1/3

cup

honey

1/4

teaspoon

sea salt optional

if using salted butter

3

Tablespoons

powdered sugar

1

teaspoon

ground cinnamon optional

but recommended
Instructions
Preheat the oven to 425º F and place a 9-inch cast iron skillet inside to heat while you make the batter.

Melt butter by placing it in the cast iron skillet or heat in the microwave. Carefully remove the skillet from the oven (with an oven mit!) and pour all but 1 tablespoon of the butter into a mixing bowl, then put the pan back in the oven.

Add buttermilk and eggs to the mixing bowl with the butter and whisk until combined.

In another mixing bowl, whisk together the cornmeal, flour, sugar, salt, baking powder, and baking soda.

Pour wet ingredients into the dry ingredients and fold them together until the batter is almost completely combined.

Carefully remove the hot skillet from the oven. Reduce oven temperature to 375º F.

Gently swirl the pan to coat the bottom and sides of the pan with the butter. Pour the batter into the skillet and place it in the center of the oven.

Bake until the center is firm and or a toothpick inserted into the center comes out clean, 20 to 25 minutes. While the cornbread bakes and cools, make the honey butter.
Making honey butter
Whip softened butter until light and fluffy. Combine with honey, powdered sugar, and sea salt then continue to whip until completely smooth.

Spread honey butter over the top of finished cornbread.
Notes
Feel free to use half of the sugar for a less sweet cornbread or as much as 2/3 cup of sugar for a sweeter, cake-like cornbread
Whole milk, coconut milk, sour cream, or plain Greek yogurt can be substituted for all or part of the buttermilk In this recipe.
My name is Lena aka The Biscuit Lady, and my favorite part about cooking, baking, and experimenting with food is realizing that something isn't as hard as I previously thought. It's the learning, growth, and immense pride that come with developing new, delicious skills.
My style of cooking combines familiar flavors and ingredients with techniques I've picked up from traveling, reading, and eating all kinds of cuisines. I believe that food is one of those things (like music) that truly moves and connects us and this blog is my way of introducing that concept, plus a few others relating to food and community to anyone who's interested.
Besides being in the kitchen, I enjoy visual art, photography and documentaries, forests, rivers & beaches, Jeopardy! (RIP Alex Trebek), and playing made-up games with my nephews.