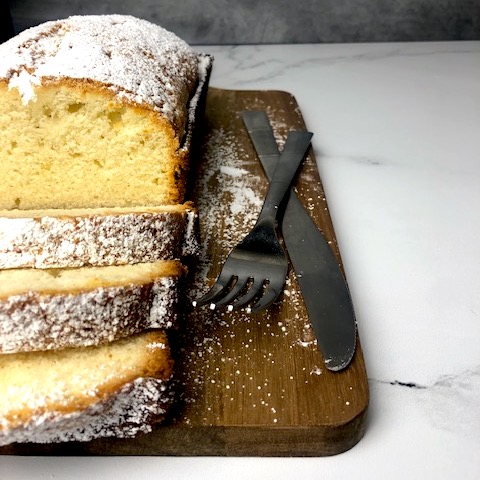 Have you been looking for a pound cake recipe that is just straightforward and easy, but still extremely delicious? A pound cake recipe with less than 10 ingredients that results in a flavorful and moist cake that can be enjoyed any time of day? A cake recipe that is flexible enough to handle the addition of fruits, nuts, etc.?
Well, look no further! Here's our No-Frills Pound Cake recipe, just for you. Sometimes we add fresh berries and nuts to the batter. Sometimes we finish it with a dusting of powdered sugar or lemon glaze, but this cake is seriously good just by itself – so let's get into it.
Ingredients you'll need
Produce
Dairy
Unsalted butter
Large eggs
Light sour cream
Baking & Pantry Items
All-purpose flour
Kosher salt
Granulated sugar
Vanilla extract
Baking powder
Equipment you'll need
Mixing bowl (or stand mixer)
Measuring spoons
Whisk
Rubber spatula
Sift
Nonstick baking spray (or use butter and flour to prepare the pan)
Loaf or bundt pan
Toothpicks (to check doneness)
Tips and Tricks for making a delicious pound cake
#1 Start with the ingredients all at room temperature
This will help them to blend together more easily and evenly when making the batter. If the ingredients are cold, they will obviously still come together eventually, but it will take a lot more effort and the batter will likely be overworked by that point. Overworked batters often become too dense after baking so avoid that by using room temperature ingredients that will combine easily.
#2 Don't overbeat the batter once the eggs are added
Overbeating the eggs in the batter will cause the pound cake's crust to be fragile instead of sturdy, crunchy, and delicious like we all expect from a good pound cake. Just mix until the yellow color disappears into the rest of the batter.
#3 Sift the dry ingredients together
Sift the dry ingredients together first. This will ensure everything is more evenly distributed and you won't feel like you have to do some much stirring when combining the dry with the wet ingredients.
#4 Grease every single nook and cranny of the loaf or bundt pan
Use an abundance of nonstick baking spray or smear butter and then dust with flour. Every single crack and crevice of the loaf of bundt pan you are using to bake the pound cake in must be coated in order to make removal a seamless and enjoyable experience. Don't let all of that delicious batter and hard work go to waste with a shotty removal job. The cake will still be perfectly delicious, but you want that wow factor too!
#5 Use butter (real butter!), if you can
The fat content in different brands of margarine can vary dramatically, which will, in turn, change the outcome of your final pound. Also, you just can't beat the flavor real butter brings. Many cakes are just fine substituting oil for butter, but we recommend using butter for pound cake.
#6 Don't rush things
Any good pound cake will take at least an hour to bake. Just wait on greatness! Also, once the cake is finished baking, wait at least 10 minutes before attempting to turn it over and get it out of the pan. Carefully run a butter knife around the edges to make sure the cake has separated from the sides and then cover the pan with a plate or another flat dish then flip! It can be a bit nerve-racking but the thrill (and the resulting pound cake) are oh so good.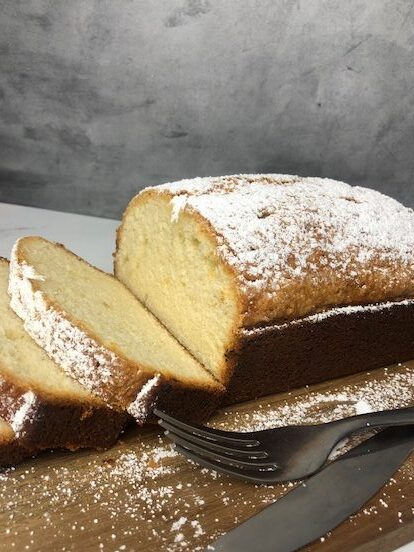 Suggestions for pound cake additions + toppings
Note: To prevent additions from sinking to the bottom of the cake, use 3 tablespoons of the dry ingredients and toss the ingredients in this before adding them into the batter. Coating them in flour will help suspend the fruit, nuts, chocolate, etc. in the final cake.
Ideas for additions to the pound cake batter
Lemon zest, lemon juice and fresh blueberries
Orange zest and hot chocolate or cocoa mix
Add pumpkin or sweet potato puree and warming spices
Hazelnut and pear
Pecans – plain or candied – can be either folded into the batter or sprinkled into the pan before pouring the batter (so it will end up on the top of the cake when its flipped upside down)
Ideas for pound cake toppings
Cranberry and slivered almonds
Top with sliced fresh fruit (strawberries, mango, kiwi)
Drizzle with caramel rum sauce
Use key lime filling as a glaze and top with thin slices of key lime or lime zest
Top with raspberries and a chocolate glaze
Other ways to boost your pound cake
Grill the pound cake and pair with fruit and whipped cream
Make it into french toast
---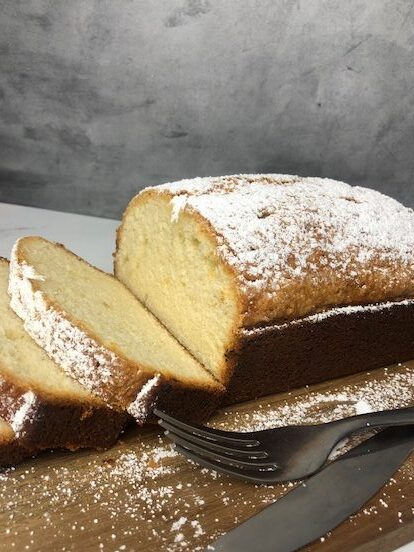 No-Frills Pound Cake
This pound cake is just the right about of sweet and moist with a crust that complements the fluffy center perfectly. Like your granny used to make.
Equipment
Mixing bowls and/or stand mixer

Whisk

Rubber spatula

Measuring spoons

Sift

Nonstick baking spray

2 loaf pans or a Bundt pan

Toothpicks (to check for doneness)
Ingredients
1

cup

unsalted butter

1 ½

cup

sugar

3

large eggs

1

teaspoon

vanilla extract

1

teaspoon

lemon juice

2

cups

all-purpose flour

1/2

teaspoon

baking powder

1/2

teaspoon

salt

1/3

teaspoon

light sour cream
Instructions
Preheat oven to 325º F.

Spray 2 – 9″ loaf pans with Bakers Joy (I highly recommend this product for all cakes)

In a mixing bowl or stand mixer, cream together your sugar & butter. Beat until fluffy.

Add eggs – one at a time & beating in-between each addition. Scrape batter down off the sides of the bowl. Add lemon juice and vanilla extract.

Sift together flour, baking powder, and salt. Add dry ingredients to the wet ingredients. Then fold sour cream into the batter – be careful to not overmix.

Pour into prepared pans. Bake 60- 75 minutes or until the toothpick test is clean.

Cool on wire rack at least 10 minutes before removing from pan & then continue to cool on a wire rack until room temperature before cutting.
Notes
Sour cream in this recipe can be substituted for plain greek yogurt