Red velvet. Another one of those foods/"flavors" that can easily spark a heated food debate. Is it "just chocolate with red food coloring" or is there something more to the classic cake (and now cookie) flavor? Technically, when red velvet is made the traditional way, there is more acidity present than in a standard chocolate cake; however, whether it is made "correctly" or not, it is delicious. As a nod to classic red velvet cake and "just chocolate cake with red food coloring", we have developed red velvet cookies two different ways.
Ingredients you'll need
Flour
Cocoa powder
Cornstarch
Baking soda
Salt
Unsalted butter softened
Brown sugar
Granulated (white) sugar
Egg
Vanilla extract
Red food coloring
White chocolate chips for option 1
For option 2:

Cream cheese softened
Powdered sugar
Milk (if needed)
Equipment you'll need
Stand or electric hand mixer
Mixing bowls
Measuring spoons/cups
Rubber spatula
Whisk
Baking sheet
Nonstick baking spray
Ice cream scoop
Sift or fine-mesh strainer
How to make red velvet cookies (with white chocolate chips)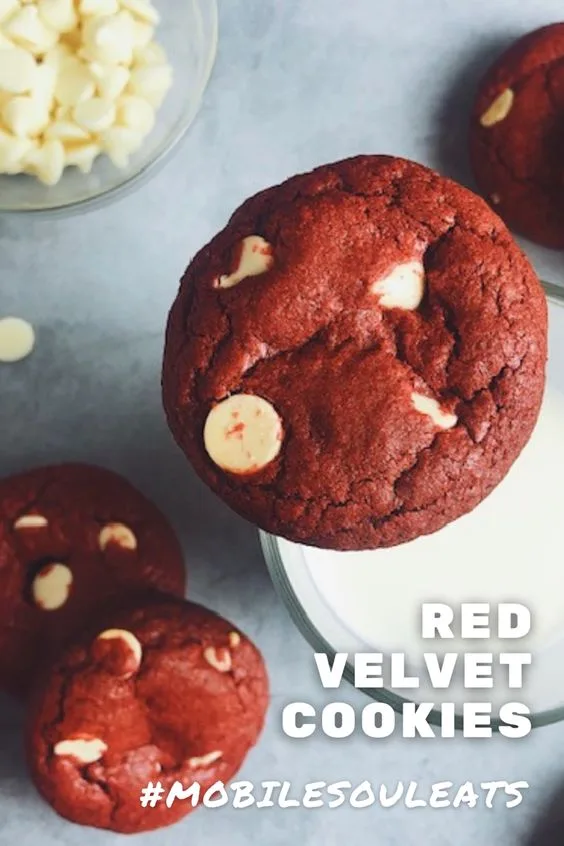 Making these cookies is very similar to making chocolate chip cookies. Almost identical. There are a few things to remember when making cookies like this that will help them come out perfectly every time, but otherwise, it's a very straightforward process.
Use a stand mixer or electric hand mixer to whip butter and sugars together. Add eggs and vanilla extract then red food coloring. In another mixing bowl whisk together flour, cocoa powder, cornstarch, baking soda, and salt. Add dry ingredients to wet ingredients then use a stand or hand mixer to combine them thoroughly. Fold in white chocolate chips with a rubber spatula then transfer the dough to a container or cover. Refrigerate for at least 30 minutes. If you're going to bake the cookies the same day, you can preheat the oven while you wait for the dough to chill.
This first way of making red velvet cookies incorporates white chocolate chips to replace the frosting component. Our "chocolate cake with red food coloring" red velvet cookies. Once the dough has chilled, use an ice cream scoop to make cookies. Bake for 9-11 minutes in 350º F oven.
Why the cornstarch?
Cornstarch isn't necessary for this recipe, but it does add a tender, crumbly quality to the cookies that reminds me of red velvet cake. If you don't have cornstarch on hand, no worries. Your cookies will come out just fine without it!
How to make red velvet cookies (with cream cheese glaze)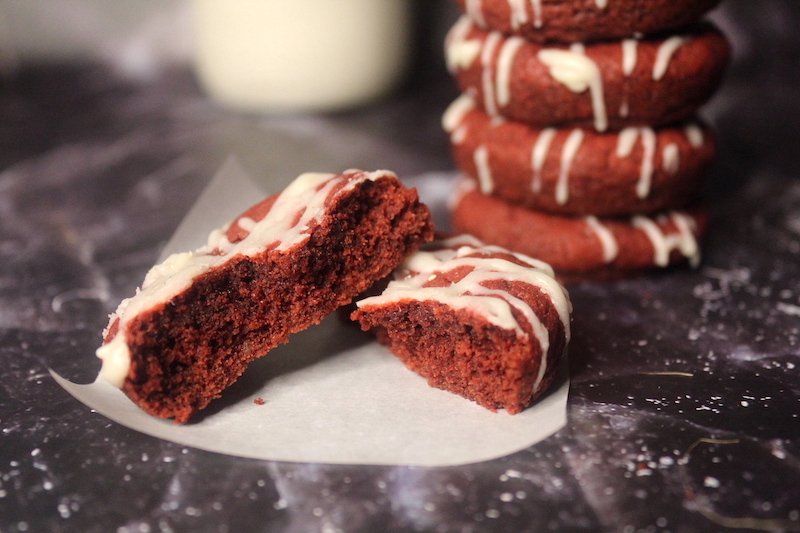 The second way we make our red velvet cookies removes the white chocolate chips and uses a cream cheese glaze to finish the cookies once they are done baking. If you're a real red velvet fan, you know it isn't complete with that cream cheese frosting!
The base cookie is still the same, so refer to the steps above for those details. To make the cream cheese glaze:
Ingredients
4 ounces very soft cream cheese
4 Tablespoons unsalted butter, melted and cooled slightly
2 teaspoons vanilla extract
1 cup powdered sugar, sifted
Milk, if needed
Instructions
Combine all of the ingredients except milk into a smooth glaze. If you need to thin it out, use more melted butter or milk to do so. Using melted butter will allow the glaze to harden as the butter cools, and adding milk will create a looser finished glaze.
Use a piping bag or squeeze bottle to decorate the finished cookies. Or just use the glaze as a dip and enjoy the cookies that way!
Do I have to sift the powdered sugar?
Honestly, no. It will taste pretty much the same; however, the powdered sugar is most likely going to clump and create a glaze that is uneven and slightly lump, no matter how much whisking you do. Again, it's no problem in the flavor department, but for visuals-sake, sifting is necessary.
How to make cookies that are the same size and prevent excess spread?
Using an ice cream scoop usually does the job of making sure the same amount of dough is in each cookie. You can also use a scale to get the balls of dough at or around the same size.
To help prevent spread, make sure to give the dough (mainly the butter in the dough) enough time to chill. After whipping up the dough, it is warm, and putting it directly in a warm oven will cause the cookies to spread more than you'd like. Another way to prevent spread is by using a muffin tin or cupcake pan to bake the cookies. The sides of the dish will physically stop the cookies from spreading any further. Be sure to use plenty of nonstick baking spray when using this method to help keep the cookies from sticking.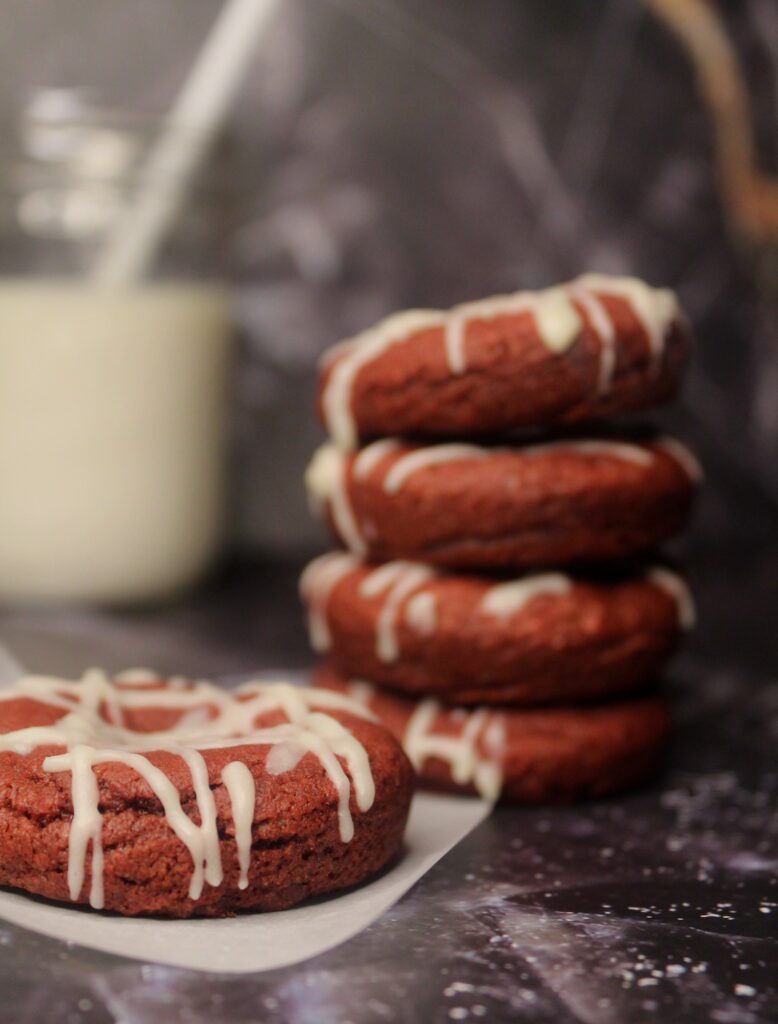 ---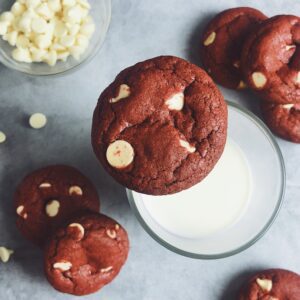 Red Velvet Cookies
A classic dessert in an incredibly delicious and convenient cookie form.
Equipment
Stand or electric hand mixer

Mixing bowls

Measuring cups or spoons

Rubber spatula

Whisk

Baking sheet

Nonstick baking spray

Ice cream scoop

Sift or fine-mesh strainer
Ingredients
1-3/4

cup

all-purpose flour

2-1/2

Tablespoons

cocoa powder

1-1/2

teaspoons

cornstarch

1

teaspoon

baking soda

1/4

teaspoon

salt

1/2

cup

unsalted butter

softened to room temperature

1/3

cup

brown sugar lightly packed

1/2

cup

white sugar

1

large egg

1

teaspoon

vanilla extract

2-3

teaspoons

red food coloring

liquid or gel

3/4

cup

white chocolate chips

for option 1
For cream cheese frosting (option 2)
4

ounces

cream cheese

at room temperature

4

Tablespoons

unsalted butter

melted and cooled

2

teaspoons

vanilla extract

1-1/2

cup

powdered sugar

sifted

extra melted butter or milk

if needed
Instructions
Whisk the flour, cocoa powder, baking soda, and salt together in a medium bowl. In a large bowl using a hand mixer or a stand mixer fitted with a whisk or paddle attachment, beat the butter until fluffy. Add sugars and beat together on high speed until completely smooth and creamy, about 1 minute. Scrap down the sides of the bowl. Add the eggs and vanilla extract then beat on high speed until combined, about 1 minute. Scrape down the sides and up the bottom of the bowl and beat again as needed to combine. Add red food coloring and beat until mixed well.

Add the dry ingredients to the wet ingredients and mix on low until combined. If you are using them, fold in white chocolate chips. Wrap or cover dough with plastic wrap and place into the fridge to chill for at least 30 minutes and up to 3 days.
Making the icing
Mix cream cheese and melted butter together until smooth. Sift in powdered sugar then add vanilla extract, and butter or milk until it reaches your desired consistency. You can either use a spoon to decorate cookies free-hand or use a piping bag or a small squeeze bottle for more precise designs.
To bake
Preheat oven to 350º F. Remove dough from the fridge. Prepare a baking sheet with nonstick spray or parchment paper. Use a spoon or ice cream scoop to make even-sized balls of dough. Place each cookie on the baking sheet. Bake for about 9-11 minutes or until the edges begin to crisp and turn dark red. Make sure the cookies are cool before frosting them.
Notes
The cream cheese glaze will be thick, but it should be thin enough to be squeezed through one of those plastic squeeze bottles or a very small pastry decorating tip.
To thin out the glaze even more, you can either add small amounts of milk and melted butter. If you want the glaze to harden, use butter as it will harden as the butter cools. Adding milk will make a glaze that is looser and it will coat the cookies differently. Add 1 teaspoon at a time until it reaches the desired consistency.