Summary
Cinnabon, move over! There's a new cinnamon roll master in town… YOU! Yes, I know baking, in general, and baking that involves yeast, in particular, can be intimidating, but I've got you! This recipe simplifies all the things that could potentially freak you out about making cinnamon rolls at home. Did I mention that you can have the cinnamon rolls warm and fresh out of the oven in less than an hour?! Cinnamon rolls are some of the most delicious sweet treats in existence, with their tender breading and gooey brown sugar-cinnamon filling. And now, you can enjoy them right at home with the added satisfaction of knowing that you did that.
---
Your Grocery List:
Baking & Pantry Items
All-purpose flour
Instant yeast
Granulated sugar
Kosher salt
Brown sugar (light or dark)
Ground cinnamon
Powdered sugar
Vanilla extract
Dairy
Whole milk or almond milk
1 large egg
Unsalted butter
Equipment/Tools You'll Need:
Mixing bowls
Measuring cups/spoons
Microwaveable cup or bowl
Instant thermometer (optional, but recommended)
Whisk
Stand mixer (optional)
Silicone mat (optional, for kneading and rolling out dough)
Rolling pin
Dental floss or offset spatula (for cutting dough into individual rolls)
9×9-inch pan or 9×13-inch (to make 9 and 12 cinnamon rolls, respectively)
Parchment paper (optional, but recommended)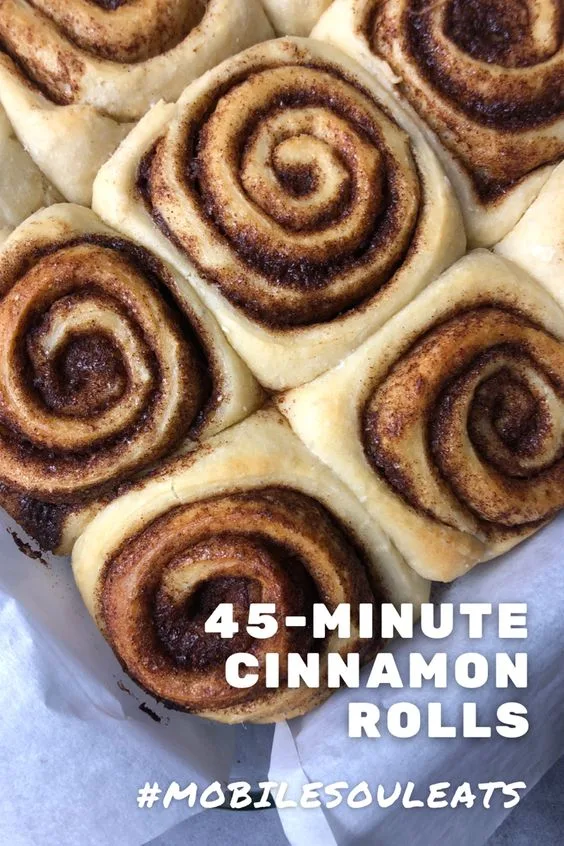 Types of yeast and their benefits
Instant yeast: Called "instant" because it can and should be added directly to the dough without first hydrating with water. Treatment during production is gentler (than for active dry yeast) so less of the yeast is dead or damaged, the yeast is more vigorous, and therefore, it is easier to overproof doughs that use it. Instant yeast is best when fermentation time is short, like in this recipe.
Instant yeast, if unopened, will last up to one year at room temperature without losing its effectiveness. If it is opened, refrigerate for several months or more, or freeze.
Active dry yeast: Like instant yeast, active dry yeast comes as dry granules sold in vacuum-packed jars or pouches. The low moisture and vacuum packaging extend shelf life. Once open, active dry yeast lasts several months at room temperature and even longer if frozen or refrigerated.
Because of the harsh treatment during production, every pound of active dry yeast has about one-quarter pound of dead yeast. Since dead and damaged yeast releases a substance (glutathione) that is detrimental to the quality of gluten in the dough, active dry yeast is not popular with professional bakers. It tends to produce slack, sticky doughs, and dense loaves. But this same slack dough is beneficial in pizza and tortilla production.
Fresh compressed yeast: Comes as moist cakes or blocks that are 30% yeast and the rest moisture. It lasts up to two weeks when stored properly and refrigerated, and three to four months when frozen. The most common way to use compressed yeast is to first dissolve it in twice its weight of warm (100º F; 38º C) water.
While compressed yeast can be crumbled directly into the dough, this is not recommended, since it risks uneven distribution of yeast throughout the dough.
The process of making cinnamon rolls
Making cinnamon rolls can be broken down into four major steps. Let's go through them now, just so you can see how simple it can be.
Making the dough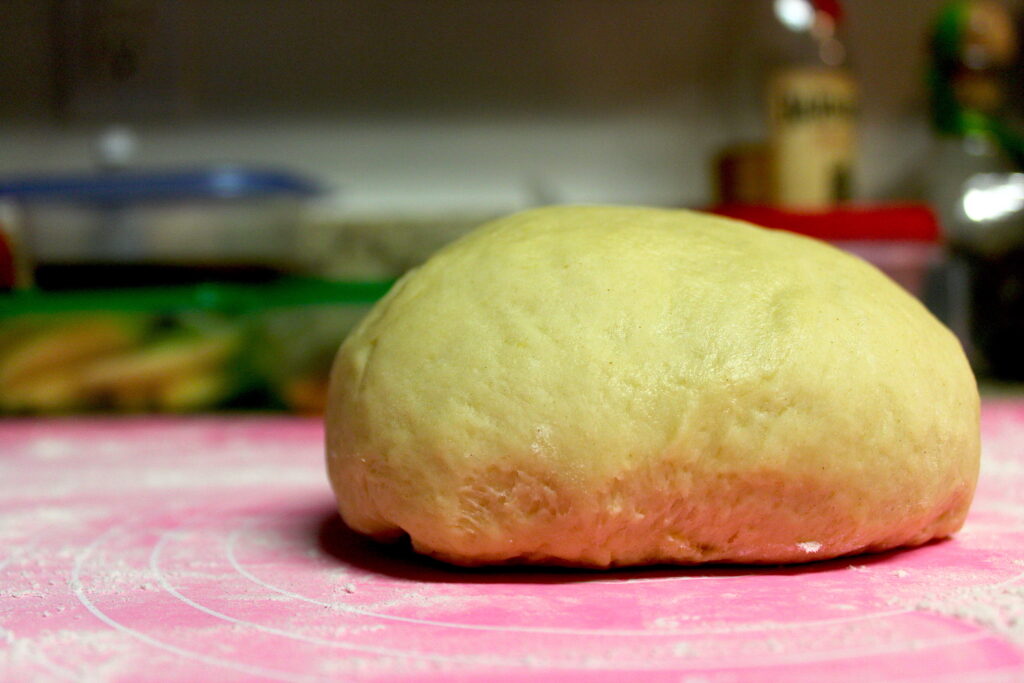 Step one. Mix together flour, sugar, salt, and instant yeast packet. Step two. Combine water, milk, and butter then heat in the microwave until the butter is melted, about 45 seconds. It will take longer if any of the three are cold or frozen. Step three. Combine the wet ingredients with the dry and add an egg.
Use a whisk or your clean hands to combine the dough into a loose ball of dough inside the bowl. Then empty the dough onto a clean, VERY lightly floured surface to continue kneading for 2-3 minutes. The dough should no longer be sticky when you're finished kneading.
At this point, the dough needs to rest for 5-10 minutes so that it can rise and relax. A relaxed dough is much easier to roll out into the thin rectangle needed to make cinnamon rolls. If you go to shape dough and it springs back immediately, it likely hasn't rested long enough.
Grease a clean bowl then place the kneaded dough in the bowl in a relatively warm place in the kitchen (on the back of the stove or in the microwave) to rest.
After resting, roll out the dough into a large rectangle, approximately 16 inches long by 9 inches wide.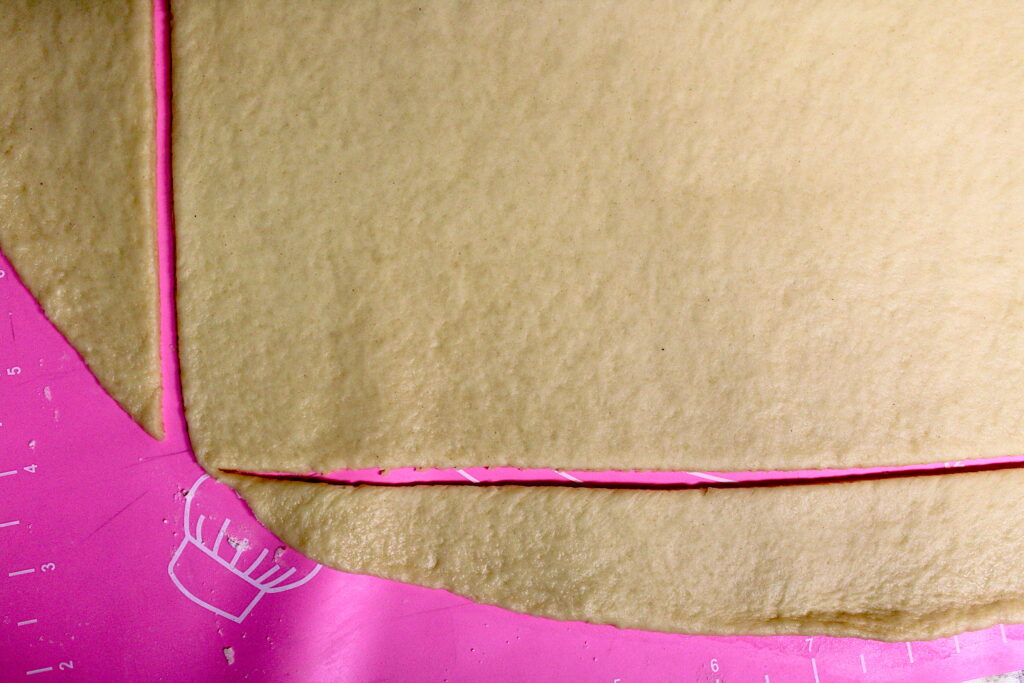 Making the filling
The filling can be achieved by spreading out the butter on the dough first. Combine the brown sugar and cinnamon and sprinkle this all over the buttered dough.
Alternatively, the butter, brown sugar, and cinnamon can be mixed together and then spread out onto the dough.
Assembling and baking the cinnamon rolls
Starting with one of the shorter ends of the rectangle, tightly roll the dough into a log. To make 9 large cinnamon rolls, cut the log into 1-inch pieces. For smaller cinnamon rolls, the log can be cut into 12 equal pieces.
To prepare the pan for baking, parchment paper is a lifesaver. It can be cut into one large sheet to cover the bottom and up the sides or into two thick strips (less than the width of the sides) that reach underneath the rolls and up the sides to help lift the rolls up out of the pan. We prefer the two strips method because it allows some parts of the cinnamon roll to be in contact with the pan and create a delicious brown crust.
Making the glaze
For the easiest glaze ever, whisk powdered sugar, vanilla extract, and milk together until it's smooth. No lumps allowed. To avoid them, you can sift the powdered sugar into the bowl or just make sure to whisk it before adding the liquid.
To make cream cheese glaze, add 4 oz. of softened cream cheese and 4 Tablespoons of unsalted butter to a bowl. Cream together with a hand or stand mixer. Add 1-2 teaspoons of vanilla extract (optional), 2 cups powdered sugar, and 2-3 Tablespoons of milk or heavy cream, and continue to whisk until smooth and creamy.
Feel free to add lemon, lime, or orange zest to your glaze for a pop of fresh flavor. Also, other extracts such as almond, peppermint, and lavender can be used in the glaze to complement the filling, if you ever want to experiment with that. Be careful not to use too much though. They are strong and will overpower all the other delicious flavors in the cinnamon roll. Start with 1/4 teaspoon and taste, then add more only if you can't taste it.
How to serve and store the cinnamon rolls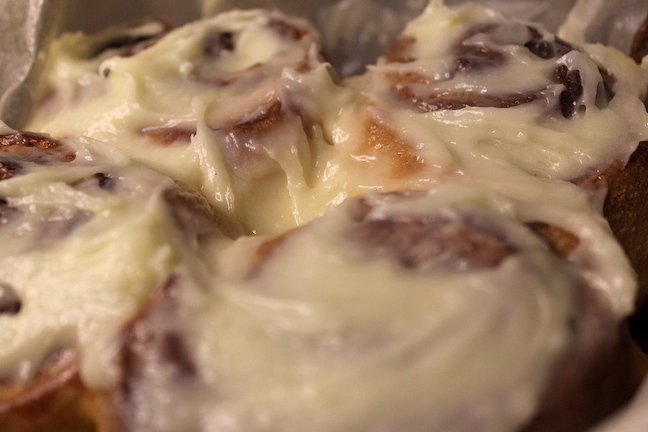 To serve: Let the cinnamon rolls cool for 1-2 minutes before topping with glaze. Top with additional toppings such as toasted or candied nuts, caramel drizzle, or fresh fruit.
To store: Before glazing, cinnamon rolls can be wrapped tightly in plastic wrap (as a group or individually) and placed in an airtight container at room temperature for up to 3 days. They start to get stale after that. It is best to enjoy glazed cinnamon rolls the same day, but even they can be wrapped and stored at room temperature for 1-2 days.
To reheat in the oven (recommended): Cinnamon rolls (and other bread products that are best served warm) need a little sprinkle of water and an oven to reheat properly. Preheat an oven to 300º F. Sprinkle less than a teaspoon of water onto the cinnamon rolls and wrap loosely in aluminum foil. Turn off the oven and place the cinnamon rolls inside for 10-15 minutes to reheat. Add additional glaze after heating.
To reheat in the microwave: Wrap a slightly damp paper towel around the cinnamon roll(s) and heat for 20-30 seconds. Glaze after heating.
Tips for making cinnamon rolls
Don't overheat the liquid mixture. If this is too warm (over 120º F), the yeast will begin to die off and your cinnamon rolls won't rise as much or at all. If you have a thermometer, feel free to use it. The mixture should be between 105-115º F. If you don't have a thermometer, no worries, heat the mixture just until the butter is melted and not much more. This is usually a good indicator that the liquid has reached good temperature for your dough.
Make sure to really knead the dough. Get into it. To build up all of those gluten structures that make the walls of the cinnamon roll sturdy, you have to knead the dough. For at least 2-3 minutes or until the dough is no longer sticky. It won't always be a perfectly smooth ball of dough, and that's fine, but it should be a more homogenous dough (smoother or of a single texture) than when you started.
Fill to the edges. You don't want any bites of these cinnamon rolls without brown sugar-y, butter-y, cinnamon-y goodness so make sure there's at least a touch of each on every inch of that dough.
Roll the dough out to the recommended rectangle size or as close as possible. Don't worry if the dough seems too thin to you because they will puff up during the second proofing stage. The 16-inch side may seem like a bit much, but it gives your cinnamon rolls plenty of swirl and plenty of filling trapped in those swirls.
Other cinnamon roll flavor variations
Apple Pie Cinnamon Roll:
Peel and slice 2 granny smith apples into thin strips.
Dice another 2 apples into ½-inch cubes.
Roll the thin strips of apple into the dough with filling.
Cook down the diced apples with 1 Tablespoon of butter, ⅛ cup brown sugar, ½ tsp cinnamon, a sprinkle of nutmeg (optional)
Assembly: Finished rolls should be topped with glaze and cooked diced apples. Add caramel, if desired.
Spiced Pecan Cinnamon Roll:
Toss 1 cup of slightly chopped  pecans in 1 tsp of oil.
Coat in brown sugar, ground ginger, cinnamon, nutmeg, and/or cloves (whichever spices you prefer)
Assembly: Finished rolls should be topped with glaze and sprinkled with additional spiced pecans.
Top with the following:
Strawberry or blueberry topping
Sliced almonds, cherries, and whipped cream
Make vegan cinnamon rolls in 45 minutes
To make these vegan, replace the whole milk with almond, oat, or coconut milk. Use an unsalted plant-based butter life Flora instead of unsalted dairy butter. The egg can be left out entirely, but make sure to increase the amount of milk by 4 Tablespoons. Alternatively, an egg-like compound can be whipped up out of ground flaxseed and water. Thoroughly mix 1 Tablespoon of ground flaxseed and 3 Tablespoons of water and let this sit before adding to the dough instead of the egg.
---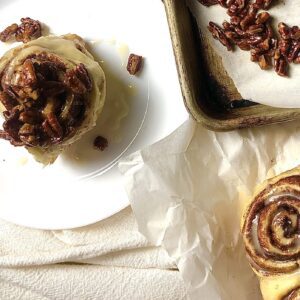 45-Minute Cinnamon Rolls
Enjoy a gooey, cinnamon-filled homemade cinnamon roll with a glaze made from scratch in just under an hour.
Equipment
Mixing bowls

Measuring cups/spoons

Microwaveable cup or bowl

Instant thermometer

Whisk

Stand mixer (optional)

Silicone mat (optional)

Rolling Pin

Dental floss or offset spatula

9×9-inch or 9×13-inch pan

Parchment paper (optional, but recommended)
Ingredients
For the dough
2¾

all-purpose flour

3

Tablespoons

granulated sugar

1

teaspoon

kosher salt

1

package instant yeast

1 packet = 2¼ teaspoons

½

cup

water

¼

cup

milk

2

Tablespoons

unsalted butter

1

large egg

Filling
For the filling
¼

cup

unsalted butter, softened to room temperature

4 Tablespoons or ½ stick

2-3

Tablespoons

ground cinnamon

¼

cup

brown sugar
For the glaze
2

cups

powdered sugar

2

teaspoon

vanilla extract

3-4

Tablespoons

milk
Instructions
To make the dough
In a large bowl, mix the flour, the sugar, salt, and yeast together until evenly dispersed. Set aside. In a small microwavable bowl, heat the water, milk, and butter together in the microwave until the butter is melted (about 30-45 seconds). Stir the butter mixture into the flour mixture. Add the egg and knead with hand or with stand mixer for 3-4 minutes or until the dough is no longer sticky. Place in a lightly greased bowl and let rest for about 5 minutes.

Preheat the oven to 200 degrees and turn off just before placing rolls in oven.
To fill and bake the cinnamon rolls
After the dough has rested for 5 minutes, roll it out in a 16×9-inch rectangle. Spread the softened butter on top. Mix together the cinnamon and brown sugar then spread it evenly all over the dough. Sprinkle it all the way to the edge of the dough. Roll up the dough tightly and cut into 9 even pieces (for large rolls) or 12 even pieces (for smaller cinnamon rolls). Place in a lightly greased 9-inch square pan (for 9 rolls) or a 9×13-inch pan (for 12 rolls) and lightly cover with aluminum foil or plastic wrap.

Make sure the oven is off then place the cinnamon buns in the oven to rise for 15 minutes. Once they've risen, remove the foil or plastic wrap and turn on the oven up to 375 ºF. Bake the cinnamon rolls for 15-20 minutes or until the tops are a light golden brown. Remove from the oven and top with glaze.
To make the glaze
While the cinnamon rolls are baking, mix the powdered sugar, vanilla extract, and 2 Tablespoons of milk together until smooth. Add a little bit of milk at a time until desired consistency is reached. Drizzle over warm rolls.
Notes
Instead of spreading the butter, brown sugar, and cinnamon onto the dough separately, they can be combined in a bowl then spread onto the dough as a single spread
Add a sprinkle of nutmeg, lemon zest, nuts, or granola to the filling before rolling it up for extra flavor and texture