It's September, which is about the time when the weather starts to cool down, and having a hearty breakfast seems essential to making it through the day. Well, there are few breakfasts heartier than sausage gravy and biscuits. Sausage is cooked down as the base of a wonderfully flavorful and thick white gravy that traditionally tops freshly baked biscuits. It being September is also significant because it's my mom's birth month, and sausage gravy and biscuits is one of her favorite meals to have for breakfast. So this is for her! Let's get into it. 💕
Your grocery list:
Baking/Pantry Items
Flour (all purpose or self rising, bleached or unbleached, it doesn't matter since we're just using it to make a roux to thicken the gravy)
Kosher salt
Fresh ground black pepper
Dried sage (optional)
Red pepper flakes (optional)
Dairy
Heavy cream (while milk or coconut milk work great too)
Pantry Items
Reduced-sodium chicken broth
Meat
Sausage (breakfast sausage or Italian sausage, mild or hot with the casing removed)
Equipment/tools you'll need:
Saucepan
Measuring cups/spoons
Whisk

How to make sausage gravy (and pretty much any other gravy)
Start with a fat (& flavorings): In this case, both the fat and flavor comes from cooking down the sausage. Using plain butter to start your roux, if you want to make a plain (but still very delicious) gravy
Add flour to make a roux: Equal parts fat and flour are needed to make a roux. In this case, we estimated that there is approximately 1/4 cup of fat released from the sausage cooking. If you're just using butter, the 1:1 ratio will be much easier to calculate. If you use 2 tablespoons of butter, add 2 tablespoons of flour. If you use 1/2 cup of butter, add 1/2 cup of flour to make a roux.
Add liquid: This recipe calls for chicken broth and milk/cream to make the gravy "white" and creamy, but not too creamy. For a super creamy gravy, just cream or milk can be used. For a brown gravy, chicken or beef stock or broth can be used.
Whisk until smooth: It's super important to slowly pour and whisk in the liquids after making your roux. And keep whisking! This will help keep lumps from forming in your gravy.
Substitutions and modifications for sausage gravy
Instead of ground pork/sausage: use ground turkey or turkey sausage. Make sure to add 1/4 teaspoon each of salt, black pepper, garlic powder, onion powder, red pepper flakes, and dried sage if using a ground meat that isn't already seasoned like sausage
Instead of whole milk: heavy cream, coconut milk, and 2% milk work well too
For even more flavor: start with 1 tablespoon of butter or oil, add diced onion, and minced garlic to the sausage as it cooks, before making the gravy.
Ingredients
2.5 cups all-purpose flour
2 Tablespoons baking powder
1 Tablespoon sugar or honey (whisked into buttermilk)
1 teaspoon kosher salt
1/2 cup unsalted butter, very cold or frozen
1 cup very cold buttermilk
Instructions
Preheat oven to 430º F. Sift together flour, baking powder, sugar and salt. Add diced butter to flour and cut butter (either using a food processor or two forks) into the flour until small pebbles form. Leaving a few large chunks of butter is fine. Add buttermilk and gently combine into a ball of dough.
Empty the dough onto a clean, lightly floured surface. Top with a little more flour then form into a rectangular shape that is 3/4" thick. Use biscuit cutter to cut biscuits and line on a baking sheet 1/2" apart. (For additional layers: trifold the dough, roll it out to 3/4" thickness, then trifold it again before using biscuit cutter.)
Brush the tops of biscuits with remaining buttermik. Bake for 20-23 minutes. Brush with butter immediately after baking.
For a full buttermilk biscuit recipe, click here. Here are even more tips and tricks to help you make great biscuits at home.
How to eat sausage gravy and biscuits
Method #1
Open and separate biscuit into two halves then top with sausage gravy and enjoy.
Method #2
Break biscuits into large chunks. Top with sausage gravy… and enjoy!
---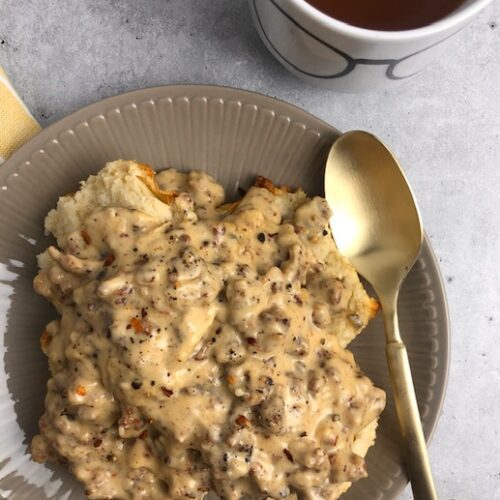 Homemade Sausage Gravy (+ Biscuits)
Another classic southern breakfast dish that pairs hearty white gravy with fluffy buttery biscuits.
Ingredients
1

pound

Breakfast or Italian sausage

hot or mild, without the casing

¼

cup

flour

all-purpose or self-rising

1

tablespoon

unsalted butter

1

cup

reduced-sodium chicken broth

1

cup

heavy cream

or whole milk

2

teaspoons

freshly ground black pepper

more to taste

½

teaspoon

dried sage

optional

½

teaspoon

red pepper flakes

optional

Biscuits

baked fresh or warmed, for serving
Instructions
Heat a large heavy skillet over medium high heat. Break up ground sausage with a spoon or spatula and brown until no longer pink. Continue cooking until sausage reaches desired crisp and color, 3 to 5 more minutes.

Reduce the heat to medium low, sprinkle in half of the flour, and stir to coat sausage. Little by little, add the rest of the flour, stirring to make sure all of the sausage is coated. Cook for 1 to 2 minutes to make sure the flour is all cooked. Slowly whisk in milk and continue stirring constantly while the gravy thickens. This could take 10 to 15 more minutes.

Season gravy with salt and pepper to taste. Sprinkle in dried sage and red pepper flakes (optional). If it starts getting too thick, add ¼ cup of milk at a time and whisk to combine until it reaches your desired consistency

Spoon the sausage gravy over warm biscuits, and serve immediately.
Notes
The ground sausage can be replaced with plain ground pork or turkey. Seasonings should doubled in order to compensate for the flavor that sausage already has and brings to the dish. The addition of dried sage is strongly recommended instead of optional.