Summary
A great buttermilk biscuit can make your day – honestly, it can make your entire week! Now, imagine it with egg, cheese, and a couple of pieces of sizzling bacon or sausage. Or smoked salmon and an herb garlic cream cheese spread. Maybe just a juicy piece of fried chicken. Or your favorite fruit preserves. The point is buttermilk biscuits are incredibly versatile, so having a really good recipe to use as a base for all of your wildest biscuit dreams is key. This recipe only uses 6 ingredients and can be whipped up, baked, and ready to enjoy in less than an hour.
Your Grocery List:
Baking & Pantry Items
All-purpose flour (I use unbleached, but any kind of all-purpose flour will work)
Baking powder
Granulated sugar (or honey)
Kosher salt
Dairy
Unsalted butter
Buttermilk
Equipment/Tools You'll Need:
Measuring spoons/cups
Mixing bowls
Sifter or fine mesh strainer
Knife & cutting board
Food processor (or 2 knives, for cutting butter into the flour)
Rubber spatula or wooden spoon
Biscuit cutter (2″ make the perfect sized biscuit)
Baking sheet
Tips for making great buttermilk biscuits (and biscuits, period!)
Use frozen butter and very cold buttermilk
The colder, the better when it comes to making biscuits. Keeping the dough (more specifically, the butter in the dough) cold allows it to release steam and aid in rising when the butter melts while the biscuits bake. If the butter melts prior to baking, the dough becomes a homogenous mixture and bakes into a dense biscuit instead of one that is light and fluffy. Some people even put their mixing bowl, whisk, and any other tools in the freezer for 10 minutes prior to prepping the dough.
Use high-quality ingredients
Because there are only 6 basic ingredients in this recipe, you want to make sure the quality is as high as you can afford. You will taste the difference in the butter or in the honey if you choose to use that as a sweetener instead of sugar.
Note: If you do choose to use honey as a sweetener instead of sugar, it should be combined with the buttermilk and added at the end instead of into the flour mix.
Avoid over mixing/kneading the dough
Anytime dough is handled, gluten is formed in the dough. Some gluten is good and helps creature the structure that is needed for most baked goods. However, over mixing and kneading the biscuit dough will cause them to become tough instead of melting in your mouth.
Make the most of the first roll-out
Every time you roll out a new batch of biscuits from the leftover scraps, the texture of the final biscuit changes. This happens because the flour needed to keep them from sticking to the counter will inevitably mix into the new batch of biscuits and affect their texture. The difference may not be drastic, but there will be a difference. When cutting biscuits, leave little to no space between biscuits.
You could also make square biscuits to eliminate even more potential for leftover scraps. As a matter of fact, that's one major reason why our Biscuit Club biscuits are square.
For more information as well as a few bonus tips, Pro Tips for Making Great Biscuits at Home.
Biscuits vs. Cookies
Just a note about "biscuits" vs. "cookies" as far as they are used here at Mobile Soul. When we say "biscuits", we are talking about the (mostly) savory bread that is used to make sandwiches or eaten on the side with meals. This "biscuit" was popularized in the American South.
In the UK and other parts of the world (largely those influenced by British colonialism), their "biscuits" are more like American "cookies". What they call a "scone" is closer to our "biscuit", but still not quite the buttery bread snack so many of us are accustomed to.
It's amazing how much a single language can vary based on geographic location.
Ways to spruce up your buttermilk biscuits
A

dd cheese and herbs or diced jalapeño pepper

Fold blueberries and lemon zest into the dough
Top them with homemade sausage gravy
Spread this honey butter all over the tops or inside of the biscuits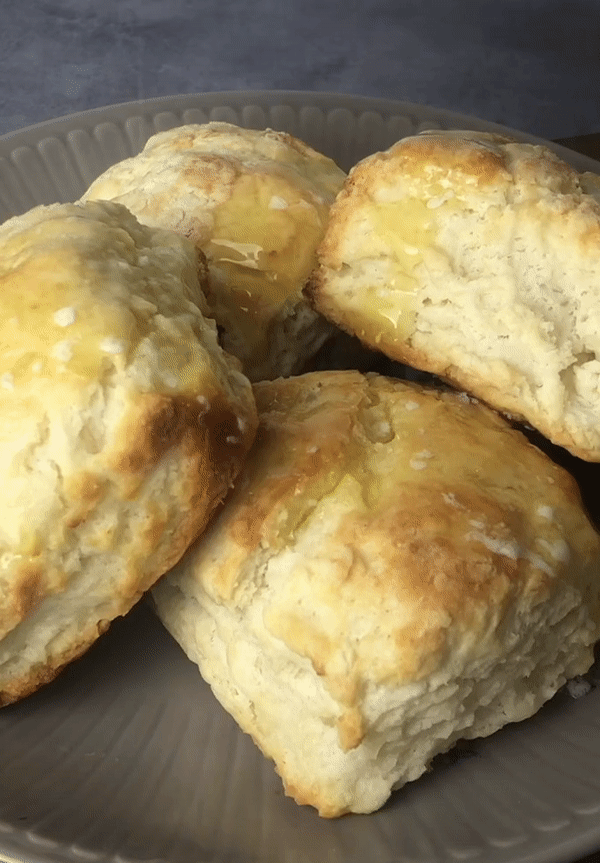 ---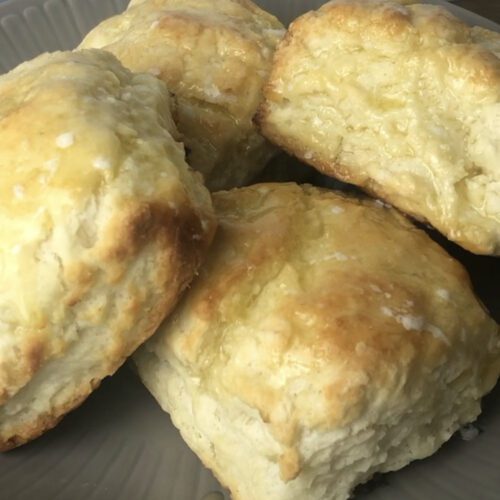 Buttermilk Biscuits (from scratch)
Buttermilk biscuits are savory, buttery, fluffy delights that can be enjoyed any time of the day.
Equipment
Measuring spoons/cups

Mixing bowls

Food processor (or two forks)

Sift or whisk

Baking sheet
Ingredients
3 ½

cups

all-purpose flour

2 ½

Tablespoons

baking powder

1

Tablespoon

granulated sugar or honey

2

tsp

kosher salt

1

cup

frozen butter

2 sticks or 227 g

1 ½

cups

very cold buttermilk

plus 2 Tablespoons, separated
Instructions
Preheat the oven to 430º F. Use a sift or whisk to thoroughly combine flour, baking powder, sugar, and salt in a mixing bowl. Add flour and diced butter to a food processor or use two forks to cut butter into the flour until the mixture resembles small pebbles. Add very cold buttermilk to the flour and butter mixture and gently combine into a scraggly dough. Empty the dough onto a clean, lightly floured surface and gently (but quickly) pat it into a rectangle (3/4 to 1 inch thick).
To make square biscuits
Use a knife or cake decorating spatula to remove a thin slice from the edges of your rectangle of dough. Cut the rectangle in half lengthwise. Then cut the biscuits to your desired size. They will rise, but the size won't change much in the oven.
To make round biscuits
Use a biscuit or cookie cutter to make uniform biscuits. Line biscuits onto a baking sheet approximately 1/2" apart. Brush a little of the remaining buttermilk onto the top of each biscuit. Bake for 20-23 minutes, depending on the size of the biscuits and your preferences.
Notes
If using honey instead of sugar, combine the honey with the buttermilk then add that to the flour to make the dough.
To make these vegan, use vegan butter and make almond "buttermilk" by combining the milk with 1 tablespoon of lemon juice or vinegar and let it sit for 10 minutes or until it thickens.