Summary
Have you ever been to Bojangles'? It's a restaurant chain primarily in the South that serves chicken and biscuits. There's an item on the menu called Bo'Berry Biscuits and they were my first introduction to a sweet biscuit. There are bursts of blueberry flavor folded into a fluffy, buttery biscuit all sealed with a silky glaze. Well, this glazed blueberry biscuit recipe is my copycat for that delicious food experience, because I *had* to learn to make them at home.
---
Your grocery list
Pantry items
All-purpose flour
White sugar
Powdered sugar
Baking powder
Kosher salt
Vanilla extract
Produce
Lemons (for the lemon juice and zest)
Fresh blueberries (I have made these biscuits with frozen blueberries before, but the additional moisture does change the baking time and overall structure of the biscuit. They are just as delicious though.)
Dairy & Dairy Alternatives
Milk (I use buttermilk for the biscuits and whole milk or almond milk for the glaze, but whatever dairy or nut milk you prefer will work – just make sure it's as cold as possible)
Butter (same as the milk, whatever your preference will work as long as the butter is very cold/frozen)
Equipment/tools you'll need
Mixing bowls
Measuring cups/spoons
Rubber spatula
Dough scraper
Baking sheet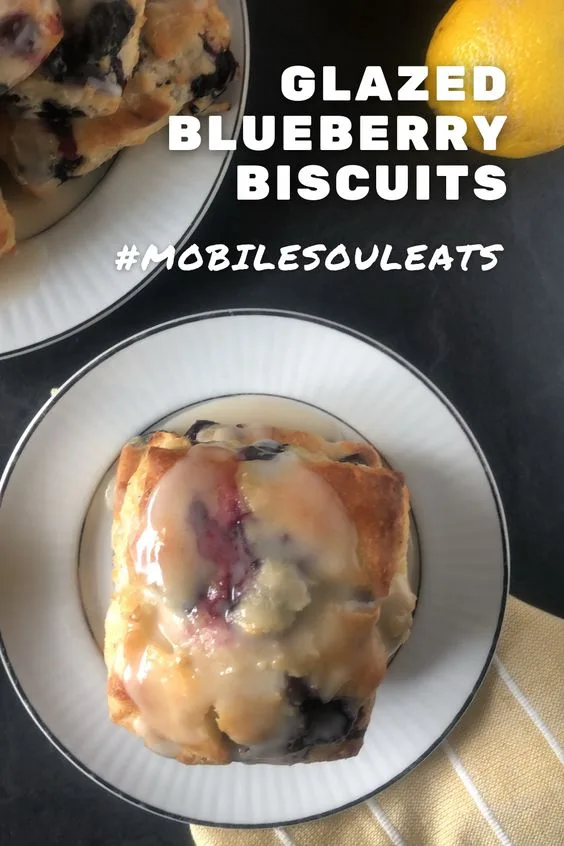 Tips and things to consider when making blueberry biscuits
Use a good-quality butter
This recipe is so simple and there are only a few ingredients so using the best quality that you can is key. I recommend using unsalted butter that comes in a stick for quick measuring (1 stick = 1/2 cup). You can use salted butter, but you can't control the amount of salt already in the product so, unless you want to do a bit of a taste test with some plain butter first, I'd recommend sticking with unsalted for this recipe.
Keep everything as cold as possible
Keeping the butter cold is key to making fluffy blueberry biscuits (really, fluffy biscuits and flaky pie crusts in general). Cold butter helps give the biscuits rise so they aren't tough and dense. The cold buttermilk is really just an extra precaution to make sure the butter stays as cold as possible. Some people even stick their mixing bowls and any utensils they'll be using to make the biscuits in the freezer, to make sure the butter stays at the perfect biscuit-making temperature.
You can use frozen berries, but fresh is ideal
Frozen berries add moisture once they start to bake so be prepared for a biscuit that (1) takes a little longer to bake through completely and (2) may not sit up perfectly straight like the other biscuits. They will taste just as good though.
You could cook down the frozen berries first with 1 tablespoon of sugar until they form a thick syrup. Let this cool completely then use this instead of fresh berries. The cooking process removes some of the excess moisture.
Add lemon zest for an extra pop of freshness
These blueberry biscuits go GREAT with lemon. Get a little lemon zest from your lemons before juicing them. It adds a lot of brightness and some acidity to balance out all the sweetness. It can be added to frozen blueberries as they cook down, grated into the biscuit dough, and added to the final glaze.
Switch it up
Use different berries: Strawberries, blackberries, and raspberries are all delicious substitutions in this recipe. You can even use different fruits like apples or pears. They take longer to tenderize while baking so I recommend cooking firmer fruits down first with a little sugar and water or lemon juice to make a fruit filling. Once the filling has cooled completely (because you don't want to heat up the butter!), add it to the biscuit dough.
Using the "filling" method will result in biscuits with more of a swirl that distinct pops of fruity flavor.
Make them vegan: Use your favorite brand of nut milk and plant-butter alternatives to make these completely vegan. Vegan buttermilk = 1 cup almond milk + 1 tablespoon lemon juice. Combine the two and let it sit for 5 minutes before using.
Top with a cream cheese glaze: Add 2-3 ounces of very soft cream cheese to your glaze. It will make for a thicker, creamier, more luscious experience than you even knew was possible.
---
Glazed Blueberry Biscuits
Ingredients
For the biscuits
4

cups

all-purpose flour

⅔

cup

granulated sugar

2

tablespoons

baking powder

2

teaspoons

kosher salt

1

cup

unsalted butter

very cold/basically frozen

2-3

cups

fresh blueberries

2

cups

very cold buttermilk
For the glaze
2

cups

powdered sugar

¼

cup

almond milk

or whole milk

1

teaspoon

vanilla extract

½

teaspoon

lemon juice

and zest for garnish
Instructions
To make the biscuits
Preheat the oven to 450º F.

Combine flour, baking powder, sugar, and salt in a mixing bowl. Whisk to combine.

Use a food processor or grater to grate frozen butter. Add grated butter to flour mixture. Mix butter and flour together, until it resembles small crumbs.

Use a fork to smash 1/3 of the blueberries then toss all of the blueberries into the flour. Mix to distribute blueberries throughout the flour.

Add very cold buttermilk to the flour and stir/knead this until the milk is fully incorporated. Form a ball of dough (it will be slightly wet) then empty the dough onto a floured surface. Add more flour on top of the dough and continue kneading for 60 seconds.

Lightly coat a rolling pin with flour and use it to roll out to a rectangle that is approximately 9x12". Use a biscuit or cookie cutter to make uniform biscuits.

Spray baking sheet with nonstick spray or smear butter onto the pan before baking. Bake for 20 - 25 minutes, depending on the size of the biscuits and your preferred doneness. The larger your biscuits, the longer they will take to bake.
To make the glaze
Whisk together powdered sugar, milk, vanilla extract, and lemon juice. Drizzle over warm biscuits.