There aren't many biscuit recipes easier and tastier than these 3-ingredient biscuits. We don't use self-rising flour often in the Mobile Soul Kitchen, but it really comes in handy when you want to simplify a process like biscuit-making. These biscuits come out just as buttery, flaky, tender, and downright delicious as any of our other biscuit recipes with more ingredients. So if you're in a rush or just want to cut back on the number of steps it takes to make those homemade biscuits, this one is for you.
Ingredients you'll need
Baking & Pantry Items
Self-rising flour
Granulated sugar (Note: this is SUPER optional. Not to mention, it would make this a 4-ingredient biscuit, but I add 1 tablespoon of sugar to almost all of my biscuits. It helps balance out the salty, cracker taste that biscuits sometimes develop. It also increases the tenderness of the biscuit and helps the biscuits rise a bit more, but again. Totally optional! Sugar should be sifted together with the self-rising flour before adding butter and buttermilk.)
Dairy
Unsalted butter
Buttermilk
Equipment you'll need
Mixing bowls
Measuring spoons
Food processor (or forks for cutting butter into the flour)
Dough scraper (optional)
Biscuit cutter
Baking sheet
What exactly is self-rising flour?
For 3-ingredient biscuits, self-rising flour is a must, but what in the world is self-rising flour? Some kind of magic? How exactly does it differ from regular, all-purpose flour?
Well, to start, wheat is a grain that is processed or milled to make wheat flour. Flour can also be made from rice, rye, soy, durum, almonds, and the list goes on.
Most often, as home cooks, we are using wheat flour, but even that wheat flour comes in a handful of different varieties. Some of these types of wheat flours are defined below:
Whole wheat flour is sometimes called graham or entire wheat flour. It is made from all three of the wheat kernel – the bran, germ, and endosperm – and that is why it is called "whole" wheat. Most whole wheat flour is milled from hard red wheat although whole wheat pastry flour, which is milled from soft red wheat, is available as well.
Whole white wheat flour is typically made from either soft or hard white wheat instead of hard or soft red wheat. It is preferred to red wheat flour when making noodles because of its lighter color and sweeter, milder taste.
All-purpose flour is often made from a blend of hard and soft wheat, but this is not always the case. All-purpose (AP) flour comes bleached or unbleached, is typically enriched with vitamins and minerals, and may contain added malted barley. This is what most home cooks use because, as the name indicates, it is a flour blend that can be used for a wide range of baked goods.
Cake flour is milled from soft wheat and comes from the absolute heart of the endosperm. This gives cake flour a finer granulation, white color, lower protein count, and makes it ideal for, you guessed it, making cakes.
Bread flour is high in protein and milled from either hard red spring or hard red winter wheat. The high protein content forms great-quality gluten and helps create structure in baked goods. Sturdy, elevated loaves of bread are possible because of this structure.
Self-rising flour is just all-purpose flour with leavening agents like baking soda and/or baking powder and often salt already mixed in. Although it can be a useful shortcut, as in this recipe, self-rising flour's formula does vary from brand to brand.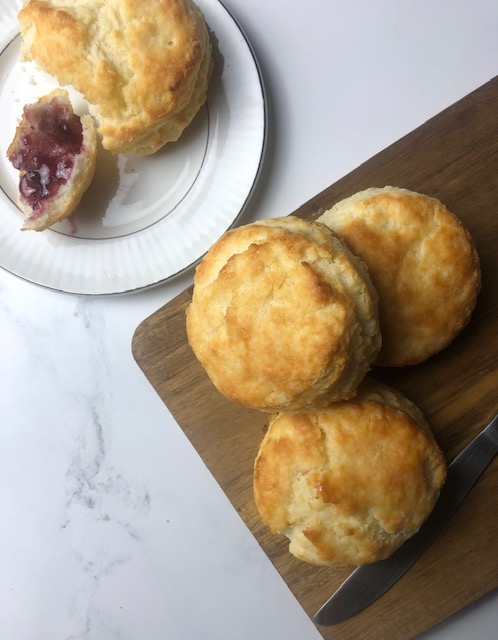 Ways to spice up your 3-ingredient biscuits
Replace half of the butter with cheddar cheese
Add plain or roasted garlic (minced) to the dough
Sprinkle the tops of biscuits with black pepper and chives before baking
Fold cinnamon and brown sugar into the dough for a sweet treat
---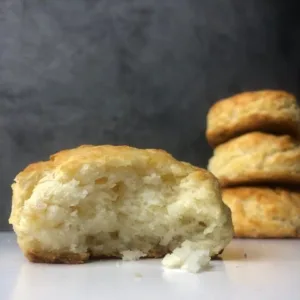 3-Ingredient Biscuits
These are probably the simplest, most delicious biscuits you'll ever make. Buttery, fluffy, and incredibly simple to make. You can't beat it.
Equipment
Mixing bowls

Measuring spoons

Food processor (or forks for cutting butter into the flour)

Dough scraper (optional)

Biscuit cutter

Baking sheet
Ingredients
2

cups

self-rising flour

½

cup

1 stick unsalted butter

1

cup

cold buttermilk
Instructions
Preheat the oven to 430º F. Add flour and diced plant butter to a food processor or use two forks to cut butter into the flour until the mixture resembles small pebbles.

Add the very cold buttermilk to the flour and butter mixture and gently combine into a scraggly dough. Empty the dough onto a clean, lightly floured surface and gently (but quickly) pat it into a rectangle (3/4 to 1 inch thick).

To make square biscuits: use a knife or cake decorating spatula to remove a thin slice from the edges of your rectangle of dough. Cut the rectangle in half lengthwise. Then cut the biscuits to your desired size. They will rise, but the size won't change much in the oven.

To make round biscuits: use a biscuit or cookie cutter to make uniform round biscuits.

Line biscuits onto a baking sheet approximately 1/2 " apart. Bake for 16-18 minutes, depending on the size of the biscuits.
Notes
These can be made into vegan biscuits by using plant butter and making "vegan buttermilk" = 1 cup almond or coconut milk + 1 tablespoon lemon juice or vinegar