Summary
This Southwestern turkey rice casserole is a game-changer. Not only does it taste good, but it's also relatively healthy and easy to make. Another win? The recipe is so versatile that once you've got this casserole down, it can be switched up and made into a hundred different casseroles!
Your grocery list
Produce
Onion (yellow, red, or white will work for this recipe)

Garlic
Bell Peppers (I used green and red, but any color will work)
Cilantro
Pantry Items/Seasonings
Olive oil
Ground cumin
Chili powder
Smoked paprika
Salt
Black pepper
Canned Items
Diced green chiles
Diced tomatoes
Salsa
Reduced-sodium black beans
Corn
Grains
Brown rice (should be cooked before beginning this recipe)
Protein
Dairy
Cheese (Monterey Jack, Pepperjack, Cheddar – whatever you like. I just suggest buying a block and then grating it at home)
Equipment/tools you'll need
Large nonstick pan or cast iron pan
Baking dish (7×11″ or 9×13″ will work, the 7×11″ will create a deeper casserole, but there will be enough for a 9×13″ dish if that's what you have)
Aluminum foil
Tips and things to consider
Southwestern turkey rice casserole is great for meal prep. It will keep in the fridge for 3 to 5 days. Just transfer it from the baking dish to an airtight container and store it.
You can freeze this dish; HOWEVER, the rice gets very mushy after defrosting so I'd suggest cooking the casserole with everything except rice if you need to freeze it. Make sure the dish is freezer-safe (an aluminum pan works well) and wrap it with a few layers of plastic wrap. Then cover in aluminum foil and label with the contents and date. The casserole will keep in the freezer for up to 3 months.
To warm (in the oven):

From frozen: preheat an oven to 300 degrees Fahrenheit. Unwrap the dish and cover it with foil. Heat until warmed through, 30-45 minutes.
From the refrigerator: preheat an oven to 300 degrees Fahrenheit. Transfer the casserole to an oven-safe dish, if necessary. Heat until warmed through, about 20 minutes.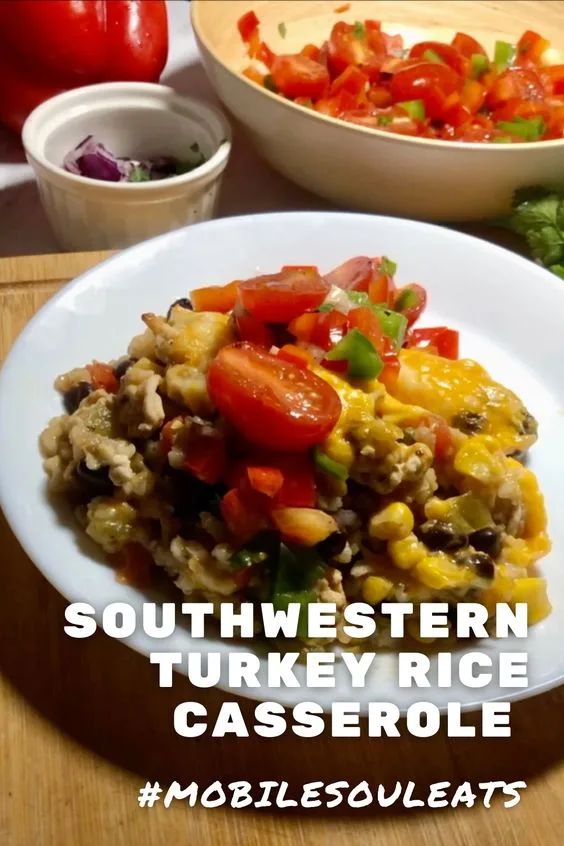 Switching it up
The beauty of casserole recipes is that they all follow the same process, making it very easy to switch up the flavors depending on what's available in your kitchen and what you have a taste for.
Start by cooking the protein (ground or even small, bite-sized pieces) with diced onion, add garlic, herb, and spices. Reduce or remove from the heat, then mix in the prepared/cooked vegetables of your choice. It's a good ideas to add a sauce of some sort to keep the casserole from drying out, and any other extras to make it really pop.
Transfer everything to a baking dish, top with a cheese that fits the flavor profile you're going for, and bake for 20-30 minutes to heat through. That's it. Every single time.
Proteins to try: Ground chicken, lamb, or beef instead of turkey
BBQ Chicken + Rice Casserole – ground chicken. rice. bbq sauce. diced red onions. corn. cheddar + pepper jack cheese.
Mediterranean Lamb + Rice Casserole – ground lamb. rice. crushed tomatoes. parsley + oregano. crumbled feta.
Teriyaki Turkey + Rice Casserole – ground turkey. rice. diced squash and/or zucchini.  broccoli. teriyaki sauce.
---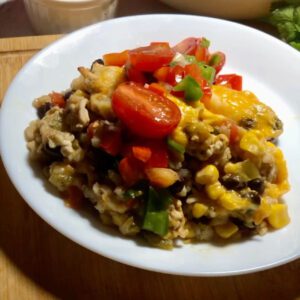 Southwestern Turkey and Rice Casserole
An easy weeknight dinner recipe filled with lean protein, rice, vegetables, bold spices, and herbs.
Ingredients
1

tablespoon

olive oil

or butter, salted or unsalted

1

pound

lean ground turkey

1

onion

diced

2-3

garlic cloves

minced

2

bell peppers

diced

2

teaspoons

ground cumin

1

teaspoon

chili powder

1

teaspoon

smoked paprika

1

teaspoon

salt

½

teaspoon

ground black pepper

2

cups

cooked brown rice

3-ounce

can of diced green chiles

14-ounce

can of diced tomatoes

1

cup

salsa your favorite kind

1

cup

canned reduced-sodium black beans

drained and rinsed

1

cup

corn

steamed or from a can

¼

cup

minced cilantro

½

cup

grated Monterey Jack cheese

1

cup

grated pepper jack cheese
Instructions
Preheat the oven to 350 degrees Fahrenheit. Lightly coat your baking dish with cooking spray or spread butter across the bottom and sides.

Heat olive oil in a large nonstick skillet over medium-high heat. Add onions and cook until they start to brown. Add ground turkey and cook, stirring and breaking up the turkey until the turkey is just cooked through.

Add the garlic, cumin, chili powder, paprika, salt and pepper, and cook for 1-2 more minutes.

Remove from the heat and stir in the rice, diced green chiles, diced tomatoes, salsa, black beans, corn, and cilantro. Stir to combine. Make sure to taste and add any more seasoning, if needed.

Transfer the mixture to the prepared baking dish. Sprinkle the top with cheese. Cook until heated through, 20-30 minutes. Serve with a side salad, salsa, or steamed vegetables.
Notes
If using salted butter, remember to adjust the amount of salt (and seasonings containing salt) used at later stages of cooking
Substitute all of the seasonings listed above for low-sodium taco seasoning in the packet. It works wonders in a pinch.
Feel free to use the fresh versions of any of the canned ingredients added to this recipe.

Dice 14 ounces of fresh tomatoes.
Beans should be soaked overnight and cooked before adding them to the casserole.
Corn can be par-boiled, grilled, or steamed before adding it to the casserole.
You can even make your own salsa and use that instead as well.

The brown rice can be substituted for white rice, of course.