Mozzarella sticks are a classic appetizer and making your own at home is so simple! Coat pieces of mozzarella in a flavorful breadcrumb coating, freeze and fry (or bake) until the center transforms into something that is gooey, delicious, and basically irresistible.
I don't know about you, but I can never get enough mozzarella sticks. Despite what my stomach and arteries might suggest if they could speak, I will eat as many mozzarella sticks as someone puts down in front of me. It's always best that I make this recipe when I know I will have guests or someone else to share them with because, otherwise, I will eat every single one of them myself. Probably in one sitting.
Besides the recipe for my homemade mozzarella sticks, this post will cover:
The overall process
To achieve homemade mozzarella sticks, it's best to coat the cheese twice. You're going to need to set up a three-bowl dredging assembly line that each piece of mozzarella will go through before freezing and frying.
The first bowl is a simply-seasoned flour mix that will coat the cheese and create the first thin barrier that's necessary once you begin frying.
The next bowl is an egg mix that acts as a binder and helps the next coating really stick to the mozzarella.
The final bowl in the dredging assembly line is breadcrumbs mixed with a little bit more flour and other seasonings.
After thoroughly coating each piece of mozzarella (don't forget the ends), line a baking sheet with parchment paper and place the prepared mozzarella sticks on the baking sheet at least 1″ apart. When making mozzarella sticks, freezing before frying is essential. If you skip this step, the cheese starts off at a temperature that will melt through the coating before they are even cooked through.
Frying these is just a matter of filling a heavy-bottomed pot with a neutral oil with a high smoke point (vegetable or canola) and bringing that oil to 350º F. It only takes 60-90 seconds to cook each one so keep an eye on things. Be careful while you stand watch! The oil is very hot. You'll want to keep the sticks turning in the oil so the cheese melts and the coating browns evenly.
Making the marinara sauce is just a matter of sauteing garlic in a small pot then adding tomatoes, basil, oregano, salt, and sugar. Simmer your sauce for 10 minutes. If you want to add a little spice, add red pepper flakes and let the sauce cook for one more minute.
The sauce should be poured into a dish and cooled slightly before serving alongside your mozzarella sticks.
Ingredients needed to make this recipe
Mozzarella string cheese or a round of mozzarella cheese
Flour
Egg
Salt
Black pepper
Garlic powder
Onion powder
Dried parsley
Dried basil
Dried oregano
Parmesan cheese
Red pepper flakes
Crushed tomatoes or tomato sauce
Sugar (brown or granulated)
Oil, for frying
Equipment needed to make this recipe
Baking sheet
Knife
Cutting board
Three (3) mixing bowls or shallow dishes
Large pot or deep fryer
Parchment paper
Cooling rack and paper towels for draining
Tips & tricks for mozzarella stick-making
Work with one cheese stick at a time. While going through your assembly line, if you try to work on multiple sticks at once, it can be easy to lose track of which step you've done, and if you've done the second coating or not. Missing a step can cause your cheese to seep out into the hot oil almost immediately, and you don't want that.
Be sure to coat the entire piece of cheese. Any non-covered areas will leave openings in the coating for the cheese to melt out of when you fry them. Don't forget the ends!
Be gentle when you're handling the cheese. If you're moving too quickly and grabbing them too firmly, you might accidentally remove some of the coating from the cheese.
Coat each stick twice. Coating in flour (then egg) and breadcrumbs gives each stick an adequate coating that it reduces the chance that cheese will melt out the sides when you're frying them.
(If you haven't noticed by now, the running theme is coating the cheese thoroughly enough to prevent cheese leakage.)
You have to freeze them before frying them! This step is crucial. If you don't freeze your mozzarella sticks and skip right to frying, they're going to disintegrate into a melty cheesy disappointing mess right in the pot/deep fryer.
You want the oil to be as close to 350°F as possible for the best results. Any warmer and the outside will brown and burn before the cheese has had a chance to melt properly. Any cooler and it will take too long to cook them, leaving the sticks greasier than you'd like.
This is important. Don't save any leftover breadcrumb mixture for later use. The raw egg and flour that has been dragged through during the dredging process could make you sick if consumed later.
As always when using hot oil, be careful! When you're dropping the sticks in, drop them in the direction that is going away from you. Using long-handled tongs and a gentle touch works well when removing them from the oil.

A small-batch, quick marinara dipping sauce recipe
Ingredients:
1 Tbsp olive oil (vegetable or canola oil also work here)
1–2 cloves garlic, peeled and minced
8 ounces crushed tomatoes (or 6 ounces of tomato sauce)
1/4 tsp dried basil
1/4 tsp dried oregano
1/2 tsp brown or granulated sugar (to balance out the acidity of the tomatoes)
Large pinch of salt
Pinch of crushed red pepper (optional)
Instructions:
Heat 1 Tbsp of oil in a small saucepan over medium-high heat, then add garlic and saute until fragrant, about 1 minute.
Add tomatoes, dried basil & oregano, sugar, and salt. Reduce heat to medium-low and simmer for 10 minutes, stirring occasionally. At this point, add red pepper flakes (if you'd like) and continue simmering for one (1) more minute.
Transfer to serving dish and serve immediately alongside your homemade mozzarella sticks!
---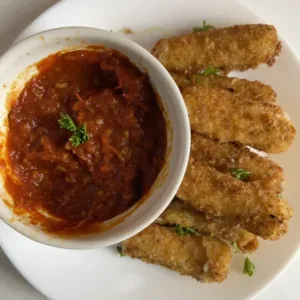 Easy Homemade Mozzarella Sticks
Mozzarella cheese (string cheese sticks or a round cut into sticks) is coated twice and deep fried to golden perfection with an inside that is warm, gooey and delicious.
Equipment
Baking sheet

Parchment paper

3 bowls or shallow dishes

Pot or deep fryer

Tongs or skimmer

Cooling rack
Ingredients
12

mozzarella string cheese sticks or 16 oz. mozzarella cheese

cut into sticks

1/2

cup

all-purpose flour

1/8

teaspoon

salt

1/8

teaspoon

ground black pepper

1

egg

3

Tablespoons

whole milk or heavy cream
Breadcrumb Mix
1

cup

plain breadcrumbs

panko or regular

1

Tablespoon

grated parmesan cheese

1/2

teaspoon

dried basil

1/2

teaspoon

dried oregano

1/2

teaspoon

dried thyme

1/2

teaspoon

dried parsley

1/2

teaspoon

garlic powder

Crushed red pepper

optional

Vegetable or canola oil for frying
Instructions
Prepare a baking sheet with parchment paper and set aside.
In three separate bowls or shallow dishes, prepare the following assembly line:
Dish #1: Combine flour, salt, and pepper and whisk to combine.

Dish #2: Combine eggs and milk and whisk to combine.

Dish #3: Combine breadcrumbs, Parmesan, garlic powder & onion powder, parsley, basil, oregano, thyme, and red pepper flakes. Whisk to combine.
To dredge
Coat each piece of string cheese in flour mixture, shake off any excess. Dip in the egg mixture, then coat in breadcrumb mixture and gently press into the cheese to ensure it sticks. Repeat this process again for each stick, then transfer to the prepared baking sheet. Transfer the baking sheet to the freezer and freeze for at least 1 hour.

Fill a large pot with 2-3″ of oil or a deep fryer to the recommended oil level. Heat oil to 350º F. Carefully drop 4-5 of the frozen mozzarella sticks into the hot oil, turning occasionally. Cook until they are cripsy and golden brown, about 90-120 seconds.

Line a plate or cooling rack with paper towels. After excess oil has drained, serve with your favorite dipping sauce (try the small-batch marinara sauce recipe included above).
Notes
Italian seasoning mix: If you don't have the individual dried seasonings, using about 2 teaspoons of Italian seasoning works just fine!
Because mozzarella sticks are best eaten hot and fresh, it's best to only make as many as you're going to eat right then. They can be prepared and frozen for up to 3 days then fried (or baked) when you're ready to eat.