It's soup season, and Zuppa Toscana is one of my favorites! That Olive Garden on Capital Blvd. in Raleigh, NC changed my life with this one. Shoutout to them, but this recipe is even better. But everything you make yourself is better, especially when it's this easy and low-effort to create. You get all the delicious comfort food with the satisfaction of knowing that YOU did that (*snaps*) and you know exactly what quality of ingredients are in the soup. To be 100% transparent, there is bacon, sausage, and cream involved in zuppa toscana so it's not the healthiest, and definitely not vegetarian/vegan, but there are ways to adjust the recipe to make it a bit healthier. There are also a bunch of other soups to keep you warm this fall and winter. Now, let's get into this!
Ingredients you'll need
Produce
Yellow onion
Garlic
Russet or Yukon gold potatoes
Kale
Meat
Bacon
Spicy Italian sausage (ground/casing removed)
Baking & Pantry Items
Chicken broth
Kosher salt
Ground black pepper
Crushed red pepper flakes (optional)
Dairy
Equipment you'll need
Knife and cutting board
Measuring cups/spoons
Potato peeler
Large pot or dutch oven
Wooden spoon or rubber spatula
Ladle for serving (optional)
Grater for Parmesan cheese garnish (optional)
The 5 Steps of Soup-Making (as it relates to Zuppa Toscana)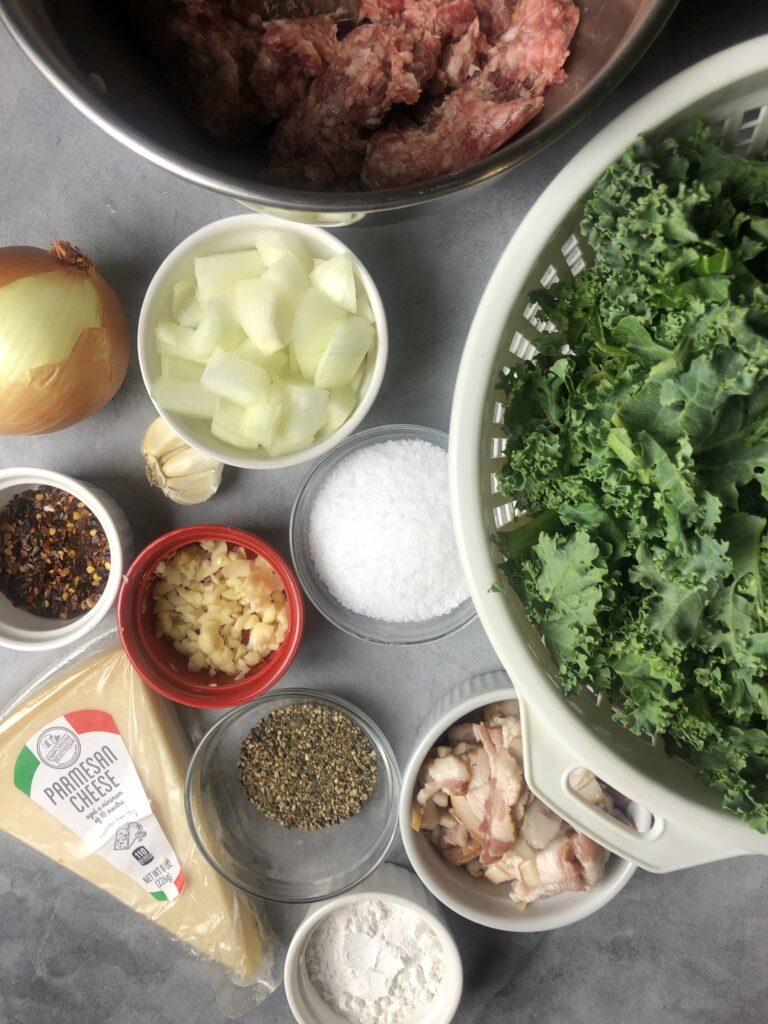 Zuppa toscana follows the 5 Steps of Soup-Making with just a few small variations that make it special. The steps are explained in more detail below.
#1 Choose a fat
A lot of soups are started with butter or oil; however, some of the most delicious soups begin by using meat or animal fat as a base. This recipe starts by browning and rendering the fat from both bacon and spicy ground Italian sausage.
After all of the meat has been cooked down and removed from the pot, there will likely be too much fat in the pot. Drain all but 2 tablespoons. This will be used to cook your aromatics – onion and garlic, in this case.
#2 Add aromatics
Using aromatics is an important step in building your flavor's soup. Aromatics are ingredients like onion, garlic, carrot, celery, and ginger. They have strong, distinct flavors that are intensified by cooking them down in the butter, fat, or oil.
Zuppa toscana uses just diced onion and minced garlic as a base that is made of common ingredients that most of us keep on hand. Cook the onions down until they are translucent then add the garlic. Adding the garlic later helps to keep it from burning.
#3 Add flour and broth
Once the aromatics are cooked they will start to smell up your home (thus the name "aromatic"). At this point, to make a soup with a slightly thickened broth like the one in zuppa toscana, add flour first. Stir to coat the onion and garlic in flour and continue to cook for 2-3 minutes. Then add chicken or vegetable stock and bring to a simmer.
#4 Simmer until potatoes and other ingredients are cooked through
The thinly sliced potatoes need about 20 minutes to cook so they are added right after the broth. Cook them at a low simmer until they are fork tender, meaning until you can easily press a fork into the potato.
The other ingredients – kale, sausage and bacon – are either already cooked or need a few minutes to soften. They can be added once the potatoes are nearly fork tender. Reserve some bacon to use as garnish.
#5 Finish with a twist
The twist in the case of this recipe is the creamy finish. Between the flour added in step #3, the potato starches cooked down into the broth, and this added heavy cream, zuppa toscana has a lovely, slightly thickened texture that helps the delicious broth cling to every single piece of kale, potato, and sausage.
Since the heavy cream only needs to heat up, add it at the very end and cook for a few minutes. Be careful to not heat it too much or else the cream may curdle.
Notice how there has been no mention of salt and pepper up to this point. Well, the bacon and sausage have done a lot of that work already. Right at the end, as with all dishes, you should taste and season to taste.
How to serve and store Zuppa Toscana
To serve: Garnish with freshly grated Parmesan and reserved bacon. I add crushed red pepper flakes to almost everything, but they are actually a wonderful addition to this soup, if spice is your thing.
How to store in the refrigerator: Store in an airtight container in the refrigerator for 3-4 days. To reheat, remove from container and heat on medium-low until the soup is heated through.
How to store in the freeze: Divide into freezer storage bags or store in an airtight, freezer-safe container for up to 2 months. To reheat, thaw first, remove from container, then heat on low until the soup is heated through.
---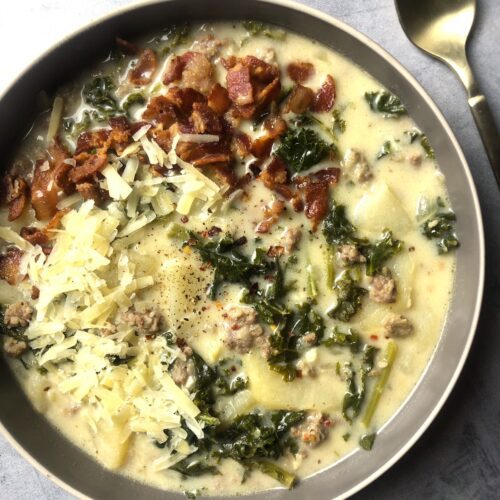 Zuppa Toscana
This soup combines sausage, kale, bacon, and potatoes in a deliciously creamy broth.
Ingredients
4

strips of bacon

chopped

16

oz.

spicy ground Italian sausage

casings removed, if any

1

yellow onion

diced

3-4

garlic cloves

minced

¼

cup

all-purpose flour

4

cups

32 fl oz. low-sodium chicken or vegetable broth

3

large Russet or Yukon gold potatoes

peeled, sliced thinly, and cut into half-circles

About 3 cups kale

roughly chopped

½

cup

heavy cream

Kosher salt and pepper to taste

Grated parmesan cheese as garnish

Crushed red pepper flakes

optional
Instructions
Cook down strips of bacon until crispy, about 4-5 minutes, then remove from the pot and set aside to drain.

Add sausage and break it down into bite size pieces or smaller using a spoon or spatula. Continue cooking until there is no pink left, 5-7 more minutes. Remove sausage from the pot and set aside to drain.

Remove all but 2 tablespoons of fat from the pot. Add onion and cook until translucent, 2-3 minutes. Add garlic and cook until fragrant, 1-2 minutes. Stir in flour, thoroughly coating the onion and garlic, and cook for 2 more minutes.

Pour in broth and bring to a simmer. Add potatoes and cover. Cook until potatoes are fork-tender, about 15-20 minutes.

Uncover and add kale, sausage, and bacon to the pot. Reserve some bacon if you would like to keep it crispy for garnish. Continue cooking for 5-10 minutes or until kale is tender.

Add heavy cream then stir to incorporate. Taste then add salt and pepper to taste. Serve hot and garnish with freshly grated parmesan, bacon, and/or crushed red pepper flakes.
Notes
The heavy cream can be substituted for half-and-half or whole milk or left out completely for a lighter broth and soup overall
The flour can be left out for the same reason, a lower carb, slightly thinner version of this soup