Summary
Snickerdoodles are one of my favorite cookies. They are soft, chewy, and loaded with a warm cinnamon flavor. Even though they are mostly just sugar cookies rolled in cinnamon sugar, snickerdoodles have claimed their place in the hearts of many. This recipe takes it up a level by adding cinnamon to the dough before it's rolled. Enjoy these with your family, your friends, or all by your lonesome. The cookies will keep you company. The title of this post is not an exaggeration. They are addicting. You've been warned.
---
Your grocery list
Pantry Items
All-purpose flour
Cream of tartar
Baking soda
Kosher salt
Ground cinnamon
Sugar
Dairy
Equipment/tools you'll need
Mixing bowls
Measuring cups/spoons
Hand or stand mixer
Baking sheet
Parchment paper (optional)
Tips for making outstanding snickerdoodles
Don't skimp on the cinnamon
This recipe not only rolls the balls of dough in cinnamon sugar but there is also cinnamon added to the dough to give each bite a warm burst of cinnamon flavor.
Use cream of tartar
First of all, what is cream of tartar? Cream of tartar is a white powder found in the baking aisle that is commonly used in baking for things like stabilizing whipped egg whites in meringues and cakes or giving snickerdoodle cookies their signature flavor and texture. It's made from tartaric acid, a byproduct of the winemaking process.
Is it necessary? Technically, no. The cream of tartar can either be replaced by an equal amount of baking powder or left out completely, but the cookies won't have the same taste or texture as classic snickerdoodles.
Let your snickerdoodle dough chill
Chilling the dough is essential to making sure the cookies don't spread too much in the oven. If you start the baking process and the dough is already warm, the butter in the dough will melt before the other ingredients in the cookie have time to setup properly. This results in oddly shaped cookies that run into each other and ruin the crisp edges that we all love so much.
See the notes section of the recipe card below for more ways to keep your cookies in shape.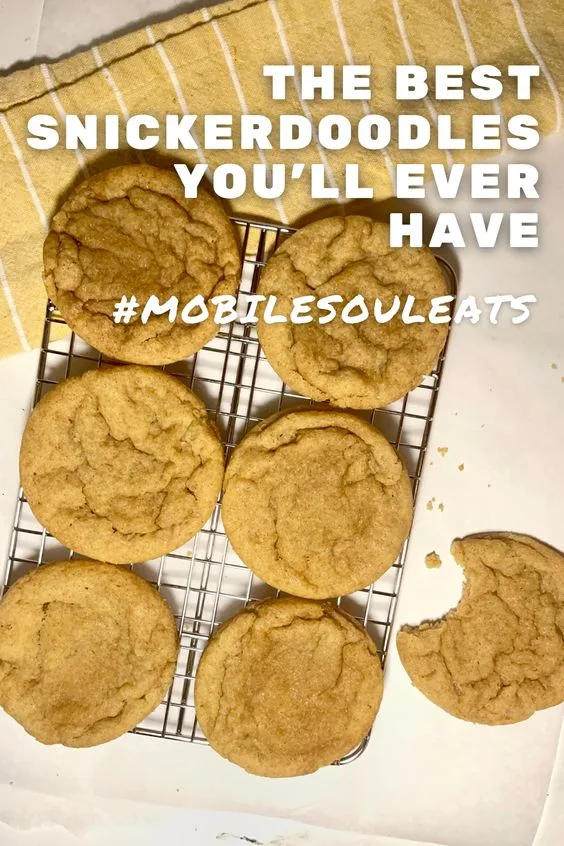 Other snickerdoodle recipes to try
Peanut Butter Snickerdoodles: substitute half of the unsalted butter in this recipe for smooth peanut butter
Pecan Snickerdoodles: substitute half of the unsalted butter in this recipe for pecan butter. Fold in chopped pecans (optional) and top with a whole pecan for decoration, crunch, and more pecan flavor of course.
White Chocolate Snickerdoodles: fold white chocolate chips into the dough before chilling
Pumpkin or Sweet Potato Snickerdoodles: substitute the additional egg yolk for 1/4 cup of pumpkin or sweet potato puree
Cheesecake with Snickerdoodle Crust: use snickerdoodles crumbs instead of the traditional graham cracker for your next cheesecake
---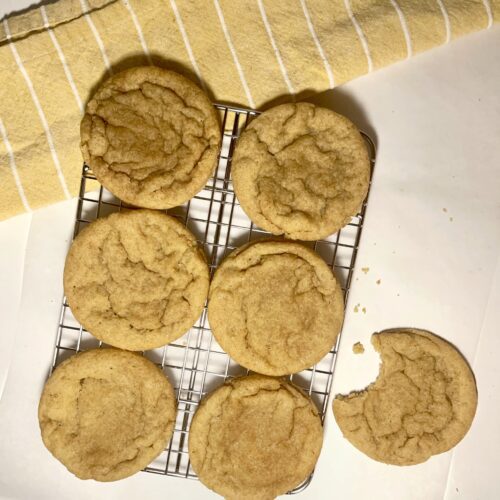 Snickerdoodles
A quick, easy, and immensely satisfying cookie that is chewy with crisp edges and a burst of cinnamon flavor.
Ingredients
2.5

cups

all-purpose flour

2

teaspoons

cream of tartar

1

teaspoon

baking soda

½

teaspoon

kosher salt

1 ½

teaspoons

ground cinnamon

1

cup

unsalted butter

two sticks, softened to room temperature

1 ⅓

cup

granulated sugar

1

large egg + 1 egg yolk

2

teaspoons

vanilla extract

⅓

cup

granulated sugar

for topping

1

tablespoon

ground cinnamon

for topping
Instructions
Make the dough
Whisk the flour, cream of tartar, baking soda, ground cinnamon, and salt together in a medium bowl. Set aside.

In a large bowl using a hand mixer or a stand mixer fitted with a whisk or paddle attachment, beat the butter until fluffy. Add sugars and beat together on high speed until completely smooth and creamy, about 1 minute. Scrape down the sides of the bowl. Add the egg and egg yolk along with the vanilla extract then beat on high speed until combined, 1 more minute. Scrape down the sides and up the bottom of the bowl and beat again as needed to combine.

Add the dry ingredients to the wet ingredients and mix on low until combined. Wrap or cover the dough with plastic wrap and place into the fridge to chill for at least 30 minutes and up to 3 days.

While the dough chills, mix ⅓ cup of sugar with 2 teaspoons of cinnamon. Set aside. This will be used to coat your cookie dough before baking.
To bake
Preheat oven to 350º F. Remove dough from the fridge. Prepare a baking sheet with nonstick spray or parchment paper.

Use a spoon or ice cream scoop to make even-sized balls of dough (1-2" diameter). Roll each ball of dough in cinnamon sugar then place the cookies on a baking sheet at least 2 inches apart.

Bake for 8-13 minutes or until the edges begin to crisp and turn brown. Leave cookies on the baking sheet for a few minutes then transfer to a cooling rack or serve warm.
Notes
The extra egg yolk adds a nice chewiness to snickerdoodles that other cookies don't often have, but it isn't necessary. You can still make these cookies if you only have one egg. Just reduce the amount of flour used to 2 and 1/4 cups.
For perfectly round cookies, the following methods can be used:

Place each ball of dough in the well of a cupcake or muffin tin. They may be thicker than you're used to, so I tend to make 1" balls of dough when using this method.
Immediately after baking, use a round cookie cutter to surround, gently swirl, and shape each cookie.

Bake time will vary between 8-13 minutes depending on the side of the cookies. The smaller, the fewer minutes they will need to bake.
This recipe will make 24 large cookies or 48+ smaller cookies that are perfect for parties and sharing.