Summary
There are few things more comforting than warm chocolate chip cookies, and, if you're anything like me, you wouldn't mind having a cookie (or 3) every day of your life. With this simple recipe, you can keep that dough on deck to give into your sweet tooth every once in a while, have a quick snack on hand for the kids, or impress your friends, family, and coworkers with a quick dessert that is super easy to transport, ship, and share.
Yes, it's so easy that you could make enough to enjoy and share! (Maybe. Hopefully. If you're feeling generous.)
Your Grocery List
Pantry Items
White sugar 
Brown sugar 
Vanilla extract 
All-purpose flour 
Baking soda 
Kosher salt 
Chocolate chip cookies or chocolate chunks
Dairy
Equipment/Tools You'll Need
Oven – set to 350º F
Stand mixer or electric hand mixer – it is possible to cream the sugar and softened butter together by hand if that's your jam
Cookie or baking sheet 
Non-stick spray for cooking/baking or parchment paper –  this helps prevent the cookies from sticking and keeps clean-up easy
Rubber spatulas – their flexible edges are the best for getting every single drop of batter/dough out of the mixing bowl; my favorites are from IKEA (since we have one in town), but they're also sold on Amazon, and elsewhere I'm sure
Measuring cups/spoons
Mixing bowls – either use the bowl of the stand mixer or a mixing bowl with tall sides to prevent dough from flying all over the kitchen
Spoon, for scooping dough
Cooling rack (optional, but recommended) – after baking, cookies should be left on the cookie/baking sheet for a few minutes to help the bottoms solidify enough to be transferred to the cooling rack for the rest of the cooling process


---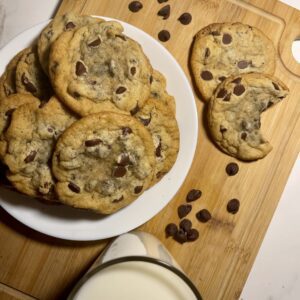 Chewy Chocolate Chip Cookies
Soft & delicious, these cookies are perfect right out of the oven or even days later. This recipe is also super versatile so use whatever additions make you happy and create your own signature cookie
Equipment
Stand mixer or electric hand mixer

Cookie or baking sheet

Non-stick spray

Spatulas

Measuring cups/spoons

Mixing bowls (optional)

Whisk

Spoon, for scooping dough

Cooling rack (optional)
Ingredients
2 1/2

cups

all-purpose flour

1

teaspoon

baking soda

1/2

teaspoon

kosher salt

1

cup

unsalted butter

(2 sticks)

3/4

cup

granulated sugar

3/4

cup

light brown sugar

2

large eggs

1

tablespoon

vanilla extract

1 1/2 – 2

cups

milk chocolate semi-sweet chocolate chips
Instructions
Take your sticks of butter out of the fridge to soften them a couple of hours before you plan on making your dough. You can soften the butter quickly by putting the sticks inside a ziplock bag and sitting the bag inside a bowl of warm water for a few minutes. Preheat your oven to 350º F.

Mix flour, baking soda, and salt together with a whisk in one of your bowls. Set aside. Put the softened butter and both sugars in another bowl or the bowl of your stand mixer. Combine on a low speed then increase speed to medium to whip together until everything is fully incorporated. Add eggs and vanilla extract and mix.

Take the flour mixture from earlier and add half to butter mixture. Combine on a low speed then slowly add the rest of the flour mixture. Scrape all of the mixture down from the sides of the bowl and continue mixing until no flour is visible in the bowl.

Now, here's the fun part: choose the 1 ½ – 2 cups of add-ins you'd like and throw them in the bowl. To keep things whole, mix in by hand. If you don't mind things being a little chipped, it's okay to continue using the stand or hand mixer.

Spray the cookie sheet with nonstick spray. Use a small spoon to scoop chilled dough and roll into balls around 1″ in diameter. About as wide as a quarter is a good size for snack-sized, easy-to-share cookies. Arrange balls of cookie dough on your cookie sheet at least 2″ apart.

Bake for 8-9 minutes, depending on your preference. The longer you bake, the crispier your finished product will be. If you like super chewy cookies, bake for closer to 8 minutes.
Notes
If your butter is too soft or slightly running, it won't whip and fluff the same. Don't be alarmed, your cookies will still be delicious in the end.
Feel free to use dark chocolate chips, white chocolate chips, salted caramel chips, walnuts, pecans, M&Ms, etc. Any of your favorite cookie additions can go into this recipe.
Believe it or not, there is such a thing as "too many add-ins". I know we're all here for what's IN the cookies, but your cookie needs a nice dough-to-add-in ratio in order to stay composed during the baking process. You can add more than 2 cups of course, but try to have more dough than add-ins, even if it's only by a little bit.