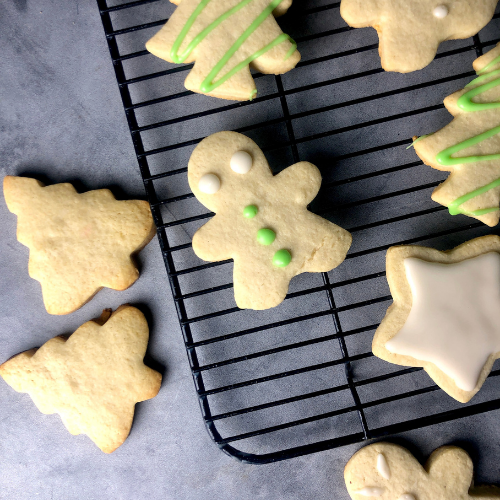 Sugar cookies are often overlooked for their flashier cookie cousin, the chocolate chip cookie, but they can be just as classic and just as delicious. You can even bake them into cool shapes based on the holiday or theme of your party. Yes, cut-out sugar cookies require a little bit more effort to pull off but are totally worth it. Enlist your friends and/or kids for the rolling, cookie-cutting, and decorating parts of the process to take a bit of the burden off of yourself. This sugar cookie recipe bakes up into a cookie that has golden crisp edges and a tender center with subtle vanilla and almond flavors.
Ingredients you'll need
Dairy
Unsalted butter
Large egg
For the icing:

Whole milk or almond milk
Baking & Pantry Items
All purpose flour
Baking powder
Kosher salt
Granulated sugar
Light brown sugar
Vanilla extract
Almond extract
For the icing:

Powdered (confectioner's) sugar
Light blue agave syrup or light corn syrup
Equipment you'll need
Stand or hand mixer
Mixing bowls
Measuring spoons/cups
Parchment paper
Cookie (or baking) sheets
Wire racks for cooling
Rolling pin
Assorted cookie cutters
Food coloring: Even as little as 1/4 teaspoon of liquid food coloring can alter the consistency of the icing, so I recommend gel food coloring.
Piping tips or squeeze bottles: If you're using my easy glaze icing, I recommend using a squeeze bottle. If you're more adventurous and want to use royal icing, the experts recommend using a piping bag and tips (Wilton #4 seems to be a favorite).
Piping bag: If you're using royal icing and a piping tip, you need a disposable piping bag or reusable piping bag.
The process of making cut-out sugar cookies with icing
Make the cookie dough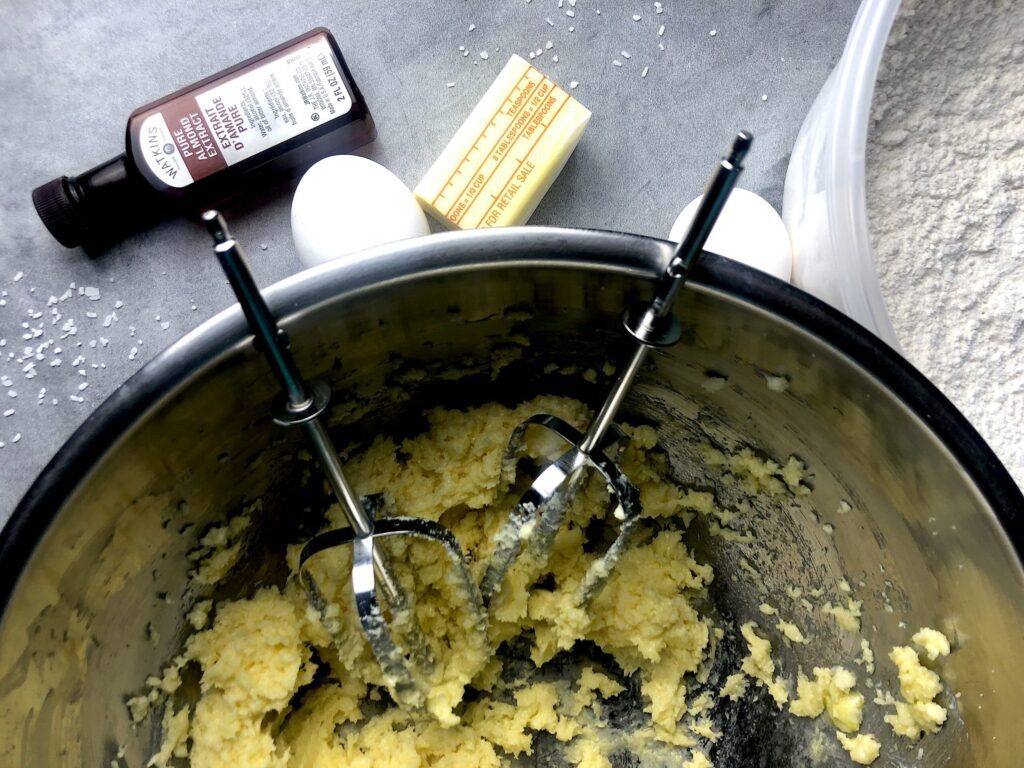 Like most cookie recipes, unsalted butter and sugars are creamed together to create the base of the cookie dough. Most sugar cookie recipes just use granulated sugar, but using a little bit of brown sugar adds moisture and makes for a softer cookie.
Egg provides the cookie's structure and vanilla extract adds flavor. I usually add a touch of almond extract for additional flavor. Careful with this stuff, a few drops are more than enough to taste a hint of bright almond flavor in every bite.
Flour and specifically the gluten in flour helps the egg in giving the cookie structure, the baking powder adds lift, and the salt balances the sweetness.
Divide into two pieces
The smaller sections of dough are just easier to roll out.
Roll out the cookie dough
Roll it out to 1/4-inch thick or just under 1/4-inch thick. Lay parchment paper down then place the first layer of rolled dough down. Place another piece of parchment paper down then the second layer of rolled dough. Feel free to dust very lightly with flour if it seems like the dough is too sticky.
Chill rolled out cookie dough
Without chilling, these cookie-cutter sugar cookies won't hold their shape. Chill the rolled-out cookie dough for at least 1 hour and up to 2 days. Make sure the dough is well wrapped (with parchment paper, plastic wrap, and/or aluminum foil) to avoid it drying out in the fridge, especially if you plan to make it days in advance.
Cut into shapes
This is my favorite part of making cut-out sugar cookies. Yes, even more than the decorating. That can be a bit tedious. Cutting the cookies is just a matter of deciding on a theme and getting the appropriate cookie cutters. This recipe shouldn't stick to the cutters so there's no need to dust them with flour.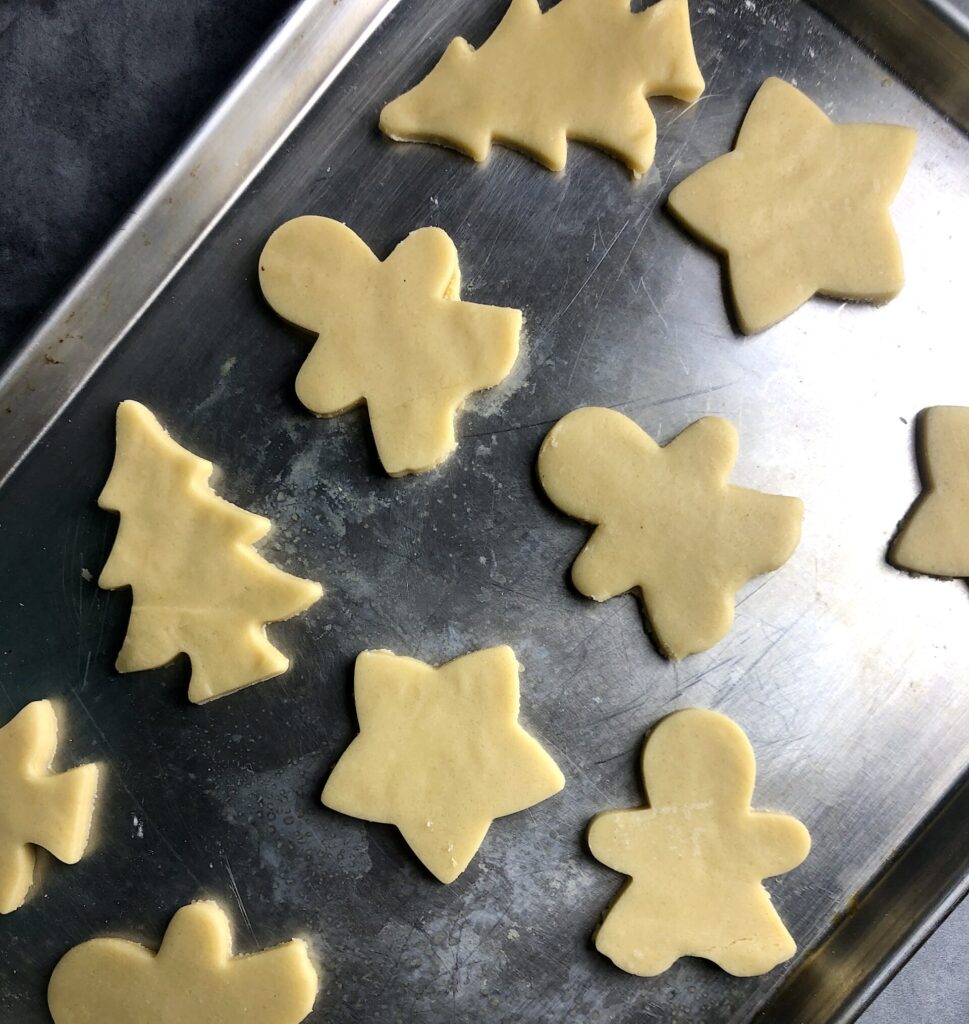 (OPTIONAL) Chill the cut out cookies
This step is optional but it helps to chill the cookies again if the dough seems too pliable and warm. Cooling the butter down again will help it to not melt so quickly and spread the cookies excessively during baking.
Bake & cool
Depending on the size/shape of the cookies, they will take about 12 minutes to cook to perfection. If baking on parchment paper instead of directly on the baking sheet, add another minute to make sure the bottoms are nice and crisp.
Decorate
See my easy sugar cooking icing recipe, tips, and tricks below.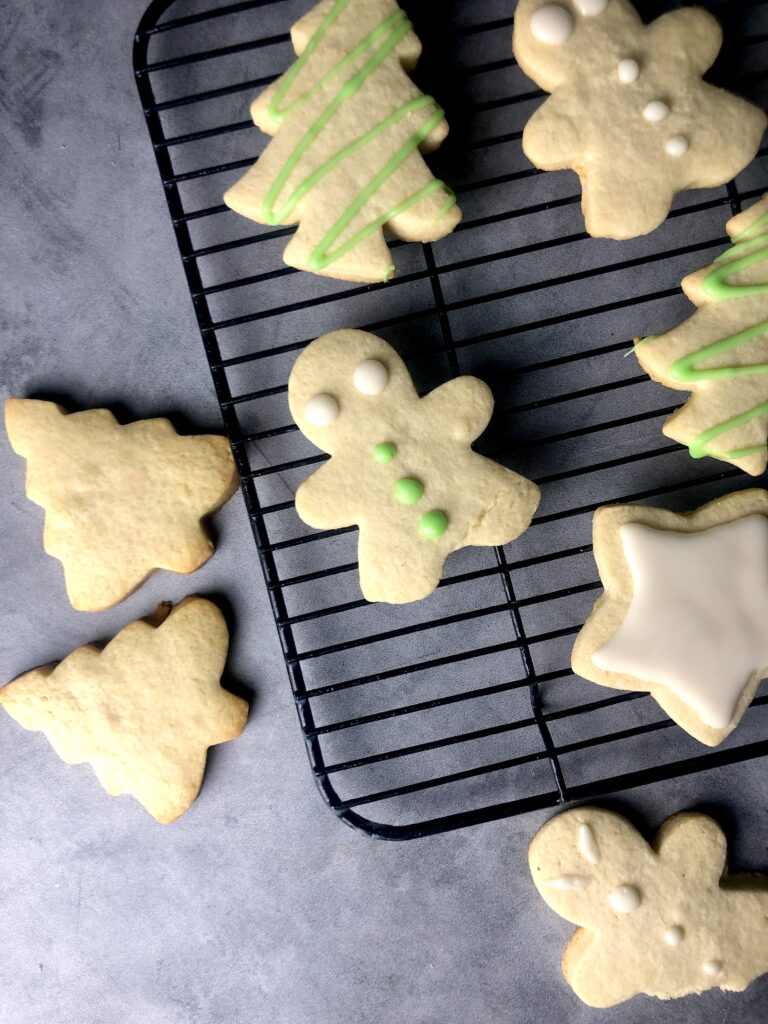 Should I use parchment paper or just flour my surfaces?
I prefer to primarily rely on parchment paper when making these sugar cookies. It can be used as a clean non-stick surface when rolling out the dough. It's also used to keep the layers of dough separated during chilling.
Have a little flour nearby when you're rolling out the cookie dough just in case the dough begins to stick. Keep your work surface, hands, and rolling pin (very) lightly floured.
But be careful to not over-flour things, as it will make your cookies tough.
How thick should I roll out the dough?
1/4-inch think is perfect although a little under or over 1/4-inch will be just fine. This is the perfect thickness to achieve those crisp bottoms and edges while keeping the centers soft. If you're not a huge fan of the rolling out process, try our drop-style sugar cookie recipe instead.
How do I store these cut-out sugar cookies?
After the cookies have cooled and the icing has hardened completely, keep cookies in a gallon-sized ziplock bag or an airtight container at room temperature for up to a week.
To Freeze
Wait until decorated cookies have hardened completely then store in a freezer-safe ziplock bag. Store bag in an airtight container or another ziplock bag for added protection. The cookies will be good for up to a month. Just remove from the freezer and allow to thaw in the fridge overnight or on the counter for at least an hour before serving.
Ideas for flavoring & decorating your sugar cookies
Easy sugar cookie icing
Ingredients

2.5 cups powdered sugar
1 teaspoon vanilla extract
1.5 Tablespoons light blue agave syrup or light corn syrup
2-3 Tablespoons milk
Gel food coloring, optional

Instructions

Use a whisk or hand mixer (on the lowest setting) to combine powdered sugar, vanilla extract, syrup, and 1 Tablespoons of milk into a smooth icing. Add the rest of the milk a little at a time until it reaches the desired consistency.
Transfer to piping bags or a squeeze bottle for easy decorating.
*The icing for your borders and outline should be thicker than the filling icing. Make one large bowl of icing using 1-2 tablespoons of milk. Separate any icing that will be used as filling then add a tablespoon of milk or food coloring to thin out the consistency.
Sprinkles
Sprinkles are an easy way to make anything look fun and festive. Just frost with a little of the easy sugar cookie icing then dip into sprinkles or use tweezers to place them into a specific pattern.
Flavored extracts
Besides the almond extract that we love to add to all of our sugar cookies, you can play around with other flavored extracts like lemon, banana, or lavender. Remember to start with just a couple of drops as these extracts are usually very strong.
Tips and tricks to keep in mind when making cut-out sugar cookies
The colder the dough, the better the cookies keep their shape. If the cookies are too warm, the butter in the cookies will begin to melt and spread immediately instead of holding onto their shape as they bake.
Roll them to a consistent thickness. Any bulges and dips in the cookie's thickness will cause them to bake unevenly.
Keep the cookies on the baking sheet for 5 minutes after baking. This will help the bottoms firm up more without overbaking the entire cookie.
Let them cool completely. Wait until the cookies are completely cool before decorating. You don't want all of your hard work to just melt right off.
Use a squeeze bottle for decorating. They allow for precise decorating and easy storage. Just make sure the hole is large enough for the thicker icing to pass through without too much effort.
---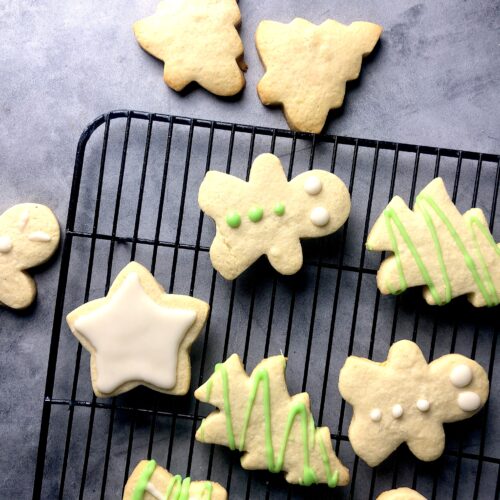 Cut-out Sugar Cookies
Tender buttery sugar cookies with a crisp, golden brown edges that will hold any shape.
Equipment
Stand or hand mixer

Mixing bowls

Measuring spoons/cups

Parchment paper

Cookie (or baking) sheets

Wire racks for cooling

Rolling Pin

Assorted cookie cutters

Food coloring

Piping tips or squeeze bottles

Piping bag or ziplock bag
Ingredients
2 ¼

cups

all-purpose flour

spoon & leveled, plus more as needed for rolling, for hands, pin, and work surface

½

teaspoon

baking powder

¼

teaspoon

kosher salt

¾

cup

unsalted butter, softened to room temperature

1.5 sticks

½

cup

granulated sugar

¼

cup

light brown sugar

1

large egg

at room temperature

2

teaspoons

pure vanilla extract

¼

teaspoon

almond extract

optional, but recommended

Royal Icing or Easy Glaze Icing for decorating
Instructions
Whisk flour, baking powder, and salt together in a medium bowl.

In a large bowl using a hand mixer or a stand mixer fitted with a paddle or whisk attachment, beat the butter and both sugars together until completely smooth and creamy, about 2 minutes. Add the egg, vanilla, and almond extract (if using) and continue beating on a high speed until combined, about 1 minute. Scrape down the sides and up the bottom of the bowl and beat again as needed to combine.

Add the dry ingredients to the wet ingredients and mix on low until combined into a consistent dough. Dough will be relatively soft. If the dough seems too soft and sticky for rolling, add 1 more tablespoon of flour.

Divide the dough into 2 equal parts. Place each portion onto a piece of lightly floured parchment paper or a lightly floured silicone baking mat. With a lightly floured rolling pin, roll the dough out to 1/4-inch thickness. Use more flour if the dough seems too sticky. The rolled-out dough can be any shape, as long as it is evenly 1/4-inch thick.

Lightly dust one of the rolled-out doughs with flour. Place a piece of parchment on top. Place the 2nd rolled-out dough on top. Cover with plastic wrap or aluminum foil, then refrigerate for at least 1-2 hours and up to 2 days.

Once chilled, preheat the oven to 350°F. Line 2-3 large baking sheets with parchment paper or silicone baking mats.

Carefully remove the top dough piece from the refrigerator. Using a cookie cutter, cut the dough into shapes. Re-roll the remaining dough and continue cutting until all is used. Repeat with the 2nd piece of dough.

Arrange cookies on baking sheets at least 2 inches apart. Bake for 12-13 minutes or until lightly browned around the edges. If your oven has hot spots, rotate the baking sheet halfway through bake time. Allow cookies to cool on the baking sheet for 5 minutes then transfer to a wire rack to cool completely before decorating.

Enjoy cookies right away or wait until the icing sets to serve them.
Adapted from Sally's Baking Addiction's Best Sugar Cookies recipe