If you're looking for a unique and delicious seafood bisque recipe, then you've come to the right place. A shrimp and crab bisque is the perfect combination of flavors and textures, and it's sure to impress your family and friends. Here, we'll give you all the details you need to make the perfect seafood bisque, plus some helpful tips and tasty variations.
Your grocery list
Produce
Fresh garlic
Yellow onion – green onions, shallots, and leeks can all be used instead of a yellow onion
Celery
A fresh ear of corn
Curly parsley (for garnish)
Dairy
Heavy cream
Unsalted butter
Meat & Seafood
Large or jump shrimp, raw, peeled, and deveined
Claw or lump crab meat
Pantry Items & Seasonings
Extra virgin olive oil
All-purpose flour
Seafood or chicken broth (or vegetable broth for a lighter or vegetarian option – see notes for more info)
Smoked paprika
Creole Seasoning or Old Bay
Salt
Black pepper
Equipment/tools you'll need
Large pot with a lid or dutch oven
Nonstick pan or cast iron pan (for cooking shrimp for garnish)
Small bowl (for preparing crab garnish)
Immersion blender or food processor (for a smooth, puree-style bisque)
Tips for making the perfect seafood bisque
Making a seafood bisque can feel tricky and intimidating, but with a few tips and tricks, you'll be able to make a delicious seafood bisque any and every time. Here are some tips to get you started:
Start with good-quality shrimp and crab meat. The better the ingredients, the better the bisque.
Try to cut your vegetables to small, even(ish) sizes for a quick and even cook time.
If you're using frozen shrimp, make sure to thaw them completely before using them.
When adding the broth, be sure to stir constantly to prevent lumps from forming.
When adding the heavy cream, be sure to stir constantly to prevent it from curdling.
If you prefer a thicker bisque, cook it a bit longer until it reaches your desired consistency. The heavy cream will reduce over time.
Taste the bisque before serving to adjust the seasoning if needed.
Serve the bisque with a side of croutons, crackers, crusty bread, or a fresh garden salad.
Switch it up!
The best part about this recipe is that it's versatile and can be easily adapted to suit your taste. Here are some possible variations for the shrimp and crab bisque:
For a spicier bisque, add a pinch of cayenne pepper or red pepper flakes.
For another layer of flavor complexity, add a splash of white wine.
For a creamer bisque, stir in ½ cup of cream cheese.
For a smokier flavor, add an additional ½ teaspoon of smoked paprika, Worcestershire sauce, or liquid smoke.
For a lighter version, use vegetable broth instead of seafood or chicken broth.
For a more intense seafood flavor, add crushed dried shrimp as a garnish.
For a vegetarian option, replace the shrimp and crab with sautéed mushrooms and kale.
Switch up the seafood by using clams, crawfish, oysters, and/or scallops.
Creative ways to serve shrimp and crab bisque
Shrimp and crab bisque is a great dish for any occasion, and there are so many creative ways to serve it. Here are some ideas to get you started:
Serve the bisque in individual soup cups as an elegant appetizer.
Place a scoop of the bisque in a hollowed-out sourdough bread bowl.
Top the bisque with crispy bacon crumbles or fried shrimp.
Serve the bisque on a bed of wild rice, quinoa, or mashed potatoes.
Create a shrimp and crab bisque bar by offering a variety of toppings, such as diced tomatoes, diced onions, grated cheese, herb croutons, cheddar bay biscuit pieces, and more.
Use the bisque as a sauce for your favorite pasta.
---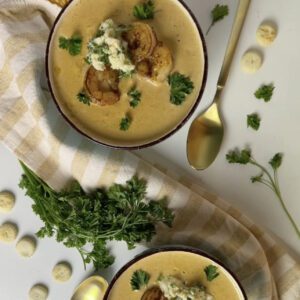 Shrimp and Crab Bisque
A creamy soup that is loaded with fresh seafood flavor.
Equipment
Large pot with a lid or dutch oven

Nonstick pan or cast iron pan

for cooking shrimp for garnish

Small bowl

for preparing crab garnish

Immersion blender or food processor

for a smooth, puree-style bisque
Ingredients
2

tablespoons

olive oil

1

pound

large or jumbo shrimp

peeled, deveined and divided – reserve 10-12 shrimp for garnish

1

teaspoon

Old Bay seasoning

1/2

yellow onion

diced

2

celery stalks

diced

1

large carrot

peeled and diced

2

cloves

garlic

minced

kernels from 1 ear of corn

2

tablespoons

tomato paste

2

tablespoons

all-purpose flour

2

cups

homemade seafood stock

or reduced-sodium chicken broth

2

cups

heavy cream

1

pound

claw or lumb crab meat

1/2 lb. reserved for garnish

1

tablespoon

unsalted butter

3

tablespoons

fresh curly parsley

minced and divided – reserve 1 tablespoon for garnish

2

teaspoons

Creole seasoning or smoked paprika

Salt and pepper to taste
Instructions
Heat the olive oil in a large pot or dutch oven over medium heat. Once the oil is hot, add all but 10-12 of the shrimp and Old Bay seasoning. Sear for 30 seconds on each side then set aside. Add onion, carrot, and celery. Cook for 4-5 minutes, stirring occasionally. Add minced garlic and corn and continue to cook for 2 more minutes.

Reduce the heat to low and add the flour. Stir until the flour is fully incorporated into the vegetables. Gradually add the broth, stirring constantly to avoid clumps forming. Increase the heat to medium-high and bring the mixture to a boil. Once boiling, reduce the heat to low and simmer for 10-15 minutes or until vegetables are very tender. Add cooked shrimp.

Use an immersion blender or food processor to puree soup until smooth. Add heavy cream and tomato paste. Stir to incorporate fully. Taste and season with smoked paprika, Creole seasoning, salt, and/or black pepper, to taste. Stir in 1/2 of the crab meat and let the soup simmer while you prepare the garnishes.
Make crab garnish
Melt butter and combine that with the remaining crab meat and 2 tablespoons of minced, fresh parsley.
Make shrimp garnish
Toss remaining shrimp in Old Bay or Creole seasoning and sear in a nonstick or cast iron pan for 30-60 seconds until they are nicely seared.

Serve bisque hot with crab and shrimp garnishes, fresh parsley, crackers or croutons, and a sprinkle of red pepper flakes.
Notes
The yellow onion can be substituted for green onion, shallots, or leeks.
Shrimp being used for garnish (optional) can be cooked right before the bisque is finished cooking. Season lightly then use a nonstick or cast iron pan to quickly sear the shrimp (medium-high heat for 30-60 seconds on each side)
The carrot and corn are added for sweetness to complement the natural sweetness of the crab meat, but they are optional for this soup.
My name is Lena aka The Biscuit Lady, and my favorite part about cooking, baking, and experimenting with food is realizing that something isn't as hard as I previously thought. It's the learning, growth, and immense pride that come with developing new, delicious skills.
My style of cooking combines familiar flavors and ingredients with techniques I've picked up from traveling, reading, and eating all kinds of cuisines. I believe that food is one of those things (like music) that truly moves and connects us and this blog is my way of introducing that concept, plus a few others relating to food and community to anyone who's interested.
Besides being in the kitchen, I enjoy visual art, photography and documentaries, forests, rivers & beaches, Jeopardy! (RIP Alex Trebek), and playing made-up games with my nephews.