Soup is perfect for those chilly fall and winter days. And this broccoli cheddar soup is creamy, cheesy, and full of vegetables and the nutrients that come with them. It's also super easy to make. If you've ever had Panera's broccoli cheddar soup, you're in luck because this recipe has even more flavor and texture. Plus, it's ready after just 30 quick minutes of cooking. To make this delicious broccoli cheddar soup you will only need a handful of ingredients, a (cheese) grater, and a dutch oven or large pot. So let's get into this!
Your grocery list
Produce
Yellow onion
Garlic cloves
Broccoli crowns
Carrots
Baking & Pantry Items
All-purpose flour
Low-sodium vegetable or chicken broth
Kosher salt
Ground black pepper
Smoked (or regular) paprika
Ground nutmeg
Dairy
Unsalted butter
Half-and-half or heavy cream
Cheddar cheese
Equipment you'll need
Cutting board and knife
Measuring spoons
Grater
Dutch oven or large pot
How to make broccoli cheddar soup
Broccoli cheddar soup follows the 5 Steps of Soup-Making pretty closely.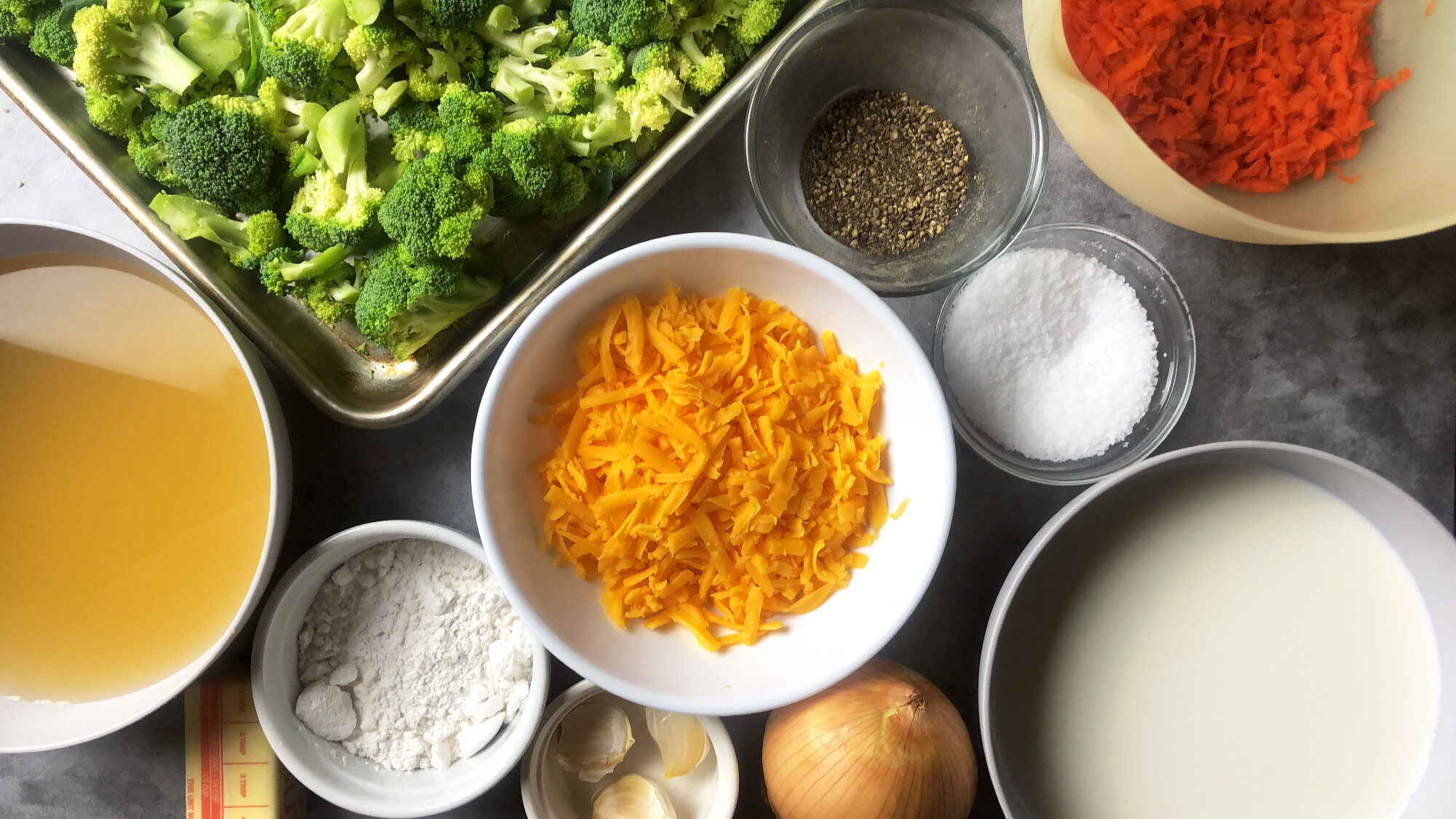 #1 Start with a fat – butter, in this case
Melt butter in the bottom of the pan. This will be the delicious flavor base and help the aromatics cook without sticking to the bottom of the pot and burning.
#2 Add aromatics – onion and garlic
Add chopped onion and cook until the onions are soft and translucent. Then add the garlic and cook until it begins to turn golden brown. Adding the garlic after the onion is important because it cooks more quickly. Adding the onion and garlic at the same time may cause the garlic to burn.
#3 Add flour as a thickener
Thickeners can be added at almost any point in the soup cooking process. Broccoli cheddar soup utilizes a roux as a thickener. The butter from the first step is combined with the same amount of flour then whisked together into a paste. The onion and garlic will be coated with roux, in this case, but that's fine!
#4 Add broth, vegetables & seasonings
Add low-sodium chicken or vegetable broth and whisk until the roux and broth combine into a smooth sauce. Add broccoli, carrots, and the seasonings then bring the soup to a boil. Paprika and nutmeg both add another interesting layer of flavor. You can use both of them or either one, it's up to you.
After boiling briefly, reduce to a simmer and cook for 15-20 minutes or until the broccoli and carrots are cooked.
#5 Finish with half-and-half or cream and cheddar cheese
The creamy elements of the soup are added at the last minute to prevent curdling. Using heavy cream instead of half-and-half will result in a bit thicker of a soup, but either of them works with this recipe.
As far as cheeses go, we've tried cheddar cheeses of varying levels of sharpness. Plain cheddar cheese works wonderfully, but we like to add a little more bite. Sharp or extra sharp cheddar cheese will give you that; however, they are also saltier, so wait until after the cheese has melted completely to taste again and adjust the seasoning.
We don't recommend using pre-shredded cheeses just because they are often coated in substances that are supposed to prevent them from melting during transport.Using cheese that is freshly grated from a block of cheese will result in a soup with a smoother consistency. Pre-shredded cheeses are more convenient, we know, but the extra elbow grease will be worth it. You could even use a food processor with a shredding attachment to get the job done.
Garnish with more cheese, small crumbles of fresh broccoli, green onions or chives, bacon bits, croutons, or oyster crackers.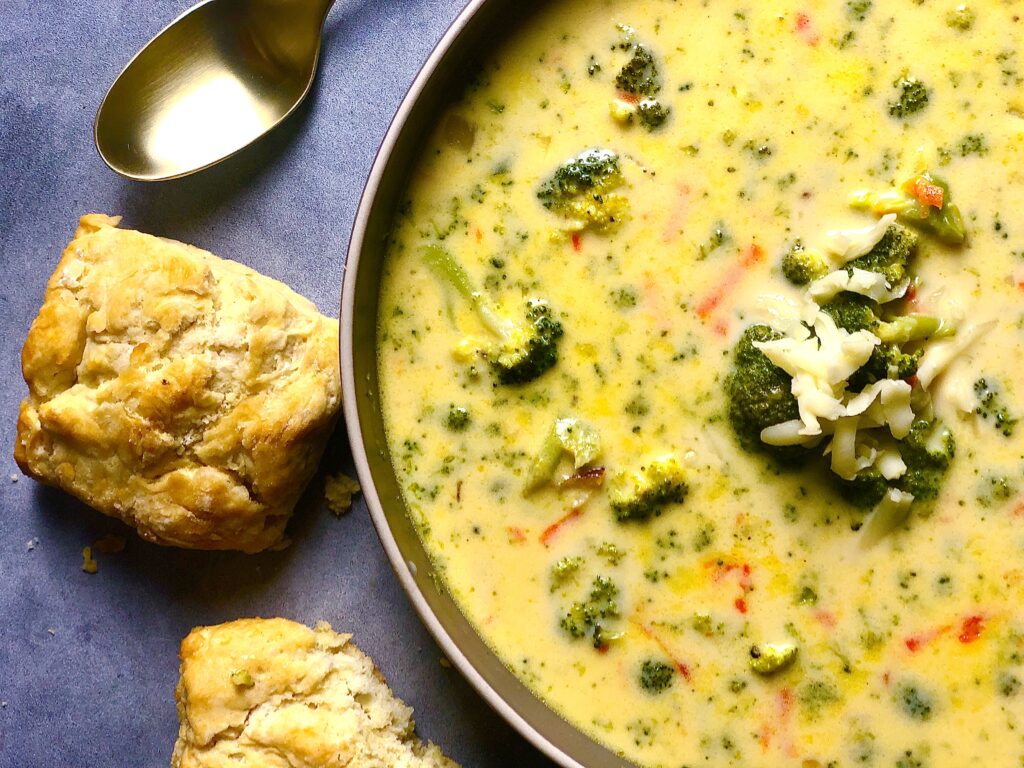 How do you store the soup?
To refrigerate: Let any leftover soup cool then pour into an airtight container and refrigerate for 3-4 days. Reheat on the stove over medium-low heat, stirring occasionally.
To freeze: Place in freezer-safe bags and freeze flat (on a baking sheet, if necessary) or in freezer-safe containers. To reheat, thaw completely then warm on low heat to prevent any curdling.
Ways to enjoy broccoli cheddar soup
Serve with crusty bread, toast, or crackers
Ladle it into a bread bowl
Top with roasted chickpeas or croutons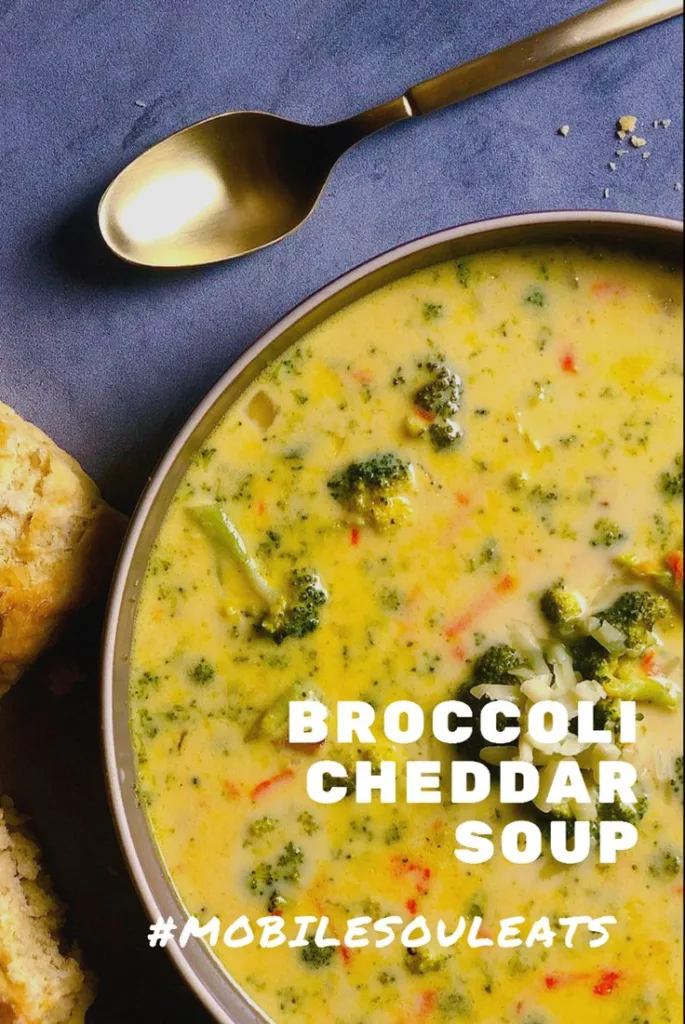 ---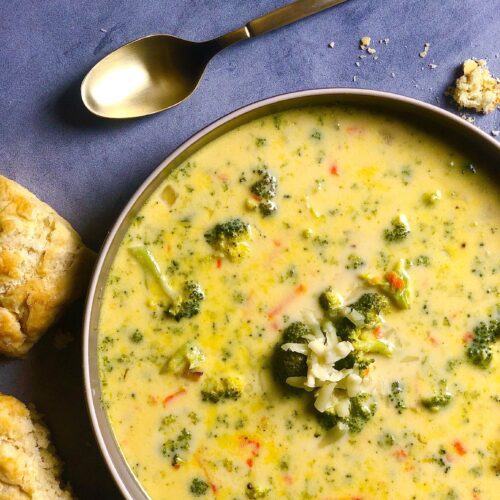 Broccoli Cheddar Soup
This soup is creamy, cheesy, and bursting with broccoli flavor.
Ingredients
4

tablespoons

unsalted butter

½

medium yellow onion

diced

2-3

garlic cloves

minced

4

tablespoons

all-purpose flour

2

cups

low-sodium chicken or vegetable broth

1

teaspoon

kosher salt

½

teaspoon

freshly ground black pepper

¼

teaspoon

smoked or regular paprika

optional

¼

teaspoon

ground nutmeg

optional

1

large or 2 medium broccoli crowns

chopped roughly (about 3 cups)

1

large carrot

julienned or grated (about 1 cup)

2

cups

half-and-half or heavy cream

8

oz.

freshly grated sharp cheddar cheese

about 2 cups

A pinch of red pepper flakes
Instructions
Melt butter in a large dutch oven or pot over medium-high heat. Add onion and cook for 2-3 minutes or until softened and light gold. Add the garlic and saute for another minute.

Add flour and whisk for 1-2 minutes or until the flour begins to turn golden brown. Pour in the stock then add the broccoli florets, carrots, and seasonings. Bring the soup to a boil then reduce heat to medium-low heat and simmer for 15-20 minutes or until the broccoli and carrots are cooked through.

Stir in half & half and cheddar cheese and simmer for another minute or so. Taste and add salt and pepper, as needed. Sprinkle with red pepper flakes, if desired.

Serve with crackers, biscuits, toasted crusty bread, or in a bread bowl if desired.