Croutons are just crusty pieces of bread used to add flavor and texture to dishes like salads and soups. The great thing about croutons is that they can be made out of pretty much any leftover bread you have at home. They are also incredibly versatile. You can keep them plain to highlight the bread's natural taste, add salt, or add your favorite combination of herbs and spices to take your croutons to the next level. After just three (3) simple steps you'll have a perfect complement for dishes like this roasted butternut squash soup.
Ingredients you'll need
Deli & Breads
White bread, challah loaf, baguette, brioche buns, yeast rolls, sweet Hawaiian rolls, etc. (this works with almost any kind of bread so choose your favorite)
Baking & Pantry Items
Extra virgin olive oil
Garlic powder
Parsley flakes
Dried oregano
Dried basil
Equipment you'll need
Baking sheet
Parchment paper (optional, for easy cleanup)
How to make croutons
Step #1 – Break bread into large chunks
The pieces should be close to the same size so they will bake evenly, but there's no need to be a perfectionist. Ripping the bread apart works just the same as dicing it carefully with a knife. It also gives the croutons a more rustic finish with more nooks and crannies for the flavor to slip into. Be careful not to squish the bread pieces completely flat as this will speed up baking time and potentially lead to burned pieces.
Step #2 – Toss in oil and seasonings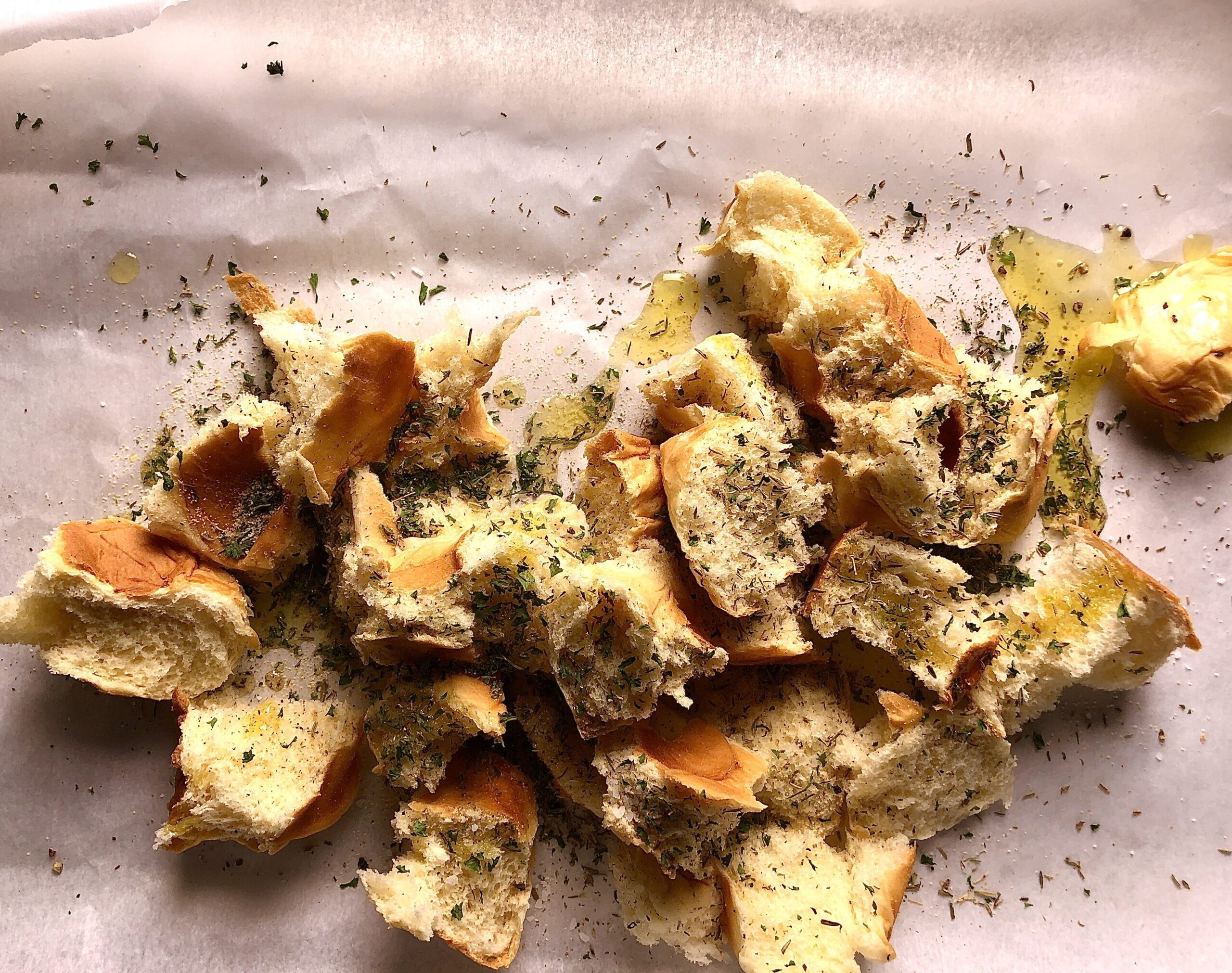 Use a good quality olive oil and sprinkle with garlic powder and dried herbs. Using fresh garlic and herbs is an option, but since the point is to be drying everything out anyway, the powdered versions work perfectly!
Step #3 – Bake until bread is dried out and crispy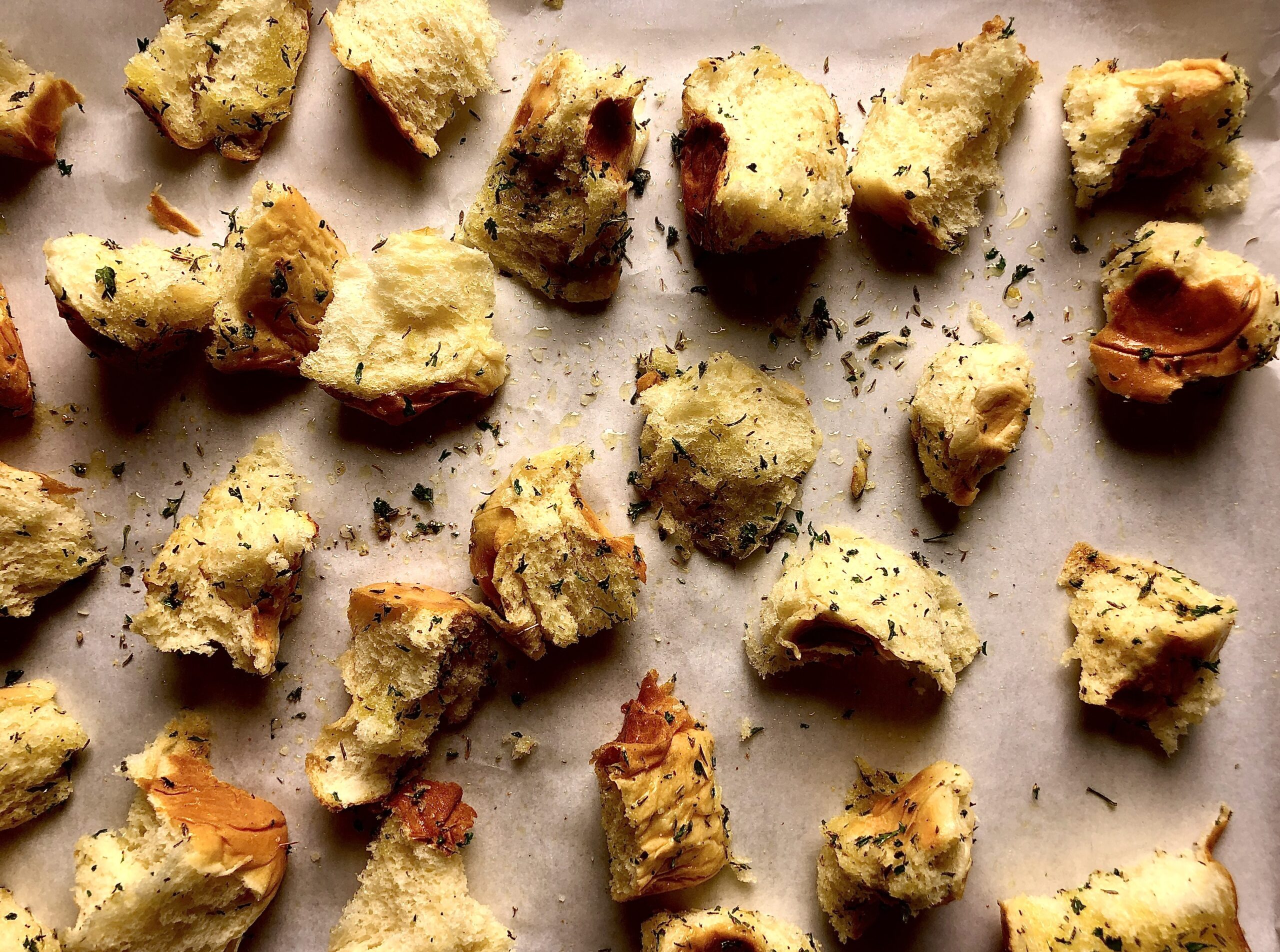 The oven should be preheated to 350ºF (175ºC). Line a baking sheet with parchment paper for easy cleanup then spread out the seasoned bread pieces in a single layer. Bake for 10-15 minutes, checking and shaking the pan occasionally to prevent any one side from burning. The croutons will continue to dry out once they're out of the oven so don't be too worried if they are browned to your liking but aren't completely dried out.
How to store croutons
Homemade croutons are best stored loosely covered but not in an airtight container at room temperature to maintain their texture. They are best up to a week after making them.
Other ways to flavor your croutons
Leaving the croutons completely plain is definitely an option! Just toss in oil and bake
Sprinkle plain croutons with a little bit of sea salt right after taking them out of the oven
Grate fresh parmesan over the croutons right out of the oven
Toss in oil and 1/2 teaspoon of cajun seasoning before baking
Toss in oil and warming spices such as cinnamon, nutmeg, cloves, and/or cardamom before baking (great with fall soups like pumpkin soup or butternut squash soup)
---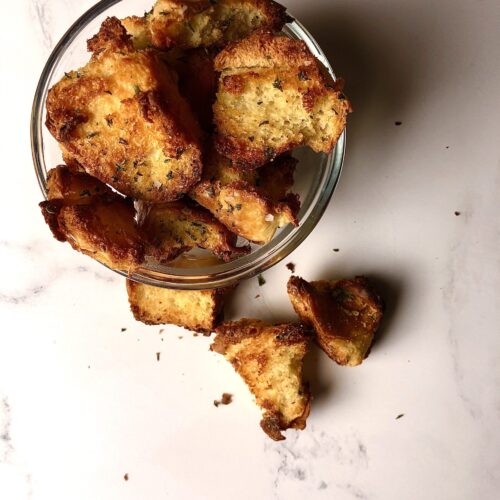 Garlic Herb Croutons
These croutons are both easy to make and incredibly delicious. Perfect for soups and salads.
Equipment
Baking sheet

Parchment paper (optional)
Ingredients
4

slices of bread or large rolls

diced or ripped into large chunks

2

tablespoons

extra virgin olive oil

1

teaspoon

garlic powder

1

teaspoon

dried parsley flakes

½

teaspoon

dried oregano

½

teaspoon

dried basil
Instructions
Preheat oven to 350ºF (175ºC).

Toss chunks of bread in olive oil and seasonings. Spread Into an even layer on a prepared baking sheet. Bake for 10-15 minutes or until bread is toasted all over.
Notes
Use any kind of bread that you have leftover around the house. Sweet Hawaiian rolls and challah bread loaves are our favorite
Feel free to use 2 teaspoons of an Italian seasoning blend instead of the individual dried herbs if you have that on hand
The bread will continue to dry out once exposed to the air so don't worry about the croutons being completely dried out right out of the oven