This is a recipe you can (and should!) make every week. Pickled red onions can be made using as few as 5 ingredients and in less than 45 minutes total, most of which is just waiting for the brine to do its magic. Besides being quick and simple to make, pickled red onions are incredibly versatile. They can be delicious additions to tacos, nachos, enchiladas, burgers, deli sandwiches, salads, and more. And, just like these easy homemade pickles, the brine can easily be adjusted to add different and exciting flavors to your next jar of pickled onions.
Ingredients you'll need
Produce
Baking & Pantry Items
Apple cider vinegar
Granulated sugar
Kosher salt
Red pepper flakes (optional)
Equipment you'll need
Small saucepan or pot
Airtight jars or containers
Ways to adjust the brine and your pickled red onions
For added heat: Adding either a pinch of crushed red pepper or thin slices of ginger (about 1/2″-worth) can add a kick to your pickled red pepper flakes. You can also use thinly sliced jalapeno or habanero peppers.

For some added flavor: Add whole peppercorns for a "peppery" taste, whole garlic cloves for a hint of garlic in your onions, or fresh herbs like thyme and rosemary for a fresh woody flavor.

To make them pickled onions sweeter: Doubling the amount of sugar in the recipe below will result in sweet and sour pickled red onions

Experiment with the acid: For a bit of a different pickling taste, different vinegars can be used. Apple cider vinegar provides a mellow, fruity pickling whereas pickles made using white distilled vinegar is a much stronger, sour taste. Try using different vinegars to adjust the taste of your pickled red onions. You can even substitute the vinegar for orange juice and the acid in the juice will serve the same purpose.

For a milder onion flavor: Red onions have a pungent flavor that is delicious both raw and pickled, but if you're looking to mellow out some of the onion flavor, follow these steps –

1) Bring 2 cups of water to a boil
2) Slice red onions thinly and place in a colander or fine mesh strainer
3) Slowly (and carefully!) pour the hot water all over the sliced onions
4) Prepare brine and proceed with the recipe/instructions as written below

Because the onions are sliced so thinly, they are basically being blanched by the hot water. This mellows out the flavor before the pickling process even begins. So try to pour it evenly over all of the onions or there may be some inconsistency in the final flavor. Feel free to experiment with pickling other types of onions or shallots.
Ways to use pickled red onions
These pickled onions are a welcome tangy addition to any of the following dishes and plenty more:
Nachos
Tacos
Chili
Fried chicken sandwiches
Cold cuts
Salad
Grain bowls
---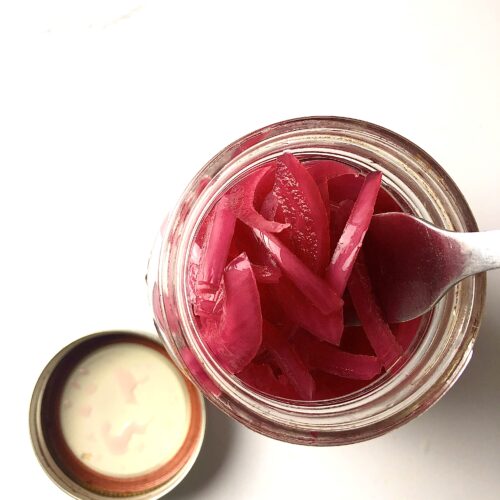 Quick Pickled Red Onions
Sweet, sour, and a perfect addition to dozens of savory recipes.
Equipment
Knife and cutting board

Small saucepan

Airtight jar or container
Ingredients
1

large red onion

peeled and very thinly sliced

3/4

cup

apple cider vinegar

or other vinegar

1/4

cup

water

1

teaspoon

kosher salt

2

Tablespoons

sweetener

sugar, agave, maple syrup, honey, etc.
Instructions
Par-blanch
Bring 2 cups of water to a boil in a small saucepan. Place sliced red onion in a fine mesh strainer. Slowly pour hot water evenly over all of the onions.
Prepare the vinegar solution
In the same saucepan, stir together vinegar, water, salt and sweetener. Cook over medium-high heat until the mixture reaches a simmer and sweetener and salt have dissolved.
Marinate
Place the thinly-sliced onions (and any additional flavoring ingredients) in a mason jar. Pour the hot vinegar mixture over the onions. Put on the lid and gently shake the jar around to make sure everything is coated and mingling together..

Let the onions marinate for at least 30 minutes and up to a day (for maximum flavor).

Serve immediately after 30 minutes or refrigerate the onions in a sealed container for up to a month.
Notes
If you want a stronger onion flavor, skip the par-blanching step.
If you're looking for more crunch, slice the onions a bit thicker.
For a sweeter pickled red onion, double the amount of sweetener used in the vinegar solution.
Onions will soften the longer they are allowed to sit in the vinegar solution.