Summary
Out of all of the dips in existence, buffalo chicken dip is one of the greatest! It's spicy (unless you don't want it to be), creamy, filled with tender shredded chicken, topped with fresh green onions, and paired with crunchy tortilla chips – so how can you go wrong?! Every single time I've brought this buffalo chicken dip to a party or potluck, it is a crowd favorite. It's also a weeknight-at-home, just-for-us-because-it's-so-easy-to-make favorite, so no need to wait until there's a function to enjoy this super simple and even more delicious dip.
Your grocery list
Meats
Boneless, skinless chicken breast (or a pre-cooked rotisserie chicken)
Dairy
Cream cheese
Light sour cream
Sharp cheddar cheese
Pepper jack cheese
Produce
Garlic
Green onions (for garnish)
Lime (for garnish)
Jalapeño pepper (for garnish)
Carrot or celery sticks (for serving)
Baking & Pantry Items
Kosher salt
Ground black pepper
Chili powder
Paprika
Garlic powder
Cayenne pepper (optional)
Hidden Valley Ranch Dressing Seasoning Packet (optional)
Your favorite hot sauce (Frank's, Crystal, Texas Pete, etc.)
Tortilla chips (for serving)
Equipment/tools you'll need
Knife and cutting board
Cast iron skillet
Measuring cups/spoons
Grater
How to make buffalo chicken dip (3 ways)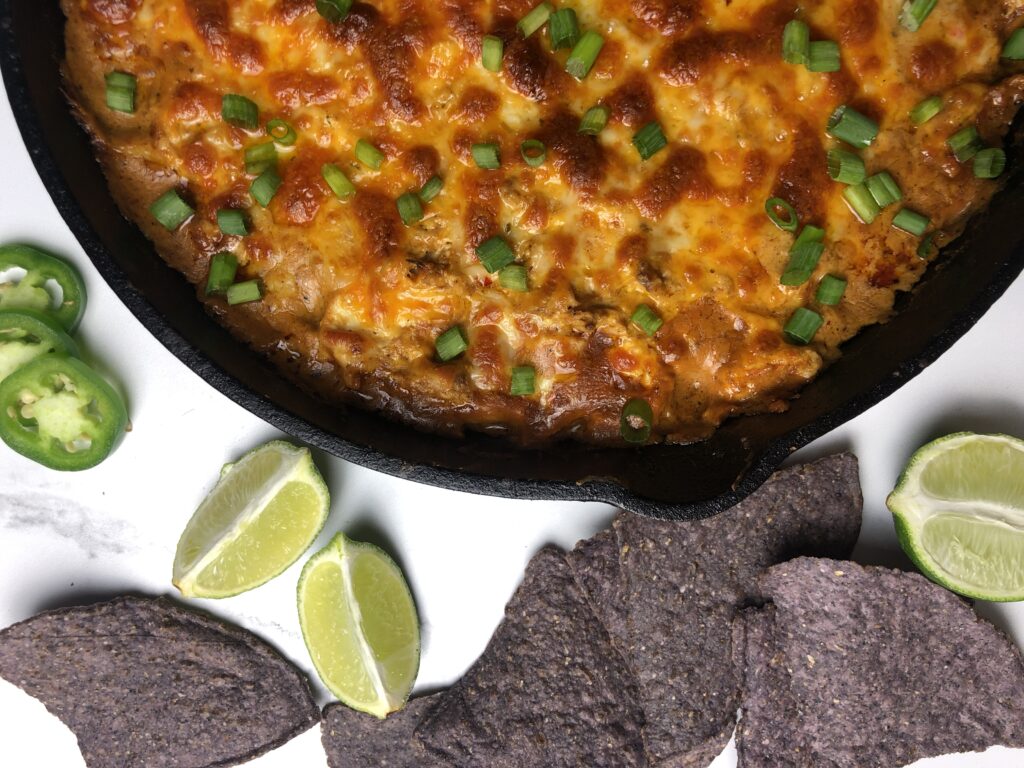 In a cast iron skillet
First, season and cook the chicken breasts until there is no pink in the center (about 4-5 minutes on each side, depending on the size). Then shred the chicken. It is easier to shred the chicken when it's hot, but be careful… it's HOT. If you want to wait until the chicken is cooled, that's fine. It will just be a bit harder to shred.
Add garlic to the same pan and saute then add shredded chicken and hot sauce. Cook until the hot sauce has been reduced by half. This will prevent the dip from being too soupy.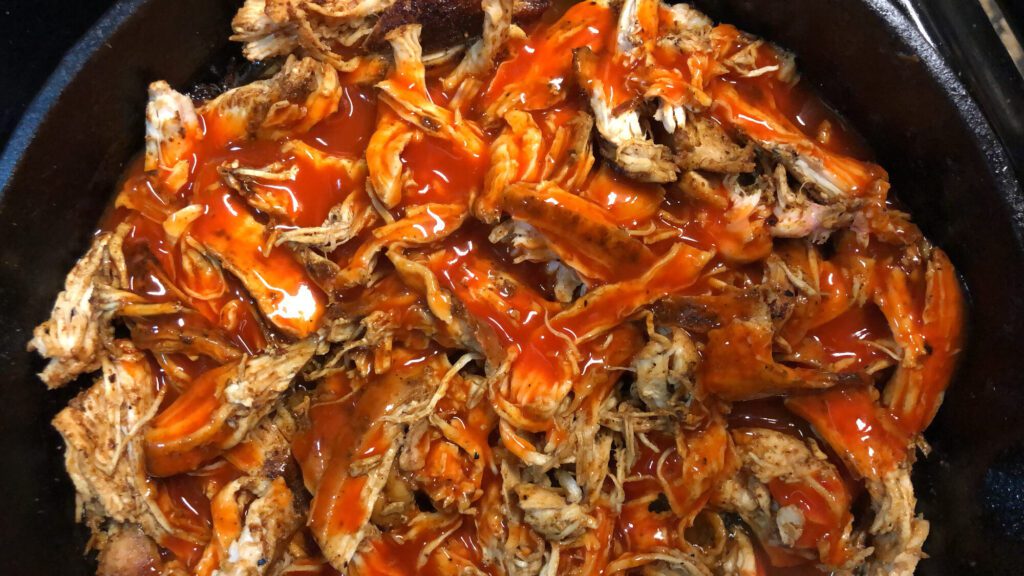 Next, add in cream cheese. You can dice it into large chunks first to help incorporate it faster. Finally, add in sour cream and ranch seasoning mix then stir to combine. Top with freshly grated cheese then bake in a 375º F oven for 10 minutes (or until cheese has melted). To finish, broil the dip until some parts are bubbly and beginning to brown. Garnish with green onions, sliced jalapeño, or blue cheese crumbles.
Using pre-made rotisserie chicken
Using rotisserie chicken saves cooking time for sure, so feel free to pick up a chicken and shred 2-3 cups of meat from it. The same exact steps as above can be followed after shredding the chicken.
In a crockpot
Using a crockpot takes a lot longer (at least 2-3 hours on high or 5-6 on low), but there are a couple of advantages. The flavors of the dip are much more blended after spending hours simmering together. Also, the chicken is WAY more tender when using a crockpot. Lastly, the crockpot can be used when you have other things to focus on instead of standing over the stove and keeping watch on the oven/broiler.
To make buffalo chicken dip in a crockpot, either use rotisserie chicken or season and sear your own chicken breasts. They don't have to be cooked all the way through because they will finish cooking in the crockpot, but you do want a nice flavorful crust on the outside.
The chicken can be diced or left in whole pieces that will need to be manually shredded after a few hours of cooking. Add cream cheese, half of the green onions, and hot sauce to the chicken and stir to combine. The key is to have the moisture of the hot sauce coating everything so nothing sticks to the sides and burns. Leave all of the ingredients to simmer for at least 2 hours on high (or 4 hours on low).
Once the chicken is cooked, you can use a fork to help the shredding process along. When the dip is close to being finished, add sour cream and stir to combine. Reduce to low and add shredded cheese to the top to melt. Garnish with the remaining green onions, sliced jalapeño, or blue cheese crumbles.
Tips for making the best buffalo chicken dip
SOFTEN THE CREAM CHEESE FIRST – Room temperature cream cheese just mixes quicker and more evenly. Although, there's nothing wrong with a few chunks of cream cheese, as long as they aren't too large. Take it out of the refrigerator for 30 minutes to an hour before cooking. It will continue to soften once added to the hot skillet.
FOR MORE FLAVOR, COOK THE CHICKEN YOURSELF – Using pre-cooked rotisserie chicken is a huge time-saver, but cooking the chicken yourself is a simple process that adds SO MUCH flavor to the final dish. You won't even remember the extra effort you put in to get there.
USE A CAST IRON SKILLET – This recipe prepares and bakes your dip in a cast-iron skillet or oven-proof pan. If you don't have either of those, prepare all ingredients as per recipe instructions in a regular pan on the stove, then transfer buffalo dip mixture into a 1-quart (1-litre) baking dish and continue from there. Not only does using a single pan make clean-up easy, but cast iron pans also impart flavors into food that cannot be beaten.
FEEL FREE TO ADJUST THE SPICE LEVEL – Our buffalo chicken dip recipe is not so spicy that it burns your mouth and can't taste anything, but it is noticeable! Kids and adults alike can enjoy this recipe just how it is; however, you can cut the amount of hot sauce used in half for a milder dip OR ADD MORE for a hotter dip. It's completely up to you.
RANCH DRESSING SEASONING MIX – While it is completely optional, the ranch dressing seasoning mix is somewhat of a secret weapon when making this dip. There is loads of bold flavor packed into the 1/2 teaspoon recommended in this recipe.
---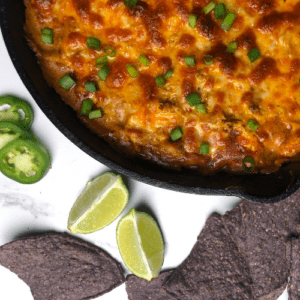 Buffalo Chicken Dip
Perfect for parties, potlucks, picnics, or just because you had a craving for something delicious and easy. This dip is creamy, spicy, full of flavor, and perfect with your favorite tortilla chips or even vegetable sticks.
Ingredients
2

tablespoons

extra virgin olive oil

2

lbs

boneless skinless chicken breast

1

teaspoon

kosher salt

1

teaspoon

ground black pepper

1

teaspoon

garlic powder

½

teaspoon

chili powder

½

teaspoon

paprika

½

teaspoon

cayenne pepper

optional

2-3

cloves

of garlic

minced

½

cup

hot sauce

8

oz.

cream cheese

softened to room temperature

½

cup

light sour cream

½

teaspoon

Ranch seasoning mix

optional

½

cup

sharp cheddar cheese

shredded

¼

cup

pepper jack cheese

shredded
Garnish with…
Green onions

thinly sliced

Jalapeño peppers

thinly sliced

Blue cheese crumbles

Fresh-squeezed lime juice
Instructions
Preheat oven to 375°F (190°C). With oven rack arranged in the middle of your oven (to prevent burning at the broiling step).

Season both sides of the chicken with all of the seasonings listed.

In an 8- or 9-inch cast-iron skillet (or an ovenproof pan), heat 1 tablespoon of olive oil over medium heat. Cook chicken until it is no longer pink in the center, about 4-5 minutes on each side (depending on the size of the chicken breasts).

Remove chicken from the pan and shred. Add the other tablespoon of olive oil and saute garlic until fragrant, about 60 seconds. Add shredded chicken to the pan and cover with hot sauce. Cook until the hot sauce has been reduced by half.

Reduce heat to low then add cream cheese and stir to combine. Add sour cream and Ranch seasoning mix (if using) and remove from the heat entirely. Stir until all ingredients are combined, a few small chunks of cream cheese are fine. Top with shredded cheeses then place in 375º F oven for 10 minutes or until cheese has melted. Turn on the broiler and continue cooking until the top begins to brown and bubble.

Top immediately with blue cheese crumbles (if using), green onions, and/or jalapeño slices. Serve immediately with tortilla chips, baguette slices, potato chips, carrot sticks, or celery.
Notes
If you don't have a cast-iron skillet or oven-proof pan: prepare all ingredients as per recipe instructions above in a regular pan on the stove. Then transfer buffalo dip to a 1-quart (1-litre) baking dish and follow the same steps from there
You can use rotisserie chicken to save cooking time
Don't like blue cheese? Feel free to omit it. Same with the sour cream, jalapeños, and lime. They are all optional but add immense flavor in the end
Feel free to use just yellow cheddar and white cheddar cheeses for the topping instead of cheddar and pepper jack cheeses
Halve the hot sauce amount for a milder dip or add more hot sauce for a spicier dip. Red pepper flakes can also be used as a garnish for a spicier dip