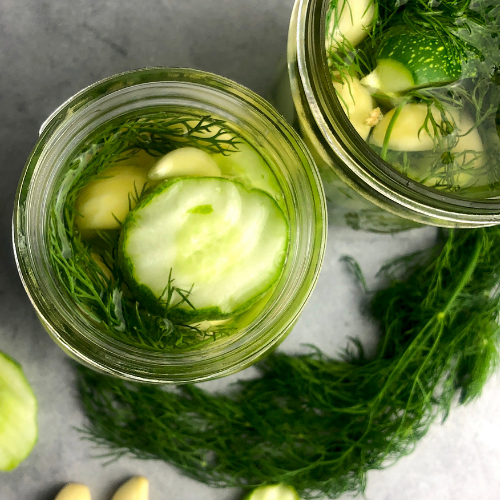 Pickles are both a delicious snack and an easy way to elevate a sandwich or burger. They are also incredibly simple to make. With just a handful of common ingredients and about 7 days of waiting time, you can make a jar of crunchy homemade pickles that will inspire you to make some of the most elaborate sandwiches you've ever made in your life! It's a very quick process, so no more stalling. Let's get into this.
Ingredients you'll need
Produce
Pickling cucumbers
Garlic
Fresh dill
Baking & Pantry Items
Apple cider vinegar or white distilled vinegar
Granulated sugar
Kosher salt
Whole peppercorns (optional)
Equipment you'll need
Knife and cutting board
Measuring cups/spoons
Small pot
Jars with airtight lids
What are pickling cucumbers?
Some cucumbers are best for enjoying fresh, sliced, in salads, and with dips. These are referred to as "slicing cucumbers" and they're the longer cucumbers with thick, dark green, uniform skin that helps keep the slices intact.
Pickling cucumbers, on the other hand, are shorter with thinner skin and more spines. They also have drier flesh inside that allows them to soak up more of the pickling brine. Kirby cucumbers (the small ones with bumpy skin), Persian cucumbers (even smaller than Kirby cucumbers but not readily available in all markets), and English cucumbers (seedless) are considered good cucumbers for pickling.
Will other cucumbers work?
You can use any cucumbers to make your homemade pickles, but be just careful with using slicing cucumbers because the inside flesh is already moister and the pickling brine may cause them to break down and become mushy. If you're using slicing cucumbers, consider using thicker slices to preserve some of the crunch that is desirable in pickles.
For more about the types of cucumbers: A Brief Guide to Types of Cucumbers | The Spruce Eats
Ways to adjust your homemade pickles
Spice things up: Use thinly sliced ginger or crushed red pepper flakes to add some heat to your pickles
Add dill & garlic: Make a jar of classic dill pickles by adding fronds of fresh dill, garlic and/or black peppercorns to your next batch of pickles
Make them sweet & sour: Add double the sugar to the brine base for a pickle that is both sweet and sour
Experiment with vinegars: Using white distilled vinegar is standard, but try using apple cider vinegar for more mellow, fruity flavor
Other foods to try pickling
Because our base brine recipe is so simple and based on a ratio, it is easy to make, scale, and adjust based on the taste you're going for. Try pickling any of the following fruits and vegetables.
Asparagus
Beets
Bell peppers
Cauliflower
Carrots
Cherries
Ginger
Grapes
Green beans
Mushrooms
Onions (red onions are particularly delicious when pickled)
Peaches
Peppers
Radishes
Rhubarb
Strawberries
Squash
Tomatoes
Turnips
Watermelon
---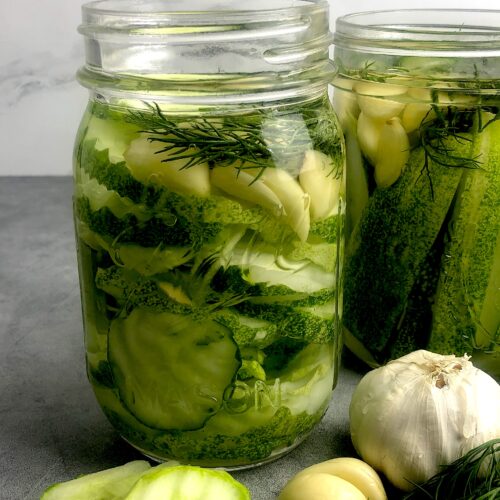 Easy Homemade Pickles
A great sour, crunchy, easy-to-make complement for your sandwich and snacking needs.
Equipment
Small pot or saucepan

Measuring cups/spoons

Wooden spoon or rubber spatula

Jars with lids
Ingredients
4-5

pickling cucumbers

sliced or cut into spears

1 ⅓

cup

white vinegar

⅓

cup

granulated sugar

2

tablespoons

kosher salt

1

cup

water

Fresh dill fronds

optional

Whole garlic cloves

optional

Whole black peppercorns

optional
Instructions
Combine vinegar, sugar, salt, and water in a saucepan or small pot over medium low heat. Stir and simmer until sugar and salt have dissolved, 2-3 minutes.

Set the brine aside while you fill jars with cut cucumbers. Layer the cucumbers in the jars with whole garlic cloves, dill, peppercorns, or any other flavorings you're using before pouring in the brine.

Pour the slightly cooled brine into each jar until it covers the cucumbers. Store in the fridge and allow cucumbers to pickle for at least 24 hours and up to 7 days.
Notes
If using slicing cucumbers instead of pickling cucumbers, they may become mushy if they are sliced too thinly
Add thinly sliced ginger for a spicier pickle
Double the sugar in this recipe if you like your pickles more sweet than sour