Summary
This recipe was inspired by a Christmas tradition my mom, sister and I share. Instead of a heavy, traditional Christmas dinner, we would make/buy a bunch of different fancy finger foods and appetizers to "graze" on all day. I still remember the first time I tried brie and how shocked I was at how it paired so well with both sweet and savory flavors. And it was so gooey. This baked brie recipe pairs peaches and pecans with the creaminess of brie and the buttery puff pastry crust. Basically, it's perfect for breakfast, on a picnic, at a party, as a snack, as a dessert, whenever.
Your shopping list
Produce
Peaches (for making your own peach spread, frozen peaches or a premade peach marmalade can also be used)
Dairy
Baking Items
Brie (pick up one of the small cheese rounds usually in the deli section
Brown sugar
Spices, if you're making peach spread from scratch:

Ground cinnamo
Ground cardamom
Ground cloves
Ground nutmeg
Pantry Items
Frozen Foods
Equipment/tools you'll need
For making peach spread
Small saucepan
Measuring spoons/cups
Potato masher, food processor, or immersion blender
Rubber spatula or wooden spoon
For making the baked brie
Rolling pin
Fork or whisk
Brush (for brushing on egg wash)
Nonstick spray
Baking sheet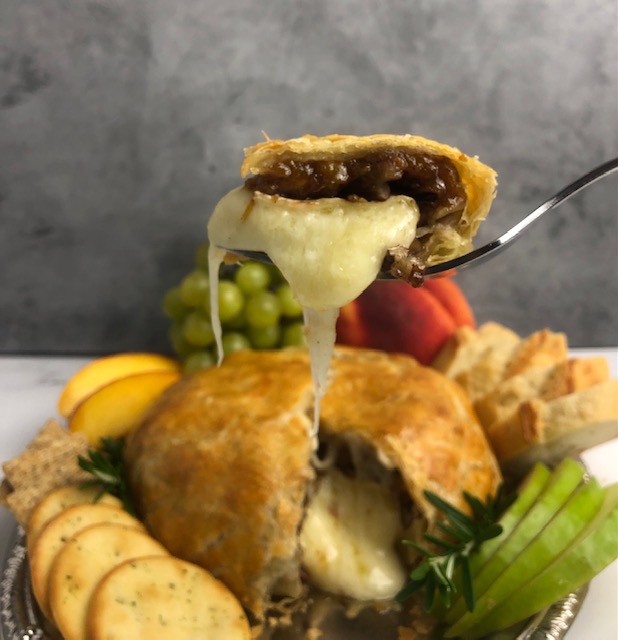 How to make peach spread
Ingredients:
2 cups of peaches (fresh = about 4 medium peaches or frozen)
1/8 cup of water (if using fresh peaches, not needed if using frozen)
1/4 cup brown sugar
1 teaspoon ground cinnamon
1/2 teaspoon ground cardamom
1/4 teaspoon ground cloves
1/4 ground nutmeg
Peel and dice fresh peaches (or use frozen peaches that are already sliced/diced).
Heat peaches and water in small saucepan over medium heat.
Add brown sugar, ground cinnamon, cardamom, cloves, and/or nutmeg and stir to combine.
Cook until peaches soften (15 minutes) then use potato masher, food processor, or immesion blender to puree until it reaches a consistency you like.
Return the peach blend to the pot and continue to cook until all excess liquid is gone and the sauce begins to thicken (about 10 more minutes).
The peach butter will continue to thicken as it cools, so don't be worried if it's a little loose or runny. It's okay to keep cooking on low until it reaches your desired thickness. Keep an eye on it and stir occasionally.
Let this cool before using it to assemble the peach & pecan baked brie.
Suggested pairings for baked brie
Sliced apples
Grapes
Chopped walnuts, pecans, or almonds
Baguette slices or crackers
✨ Bonus ✨
Please enjoy this timelapse of the process of setting up the food shots featured in this blog post. 📸
---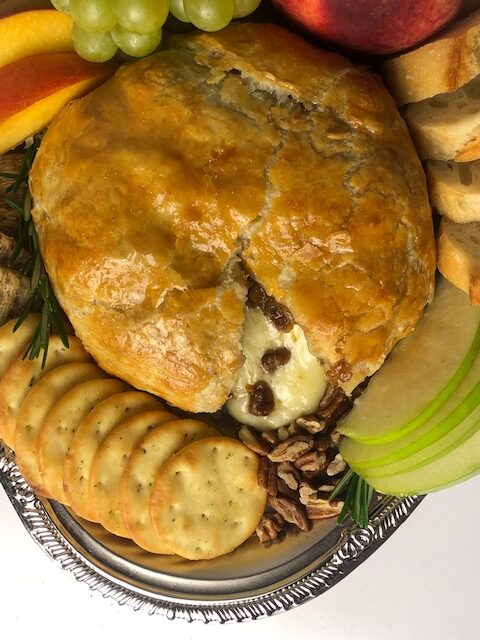 Peach & Pecan Baked Brie
Peaches, pecans and brie are baked together in this sweet, salty, creamy, crunchy snack.
Equipment
Rolling Pin

Measuring cup/spoons

Whisk

Brush (for egg wash)

Nonstick spray

Baking sheet
Ingredients
3

Tablespoons

peach butter or marmalade

1

sheet puff pastry

1/4

cup

brown sugar

1/3

cup

chopped pecans

1

round of brie

1

egg
Instructions
Preheat oven to 400°. Spray baking sheet with nonstick spray. Roll out thawed (but still cold) puff pastry sheet to get rid of any crease marks or holes.
Assembly
Spread peach butter in the center of the puff pastry, about the size of the brie round.

Add brown sugar then spread pecans on top of peaches. Sit brie onto pecans. Gently (but tightly) fold the puff pastry up and over brie in the center, starting in one corner and working your way around clockwise. Make sure to layer the puff pastry in a way that leaves no holes. Pinch to seal. Carefully flip the entire pastry over and place on prepared baking sheet. Combine egg with about 1tsp of water and whisk to make an egg wash. Brush over the top and sides of puff pastry.
Baking
Bake at 400° for 20-25 minutes. Let it rest for 15-20 minutes before serving. Pair with your favorite baguettes or crackers.
Notes
Feel free to substitute the peach marmalade for fresh peaches or another fruit jam of your choice. Keep in mind that fresh fruits (particularly berries) will add additional liquid to your pastry and may affect bake time and final texture.
Rolling out the puff pastry is only to increase the area available to cover the brie. If your brie is small enough to be wrapped sufficiently, rolling out the puff pastry is a step that can be skipped.