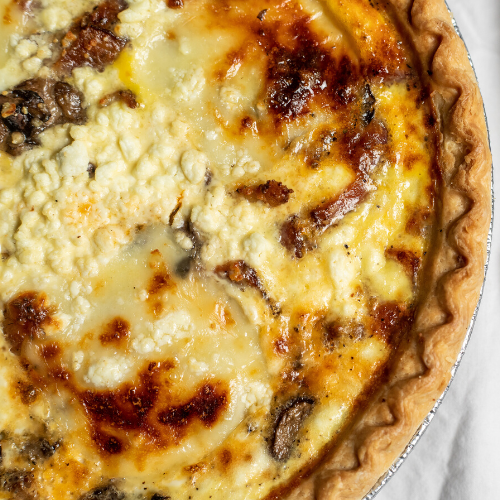 This quiche is loaded with spicy sausage, bacon, caramelized onions, mushrooms, and cheese, and can be prepared for an easy breakfast, brunch, lunch, or dinner!
One of the best things about quiche is that you can pretty much add anything you want to the recipe – other roasted or sautéed vegetables, different cheeses, herbs, and seasonings. Also, if you're into meal prepping, quiche is a great way to have a delicious, nutritious breakfast to enjoy for a few days. They can even be frozen and reheated as needed. The full recipe and instructions on how to do all of that are below.
---
Ingredients you'll need
Produce
Yellow onion
Portobello mushroom
Dairy
Eggs
Milk or heavy cream
Goat cheese
Mozzarella cheese
Meat
Spicy Italian sausage
Thick-cut bacon
Pantry & Baking
Extra virgin olive oil
Granulated (white) sugar
Kosher salt
Ground black pepper
Red pepper flakes (optional)
Frozen Foods
Prepared deep dish pie or tart shells (or use this recipe to make your own. A Mobile Soul recipe is coming soon!)
Equipment you'll need
Skillet
Measuring cups/spoons
Mixing bowls
Whisk
Wooden spoon or rubber spatula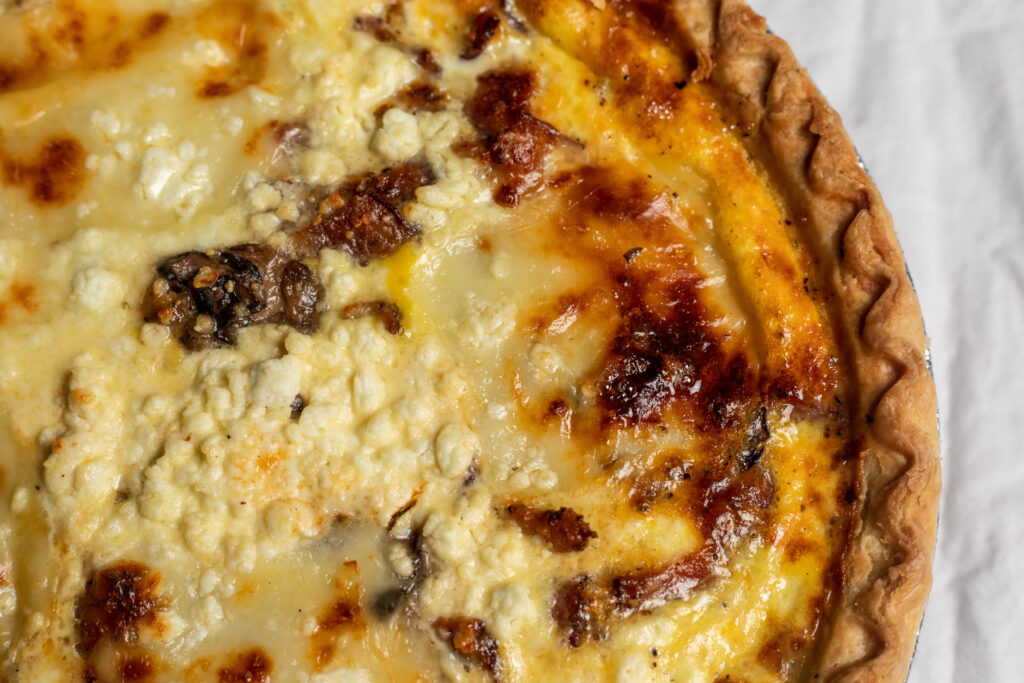 What is quiche?
The Origins
Quiche is widely considered a French dish since they popularized it in the early 1800s, but the concept of using eggs and cream to make custard tarts has been found in English & Italian cooking as early as the 14th century. Even further, the word "quiche" is thought to have originated from the German word for cake, kuchen, which makes sense. The medieval kingdom of Lothringen, which was once under German rule was renamed to Lorraine when it came under French control.
Once again, food proves to be more of a collaborative effort than we often give it credit for.
Other Little Known Quiche Facts
Quiche can be enjoyed hot or cold (once it's baked, of course)
National Quiche Lorraine Day is May 20th
The largest quiche was created in Paris, November 22, 1997 by Chef Alain Marcotullio. He used 500 cups of milk, 508 cups of sour cream, 1,928 eggs, 156 pounds of bacon, 134 pounds of butter and 145 pounds of flour. (AP News)
---
How to store and freeze quiche
Quiche is a wonderful dish to make ahead either for a get-together with friends or just for yourself to enjoy for the next few days. Proper storage and reheating are essential to keeping that fluffy egg and flaky crust in tact. Whether you just need to keep it overnight or a whole month, it's easy if you follow these steps.
Storing in the fridge (will last 3 to 4 days)
Let the quiche (whole or slices) cool down to room temperature after baking
Wrap tightly in a plastic wrap. Note: You can also use aluminum foil, but plastic wrap is better at keeping out any unwanted moisture.
If you have slices leftover, you can wrap each tightly in plastic wrap or use resealable sandwich bags to store them.
Freezing leftovers (keeps for up to 3 months, but texture is best up to 1 month)
Follow the same steps for cooling and wrapping as listed above for storage in the fridge.
Place wrapped quiche (whole or slices) into a freezer-safe bag or container for added protection.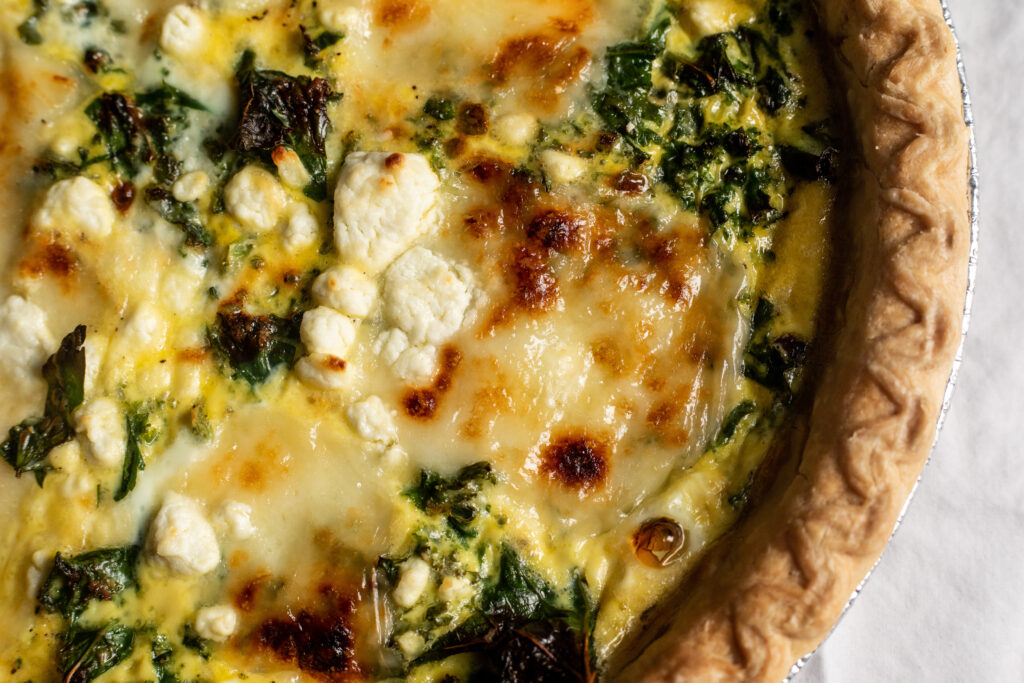 How to reheat quiche (from the fridge)
We recommend warming up quiche in a full-sized or toaster oven to best maintain the texture, but the microwave definitely gets the job done too.
To reheat in the oven (recommended for whole quiches or slices):
Preheat your oven to 350º Fahrenheit.
If your quiche has been kept in the fridge, take it out, and let it come to room temperature.
Cover just the crust with strips of aluminum foil or a pie shield.
Heat your quiche for 15 to 20 minutes or until the inside of the quiche is at 165º Fahrenheit.
Take out your warm quiche, remove foil or pie shield, and serve.
To reheat in a toaster oven (recommended for slices):
Preheat the toaster oven to 375º Fahrenheit.
If it has been kept in the fridge, take it out, and let it come to room temperature.
Cover just the crust with aluminum foil.
Heat your quiche for at least 10 minutes or until the inside of the quiche is at 165º Fahrenheit.
Take out your warm quiche, remove foil, and serve.
To reheat in the microwave (not recommended for whole quiches…or slices really, but definitely not for whole quiches. Do what you can though. No judgement!):
If your quiche has been kept in the fridge, take it out, and let it come to room temperature.
Place it on a microwave-safe plate. Leave uncovered.
Heat on a low setting for 2 minutes.
Take out your quiche to check if it is warm enough. If it needs more heating, pop it back in the microwave for an extra 20 seconds. Repeat this step as necessary.
Serve.
How to reheat (from the freezer)
No thawing is necessary when reheating from the freezer, but we even more strongly recommend using an oven when reheating straight from the freezer. The microwave does some weird things to frozen eggs and crusts. Things we don't want happening anywhere near you or your taste buds!
To reheat frozen quiche in the oven:
Preheat your oven to 350º Fahrenheit.
Place quiche on a baking sheet and cover with aluminum foil.
Heat for 30-45 minutes or until the inside reaches 165º Fahrenheit.
Remove from the oven. Let it sit for 15 minutes without removing the foil.
Remove the foil and serve.
---
Other delicious quiche flavor combos
Gruyere cheese & lardons (or bacon) aka Quiche Lorraine
Gruyere cheese & spinach aka Quiche Florentine
Crab meat, cheddar and mozzarella cheese, diced onion and bell pepper & Old Bay seasoning
Kale, mushrooms, caramelized onions, goat cheese & mozzarella cheese (seen below)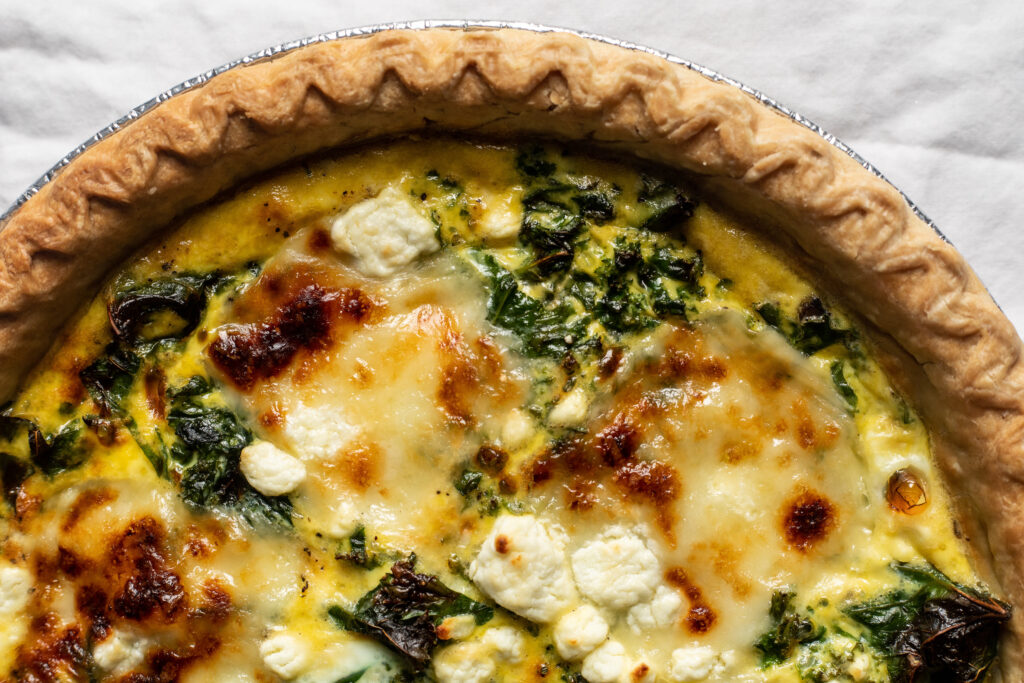 Photography Credits
When fellow foodie and expert photographer, Jonathan Cooper aka "Coop", reached out to me so we could work together, I honestly thought I was still asleep and dreaming. He's AMAZING at what he does and is a great person as well. All of the pictures featured in this post as well as the pictures on my Instagram were captured by him so please go check out his work, give him a follow, book him for any of your Food, Drink, Travel, Portraits, Lifestyle, Architecture and Interior photography needs, all that good stuff. We'll definitely be collaborating more in the future!
Website: www.coopernicusphotos.com
Instagram: iamcoopernicus_
---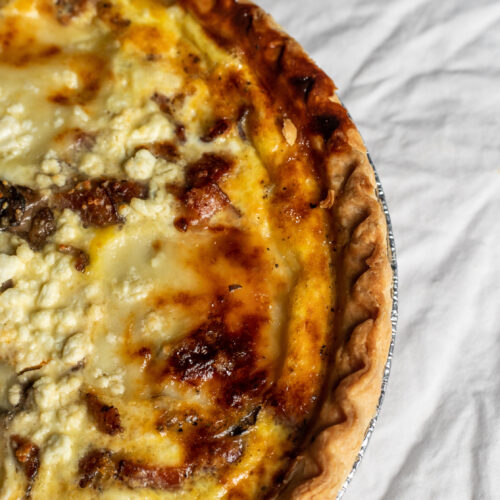 Sausage, Bacon & Mushroom Quiche
A fluffy egg custard filled with flavorful Italian sausage, bacon, and mushrooms all in a flaky pie crust.
Equipment
Skillet

Measuring cups/spoons

Mixing bowls

Whisk

Wooden spoon or rubber spatula
Ingredients
1

9" Deep Dish pie crusts

store bought or made from scratch

1-2

Tablespoons

extra virgin olive oil or unsalted butter

1

large yellow onion

thinly sliced

1

Tablespoon

sugar

1/2

lb.

spicy Italian sausage

removed from casing

3

oz.

bacon

4

oz.

portobello mushrooms

1/2

teaspoon

kosher salt

1/4

teaspoon

ground black pepper

Pinch

of red pepper flakes

6

large eggs

1 ½

cup

whole milk or heavy cream

½

cup

goat cheese

¼

cup

mozzarella cheese
Instructions
Caramelizing the onions
Add oil (or butter) to a small saucepan over medium-low. Cook thinly sliced onions for 15-20 minutes, stirring occasionally to keep them from sticking and burning.
Preparing other ingredients
Heat a pan to medium heat and cook bacon for 4-5 minutes or until it reaches the desired level of doneness. Next, add the sausage and break up into small pieces. Cook until there is no pink left. Drain the pan of all but 1 tablespoon of grease. Add chopped mushrooms and cook for 1-2 minutes then remove from the pan. Set all ingredients aside to drain.
Assembling the quiche
Create a single layer of bacon in the bottom of the pie crust. Add caramelized onions on top, then mushrooms, kale, sausage. Repeat with any remaining ingredients. Pour custard into pie tin. Top with goat cheese and mozzarella cheese.
Baking the quiche
Bake for 35 minutes at 350° covered with foil then remove the foil and bake for 15-20 more minutes or until eggs have completely set and cheese has melted/browned to your liking.
Notes
Either plain, unsweetened almond milk, coconut milk, or half-and-half, can be substituted for the milk/heavy cream in this recipe
If the crust appears to be browning too quickly, cover with thin strips of aluminum foil all around the edge of the pie tins