I love pizza. Especially Margherita pizzas. The simplicity is admirable. The flavor is undeniable. And the story behind this recipe is one that is pretty familiar if you've been getting my emails or reading any of the posts I've written during the quarantine.
I had some ingredients in the house.
I was curious about how I could use those ingredients.
And now I have a delicious pizza recipe to share.
It's a "weeknight" pizza recipe because, even though it uses a dough that's made from scratch, it takes less than an hour and a half from start to finish. The ingredients are all available at your local grocery store and can be substituted for whatever brand/form/quality you prefer. You can save even more time by buying a pre-made dough.
For example, using a canned tomato sauce is the quickest way to make this pizza; however, you can opt for a chunky, more authentic tomato sauce or maybe one that has onions, garlic, and herb flavorings to boost the end result. If you have time, you can even make your own tomato sauce.
Same with the mozzarella. Using shredded mozzarella cheese works wonders; however, fresh mozzarella would obviously take this up another 3 or 4 levels. Do whatever works for your schedule and your budget because it will all work for your taste buds. If you love Margherita pizzas and conserving your energy, check out this recipe.
---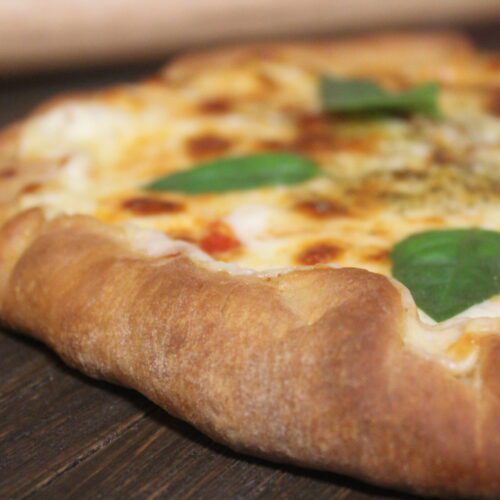 Weeknight Pizza Margherita
Give into that craving for pizza at home with this quick and full-flavored variation of the classic Margherita pizza. Pull together a meal that everyone will love from ingredients you probably already have in the pantry and fridge.
Equipment
Stand mixer

Measuring cups/spoons

Rolling Pin

Pizza pan or cookie sheet
Ingredients
10

ounces

basic yeast dough

kneaded, proofed, and rested

1

cup

canned or scratch-made tomato sauce

8 – 10

ounces

mozzarella cheese

2

garlic cloves

thinly sliced

10 – 12

leaves

of fresh basil

Dried Italian seasoning
Instructions
Assemble the pizza
Separate the dough into two equal portions. They will each make a pizza that is approximately 9″ in diameter. Complete the following steps for each half: Roll each half out on a lightly floured surface. The dough should be almost see-through when you are finished rolling. Carefully, transfer the rolled dough to the pan being used to bake the pizza.

Arrange a layer of mozzarella in the center of the dough. If you would like to create a stuffed crust, also add mozzarella around the edge of the dough. This will be folded over and baked into the crust.

Fold the edges of the dough 1″ into the center of the pizza. The crust should meet the cheese placed in the center.

Add tomato sauce, garlic, and more mozzarella cheese to cover tomato sauce. Sprinkle Italian seasoning on the pie before baking.
Bake the pizza
Place the pizzas on the pans in the center of the preheated oven. Bake for 17-22 minutes, depending on the thickness of the dough and your preferences.

Remove from the oven and allow to cool slightly. Add basil on top and slice before serving.
Notes
Feel free to add ingredients to this pizza to make it yours. This is a classic pizza flavor pairing, but the crust and concept area super versatile. Have fun with it!