As a lover of all things sweet and homemade, I take pride in making my own jams and jellies. There's something special about preserving the flavors of the season and enjoying them all year long. One of my favorite jams to make is grape jam. The deep, rich flavor of grapes is perfect for spreading on toast, drizzling over yogurt, or even using as a glaze for roasted meats. In this post, I'll take you through everything you need to know to make delicious grape jam at home.
Your grocery list
Produce
Pantry Items
Equipment/tools you'll need
Digital scale
Measuring spoons/cups
Large, heavy-bottomed pot
Potato masher (for breaking down the grapes)
Immersion blender
Wooden spoon or rubber spatula
Funnel
Canning jars with lids (for storage)
Lemon juicer (optional)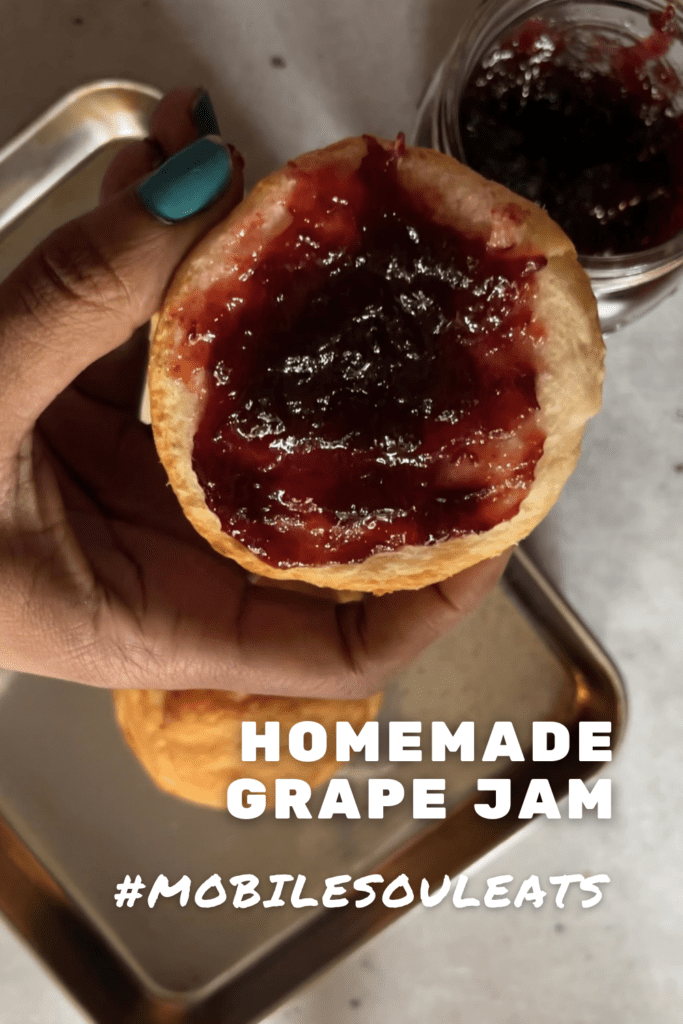 Step-by-step guide to making grape jam
Remove the grapes from the stems, wash them, and drain off any excess water.

Add sugar and lemon juice to the pot of grapes. 

Cook the mixture until the grapes have broken down and the sugar has dissolved. 

Strain out the seeds and skins and return the pulp to the pot. 

Cook the pulp until it thickens to the desired consistency.

Pour the grape jam into prepared canning jars. 

Allow the jars to cool before storing them in a cool, dark place or the fridge.
Different types of grapes for making grape jam
When it comes to making grape jam, there are many different types of grapes to choose from. The most common types of grapes used for jam are Concord grapes, which are known for their deep purple color and intense flavor. However, other varieties such as Catawba, Niagara, and Muscadine can also be used. Each type of grape has its own unique flavor, so it's worth experimenting with different varieties to find the one you like best.
If using seedless grapes, removing the seeds is optional.
What's the difference between jam, jelly, preserves, and marmalade?
Jelly, jam, and preserves are all fruit spreads made with fruit, sugar, and lemon juice (or pectin, as an alternative thickener). However, they differ in the form of fruit used and texture.
Jelly is made with fruit juice and has a smooth and semi-solid texture.
Jam is made with mashed or blended fruit, resulting in a slightly looser consistency and more texture.
Preserves have visible and palpable chunks of fruit, making them the thickest and chunkiest of the three.
Marmalade also includes the rind.
What is pectin?
Pectin is a carbohydrate found mostly in the skin and core of raw fruit. In nature, it functions as the structural "cement" that helps hold cell walls together. In solution, pectin has the ability to form a mesh that traps liquid, sets as it cools, and, in the case of jam, cradles suspended pieces of fruit.
Pectin needs partners, namely acid and sugar, to do the job of gelling properly. Acid helps extract pectin from fruit during gentle simmering and helps the gelling process, which will not take place unless the mixture is fairly acidic. If fruits (such as apricots) aren't sufficiently tart, a recipe will call for added lemon juice.
Why is this recipe in pounds instead of cups?
Grapes vary in size so using cups and volume measurements may result in inconsistent results. Also, cups in the US are different than cups in the UK. Weighing the ingredients will wield more precise measurements.
Preparing jars for storage
Preparing jars for storing jam is an important step in the jam-making process, if you'd like the jam to keep for years (closed, in a cool, dry, dark place) instead of months. Here are the steps to follow:
Wash the jars, lids, and bands in hot, soapy water and rinse well.

Sterilize the jars and lids by boiling them in water for 10 minutes or running them through a dishwasher cycle on high heat.

Keep the jars and lids warm until needed by placing them in a warm oven (around 200 degrees Fahrenheit) or dipping them in hot water.

Fill the jars with hot jam, leaving a quarter-inch headspace at the top.
How long will grape jam keep for?
Grape jam is shelf stable so will keep for years. However it will be in peak condition (for colour & flavour) in the first 12 months if stored in cool, dark, dry place.
Once opened, store grape jam in the fridge. It will last for months if you make sure to use a clean spoon each time.
---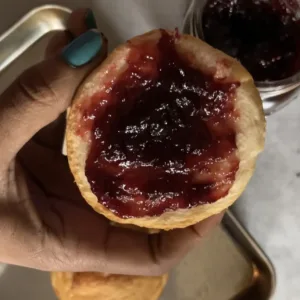 Homemade Grape Jam
Grape jam is a classic American fruit spread, great on it's own but even better paired with peanut butter for that all American taste sensation!
Equipment
Digital scale

Measuring cups/spoons

Heavy-bottom pot

Lemon juicer

Potato masher or immersion blender

Wooden spoon or rubber spatula

Funnel

Canning jars with lids
Ingredients
1.7

kg

/ 3 lb 12 oz seedless grapes I used equal quantities or red

black & green grapes

1

kg

/ 2 lb 3 oz granulated sugar

3

tbsp

lemon juice
Instructions
Place grapes, sugar and lemon juice into a heavy-bottom pot.

Using a gentle heat dissolve the sugar slowly, stirring frequently.

As the mixture heats up break up some of the grapes with your wooden spoon or use a potato masher in order the release the grapes' juices.

Once all the sugar has dissolved fully (around 20 minutes) take the mixture off the heat and use a stick blender to blend the grapes to a juice like consistency.

Put the pot back on the heat, bring to a rolling boil and then time for 20-25 minutes, stirring continuously.

Take the pan off the heat and test for set by placing a few drops of the jam on a chilled saucer and place in fridge for a minute.

The jam should form a crinkle when you push your finger through it.

If not then boil for another 2 minutes and re-test until set is achieved.

Use funnel to carefully pour the rest of the jam in hot jars and place lids on immediately.

Store in the fridge, once opened, for months.
Notes
To properly can the jam so that it can be stored in a cool, dry, dark place for years, cans should be prepared ahead of time. See the full instructions above.