Those cans of condensed cream of chicken, cream of mushroom, cream of celery, etc. are workhorses in the average American kitchen. They can be watered down and used as soup, but their most popular use is in the many casseroles that we enjoy. The smooth texture, versatile taste, and huge convenience are major reasons why most of us keep a can (or seven) in our pantries. But, as with most things in the kitchen, it's even better when you make it yourself. And we're all super lucky that making these kitchen staples from scratch is almost as easy as getting that old can opener to work correctly the first go-'round. Because all of the flavor variations are basically made the same way, we'll start with how to make cream of chicken then go over how to adjust that.
Ingredients you'll need
Produce
Baking & Pantry Items
All-purpose flour
Low-sodium chicken broth
Kosher salt
Fresh ground black pepper
Dairy
Whole milk (or coconut milk)
Equipment you'll need
Knife and cutting board
Saucepan or small pot
Whisk
Jars (or another airtight container for storage)
How to make cream of… anything
Lucky for us, making cream of mushroom, cream of celery, and cream of anything else you can think of, all follow the same basic steps.
Start with aromatics
This recipe begins the way so many other delicious recipes do – with diced onion and minced garlic. This adds major flavor from the start and acts as a strong, versatile foundation for whatever other flavors you choose to add.
Decide what flavor(s) you want to add
For plain cream of chicken, the flavor comes from the chicken broth. But if you want to add any flavors that come from non-liquid ingredients, this is the time.Here's where you can get crazy and creative! We've all heard of cream of chicken, cream of mushroom, cream of celery, but consider other flavors like caramelized shallots or fresh herbs. The process is pretty much the same for all of them.
Use flour as a thickener
Flour is stirred into the butter, fragrant aromatics, and whatever flavorings you've selected to make a seasoned roux. Make sure to give the flour some time to cook. You don't want that raw, starchy flavor in your finished cream of (whatever) soup.
Add broth and milk
Low-sodium chicken broth is used to flavor the cream of chicken soup, but it's also versatile enough to be used in any of your creamy creations. The whole milk takes care of the "cream" part of things. The broth and milk both combine with the roux to make a thickened soup. The more you cook it, the more it will thicken (to a certain point). Make sure to stir it occasionally to keep lumps of flour from forming and to keep it from burning.
The smaller you dice the onion and garlic, the less noticeable they will be in the final soup. If you don't want any of that texture in yours, press the finished soup through a fine-mesh sieve to remove all of the bits of onion and garlic.
How to store cream of chicken
Pour the finished cream of chicken soup into a jar or another airtight container. Allow the soup to cool before storing it in the refrigerator. It will be good for up to a week, maybe longer.
Remember to do a sniff test of everything before throwing it out. If it's 13 days after the day you made it but nothing smells off, it's fine to use. If it smells off, then get rid of it.
Things you can do with cream of chicken soup and other flavors
Make a casserole: Many casseroles use cream of chicken or cream of mushroom soup to add flavor, moisture, and a creamy texture to the finished product. Dishes like broccoli cheese & rice casserole wouldn't be the same without it. And our made-from-scratch recipe will elevate even the most random casserole you decide to make with it.
Turn it into a gravy or sauce: Add a little more broth or water to thin it out, if needed. Add parmesan, garlic powder, and red pepper flakes to cream of chicken to make an easy (unorthodox) alfredo sauce for your pasta. Top your chicken-fried steak with a cream of mushroom sauce.
Use it as a stuffing: As mentioned above, cream of (whatever) is great for adding both flavor and moisture, so spread a little inside of chicken or turkey breasts along with spinach, mushrooms, sliced bell peppers, cheese, etc.
Enjoy it as… soup (innovative, I know!): I know we often use these are mere ingredients, but they are delicious plain, with rice or potatoes, and vegetables stirred in and simmered until tender. And because our version isn't condensed, there's no need to add any extra liquid (broth or water) unless you want to thin it out a bit more.
---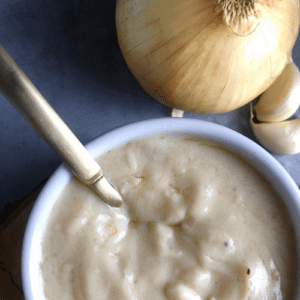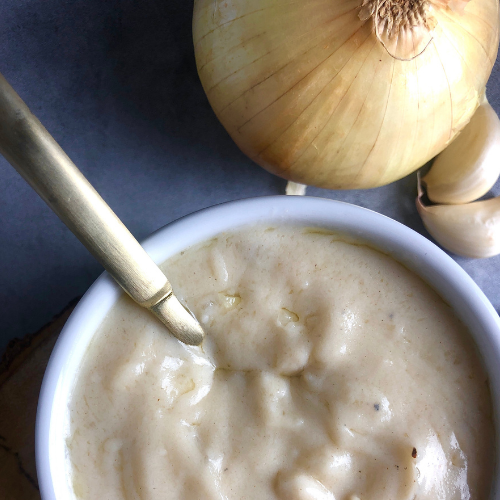 Cream of Chicken Soup
A velvety smooth blend of fresh aromatic and full chicken flavor.
Equipment
Knife and cutting board

Saucepan or small pot

Whisk

Jars (or another airtight container for storage)
Ingredients
6

Tablespoons

unsalted butter

1

small yellow onion

finely chopped

4-5

garlic cloves

minced

6

Tablespoons

all purpose flour

1.5

cups

whole milk

or coconut milk

1.5

cups

low-sodium chicken broth

Kosher salt

Freshly ground black pepper
Instructions
Melt butter over medium heat. Add onion, stir, and cook until they are translucent, 2 to 3 minutes. Add garlic and cook until fragrant, another minute or so.

Stir in flour and cook for another minute or so to cook out the starchy taste. Slowly whisk in the milk and chicken broth. Continue whisking for 30 seconds to keep clumps from forming.

Cook for 5-10 minutes or until the soup has thickened to your liking. Season with salt and pepper, to taste.

Pour into a jar or another airtight container and let cool before storing in the refrigerator. Will keep for up to a week.
Notes
Use coconut milk for a vegan version of this meal