If you're looking for a delicious and easy-to-make comfort food, then look no further than fried cheese grits. This classic Southern dish combines creamy grits with melted cheese and a crispy exterior for a satisfying and flavorful meal. In this post, I'll walk you through the steps to make your own fried cheese grits at home, with a link to my favorite creamy cheese grits recipe and instructions on frying them up until golden brown. Along the way, we'll share tips and tricks to ensure that your grits come out perfectly every time. So grab your ingredients and let's get started!
Your grocery list
Deli
Parmesan cheese, on the block
Dairy
Pantry Items
Flour (all-purpose or self-rising will work for this recipe)
Panko breadcrumbs
Vegetable oil, for frying (peanut oil would also work)
Other
Equipment/tools you'll need
Small pan or tupperware dish
Rubber spatula
Cookie or biscuit cutter
Mixing bowls, for dredging
Cast iron pan or shallow sauce pan, for frying
Spider or slotted spoon
Plate lined with paper towels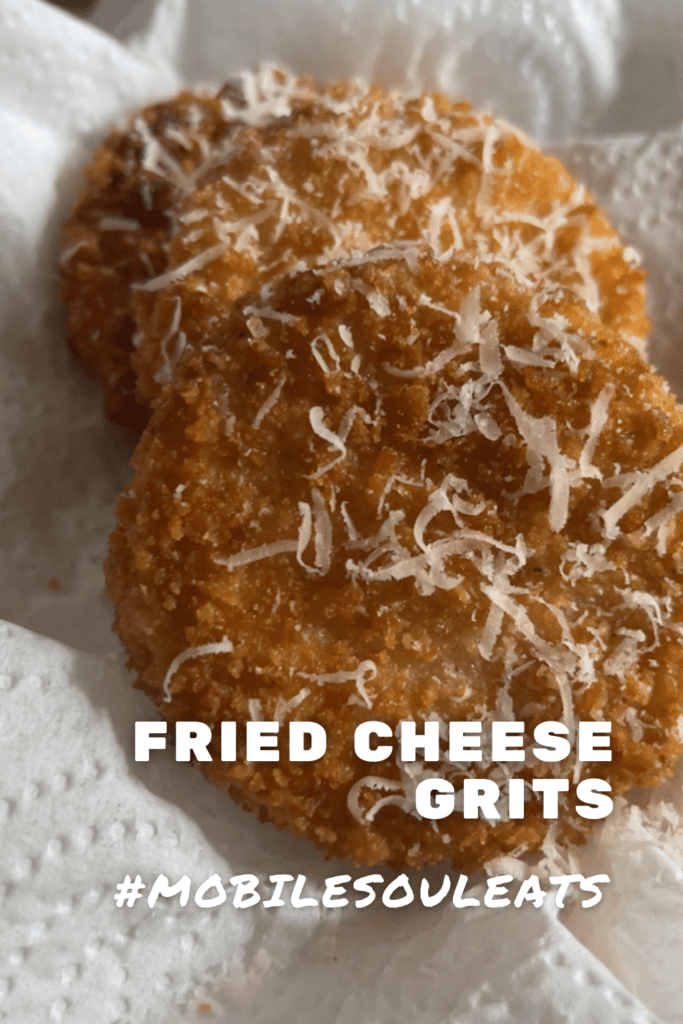 Things to remember when making fried grits
1. Taste and season the grits before chilling them
It's important to ensure that the grits are seasoned properly before they are chilled. Once the grits are chilled, it becomes difficult to adjust the seasoning. So it's crucial to taste and adjust the seasoning before chilling them.
I love keeping it simple with just salt, pepper, butter, and cheddar or colby jack cheese.
2. Chilling the grits is not optional
Chilling the grits is an important step in the process because it helps the grits firm up and hold their shape while frying. Skipping this step can result in the grits falling apart during frying, so it's essential to chill the grits for at least a couple of hours before frying.
3. Double coat the grits
Coating the grits twice in a mixture of flour and then panko breadcrumbs helps create a crispy outer layer while protecting the inside from overcooking. It's important to make sure that the grits are well coated before frying.
4. Use the right oil for frying
The type of oil used for frying can make a big difference in the final result. A neutral-flavored oil with a high smoke point, such as canola, peanut, or vegetable oil, is ideal for frying grits.
5. Oil temperature matters
It's important to maintain a consistent oil temperature while frying grits. If the oil is not hot enough, the grits will absorb too much oil and become greasy. If the oil is too hot, the grits will burn on the outside before cooking through on the inside. A temperature of 350-375 degrees Fahrenheit (176-190 degrees Celsius) is ideal for frying grits.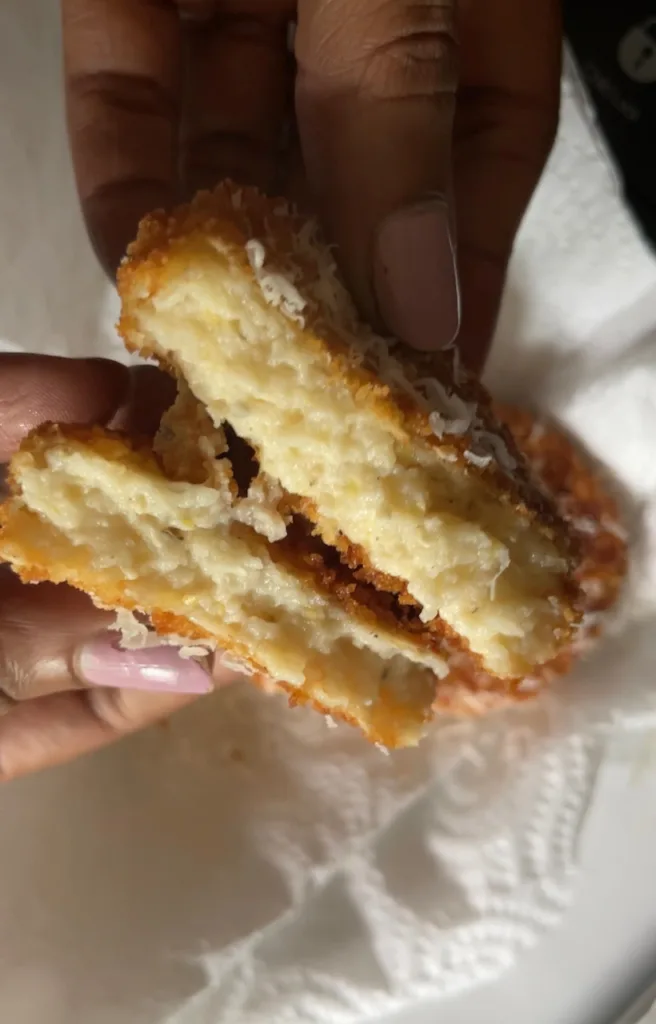 How to serve fried cheese grits
Top the fried grits with classic breakfast ingredients – crispy bacon, sausage, or ham, sautéed vegetables like onions and peppers, or even a fried egg on top
Smother the grits in melted cheese or a creamy sauce
Pair with braised meat dishes like stew beef, short ribs, oxtail, roasted chicken, etc.
---
Fried Cheese Grits
Ingredients
3

cups

of cooked cheese grits

1 ½

cups

all-purpose flour

2

large eggs

½

cup

milk

1 ½

cups

panko breadcrumbs

Vegetable oil for frying

Parmesan cheese, on the block

divided (1/4 cup for Panko mixture and more for garnish)
Instructions
Pour cooked cheese grits into a dish with a flat bottom and spread into an even layer. Make sure the dish is small enough so that when the grits are poured, they are around ½" thick.

Let it chill for at least 3 hours and up to 4 days. Use a 3 inch cookie cutter or biscuit cutter to cut the grits into 6 discs.

Use 3 bowls to set up a dredging assembly line. In the first bowl, add flour. In the second, whisk together the eggs and milk. In the third bowl, mix Panko breadcrumbs had ¼ cup of Parmesan cheese.

Thoroughly coat each disc in flour, then the egg mixture, then panko. Set aside and repeat with the rest of the grits discs. Prepare a plate lined with paper towels.

Heat vegetable oil in a skillet or cast iron pan. The oil's height should be at least half the thickness of your grits cake. Heat to 375 degrees. Fry each grit cake for 2 minutes then flip and fry for 2 or 3 more minutes or until they are an even golden brown color and crisp.

Use a spider (or slotted spoon) to remove each cake and place them on a plate lined with paper towels to get rid of excess oil. Garnish with freshly grated Parmesan cheese or pair with eggs and bacon or stew beef - anything you'd eat with regular grits.
Notes
The size of the dish you use to chill your grits depends on how thick you'd like your grit cakes to be. The larger the dish, the more the space the grits have to spread out and chill, thinner the grit cakes will be. I used a tupperware container that measured about 7" x 12".