Most people love casseroles because they are simple and they usually involve fewer dishes which means less cleanup. What's better than combining a few of your favorite ingredients into a single dish where the flavors get to spend lots of time mingling and getting acquainted? Combining a few of your favorite ingredients to make a casserole that is 100% made from scratch! Making that canned condensed soup…you know the seasoned gloop that is wildly convenient but still a little suspect, is a breeze. It only adds about 15 minutes of cooking time and makes the finished casserole 10x better. You can even make it days in advance and store it until it's time to make this broccoli cheese & rice casserole recipe.
Ingredients you'll need
Produce
Yellow onion
Garlic
Broccoli crowns
Baking & Pantry Items
Low-sodium chicken broth (optional, but recommended)
Kosher salt
Fresh ground black pepper
Paprika
Your favorite seasoned salt (I used Creole seasoning)
Ground mustard (optional)
Ground nutmeg (optional)
Rice
Dairy
Unsalted butter
Cream cheese
Sharp cheddar cheese
Mozzarella cheese
Other
Equipment you'll need
Rice cooker (not necessary, but rice does need to be cooked before being used in this recipe)
Medium-sized pot
Wooden spoon or rubber spatula
9×9″ casserole dish
How to make cream of chicken soup
Cream of chicken is made by first sauteing aromatics and making a roux (butter and flour) then adding broth and milk to make a thick sauce. Chicken broth gives cream of chicken soup its flavor, but variations like cream of mushroom soup are made by sauteing mushrooms with the aromatics. Click here for more about How to Make Cream of (Whatever) Soup.
Can I use frozen broccoli?
You sure can! Using fresh broccoli ensures that the final product won't be mushy, but frozen is the next best thing. It is incredibly convenient as well since it's often already broken down into perfect-sized florets.
What kinds of cheeses to use
Sharp cheddar is a must. Whether it's regular sharp cheddar, extra sharp cheddar, or white cheddar, is up to you. For the other more melty cheese, mozzarella is perfect. The flavor develops after a little broiling is unmatched. For a bit of spice and flare, pepper jack cheese.
Ways to add some flare to your broccoli cheese & rice casserole
Season and/or garnish with red pepper flakes to add some spice
Add spinach or artichoke hearts to the mix
Use homemade cream of mushroom soup instead of cream of chicken
Experiment with the cheeses – try gruyere, white cheddar cheese, or gouda
---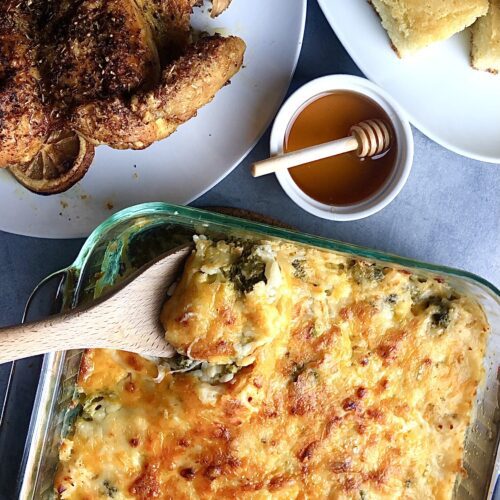 Broccoli Cheese & Rice Casserole
Fluffy rice, tangy cheddar cheese, stringy mozzarella, and tender bites of fresh broccoli combine in a creamy casserole that's ready in less than 45 minutes.
Equipment
Medium to large saucepan or pot

9×9" casserole dish
Ingredients
1

Tablespoon

unsalted butter

or olive oil

½

yellow onion

diced

3

garlic cloves

minced

1.5

cups

of homemade cream of chicken soup

or 1-10.5 oz can of cream of chicken

3

cups

fresh or frozen broccoli florets

½

cup

low-sodium chicken broth

2

cups

cooked white rice

½

teaspoon

kosher salt or seasoned salt

¼

teaspoon

freshly ground black pepper

¼

teaspoon

ground nutmeg

¼

teaspoon

ground mustard

1

cup

shredded sharp cheddar cheese

1

cup

shredded mozzarella cheese
Instructions
Preheat the oven to 350º F. Coat the bottom and sides of a 9×9" casserole dish with butter or spray with nonstick cooking spray.

Heat oil over medium heat in a medium to large saucepan or pot. Add onion and cook until they are translucent, 2 to 3 minutes. Add garlic and cook until fragrant, another minute or so.

Stir in cream of chicken soup and bring to a simmer. Add broccoli and stir to coat. Continue cooking until broccoli begins to soften, 3 to 5 minutes.

Add cooked rice to the pot then stir in chicken broth and stir to combine. Stir in half of both of the cheeses. Season with salt, pepper, ground nutmeg, and ground mustard. Taste and adjust seasonings as needed.

Pour the contents of the pot into a casserole dish and spread even with a rubber spatula.

Add the remaining cheese to the top of the casserole then bake for 20 and the cheese is melted.

Turn the oven to broil and cook for 2-3 more minutes or until the cheese is bubbly and beginning to brown.
Notes
Frozen broccoli can be used instead of fresh broccoli.
Canned condensed cream of chicken soup can be used instead of the cream of chicken that is made from scratch.
My name is Lena aka The Biscuit Lady, and my favorite part about cooking, baking, and experimenting with food is realizing that something isn't as hard as I previously thought. It's the learning, growth, and immense pride that come with developing new, delicious skills.
My style of cooking combines familiar flavors and ingredients with techniques I've picked up from traveling, reading, and eating all kinds of cuisines. I believe that food is one of those things (like music) that truly moves and connects us and this blog is my way of introducing that concept, plus a few others relating to food and community to anyone who's interested.
Besides being in the kitchen, I enjoy visual art, photography and documentaries, forests, rivers & beaches, Jeopardy! (RIP Alex Trebek), and playing made-up games with my nephews.