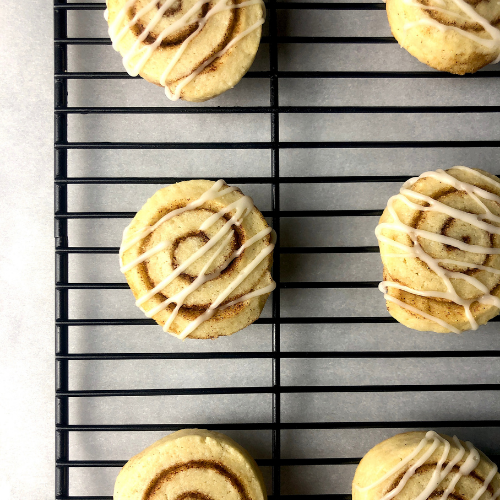 These cookies are tender butter cookies combined with the brown sugary-cinnamon goodness of a cinnamon roll. After being drizzled with an easy-to-make vanilla icing, this recipe produces convenient cookie versions of the cinnamon rolls that we all love so much. The edges are golden brown and crisp while the center remains soft and bursting with flavor. If you don't feel like dealing with the yeast dough and proofing process involved in making traditional cinnamon rolls, try your hand at this simple cookie recipe.
Ingredients you'll need
Dairy
Unsalted butter
Large egg
For the icing:

Whole milk or almond milk
Baking & Pantry Items
All purpose flour
Baking powder
Kosher salt
Granulated sugar
Light brown sugar
Ground cinnamon
Vanilla extract
Almond extract
For the icing:

Powdered (confectioner's) sugar
Light blue agave syrup or light corn syrup
Equipment you'll need
Stand or hand mixer
Mixing bowls
Measuring spoons/cups
Parchment paper
Cookie (or baking) sheets
Wire racks for cooling
Rolling pin
Butter knife or dental floss for cutting cookies
Piping tips or squeeze bottles: If you're using my easy glaze icing, I recommend using a squeeze bottle for more precise designs. Although, drizzling a little icing over each cookie with a spoon or simply dipping them into the icing works just fine.
Piping bag: If you're opting to use a piping tip, you will need a disposable piping bag or reusable piping bag.
The process of making cinnamon roll cookies
1. Make the dough
This dough is almost the exact same as our cut-out sugar cookie recipe. It's straight forward and buttery, but we removed the almond extract that we love to use in sugar cookies. It just doesn't add much since cinnamon and brown sugar are the stars here.
However, if you already have some leftover sugar cookie dough with almond extract, you can definitely use it! It doesn't distract from the cinnamon roll flavor at all.
2. Roll the dough flat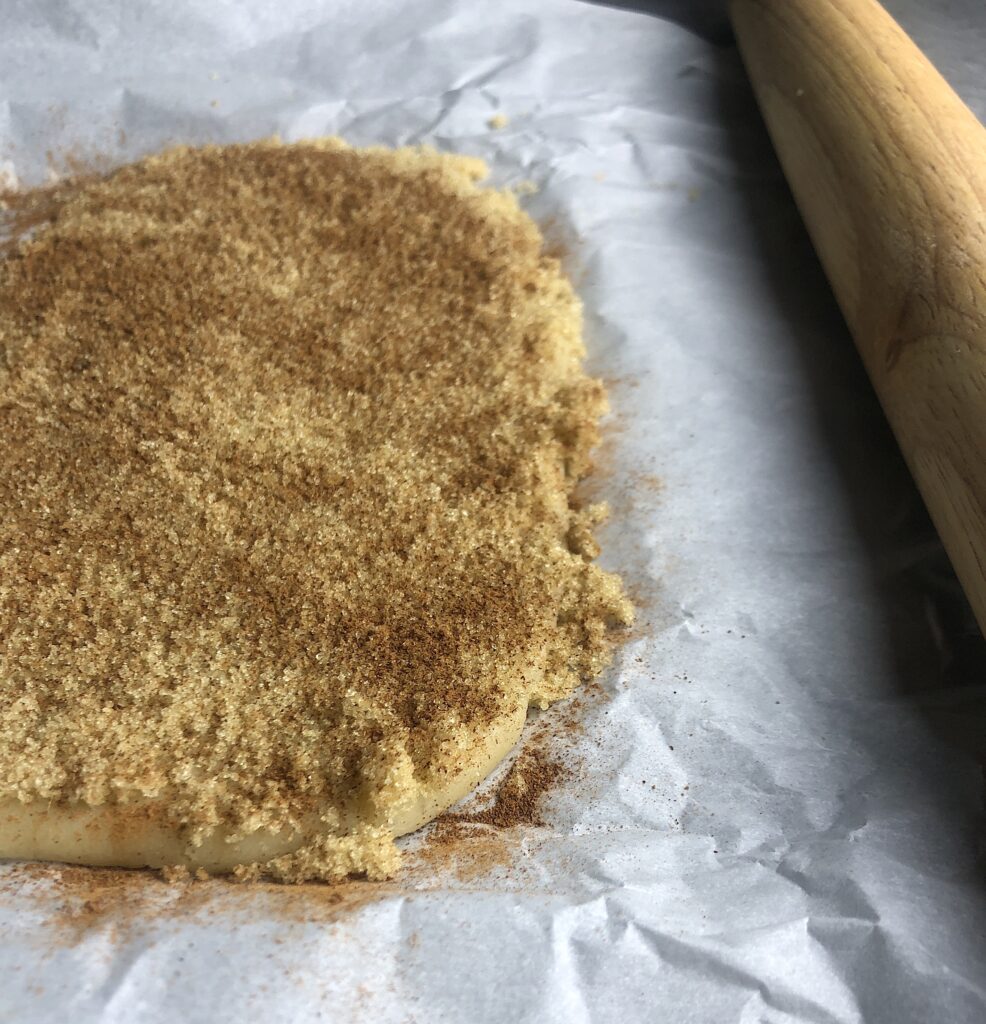 Next, like in our cut-out sugar cookie recipe, the dough is separated into 2 halves and rolled out. Instead of 1/4-inch thickness, thinner is better. Not so thin that the dough breaks when it's being rolled. Anywhere between 1/8-inch and just under 1/4-inch thickness works great.
The shape doesn't have to be exact but you should aim for a square or rectangle. No worries if there are exactly zero 90º angles involved.
3. Add the filling and roll dough into a spiral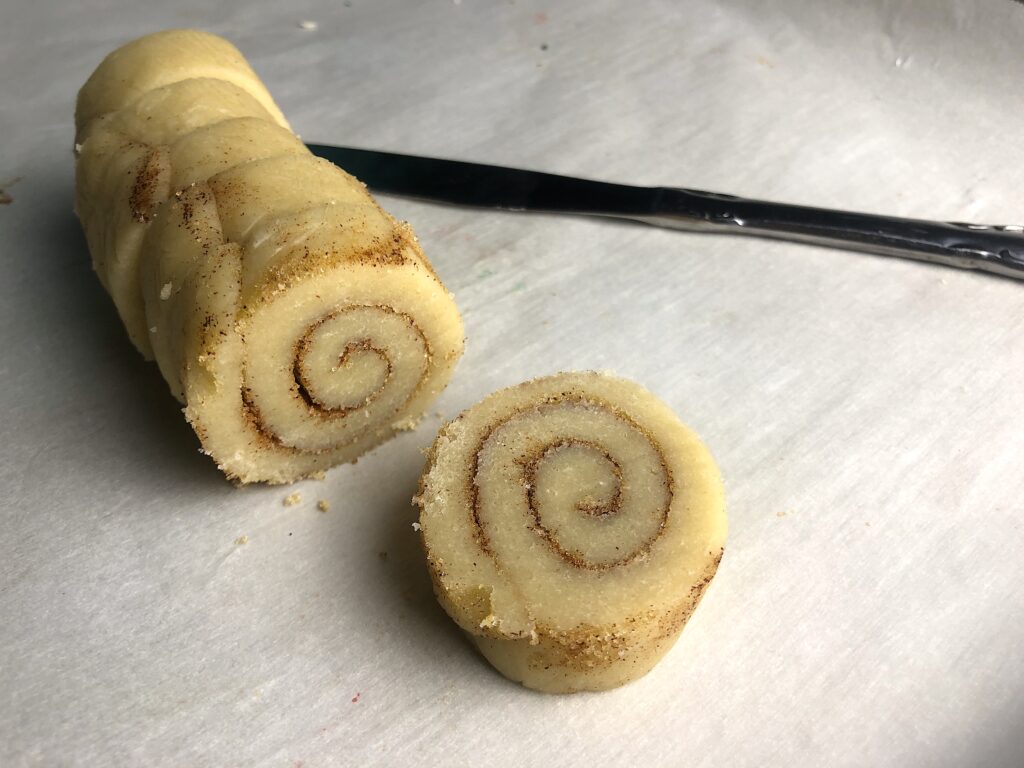 Work with one half of the dough at a time. Evenly sprinkle brown sugar and then cinnamon across the entire surface of the dough. Don't miss any spots. It's better to fall off the edges onto the parchment paper or clean surface than to skimp on the filling.
Starting from one edge, carefully roll the dough into a tight log. It doesn't really matter which side you start from, but remember, longer sides mean more spirals and larger cookies.
If your rectangle is 8 inches by 12 inches, starting your roll on one of the 8 inch sides will yield more spirals because it has to travel 12 inches down the length of the dough. If you started the roll on one of the 12 inch sides, it would only have 8 inches of dough to create spirals with.
4. Chill the dough
This step is a must! The dough needs time to chill and firm back up for a couple of reasons. The butter needs to cool down so it doesn't melt immediately in the oven and cause the cookies to spread excessively. The chilling also makes it easier to cut clean slices of dough from the log to bake as needed.
Wrap the rolled logs securely in plastic wrap then place in the refrigerator for at least 1 hour or up to 5 days.
5. Cut, bake, and cool the cookies
While the cookies are cooling, preheat the oven to 350º F (177 ºC). Line a baking sheet or cookie sheet with parchment paper.
Cut 1/2-inch slices of cookie dough from the log. You can cut the entire batch or store the log and cut a few cookies off as needed.
How do I make the easy vanilla icing?
A quick icing can be whipped up for these cinnamon roll cookies in just minutes!
Ingredients

2.5 cups powdered sugar
1 teaspoon vanilla extract
1.5 Tablespoons light blue agave syrup or light corn syrup
2-3 Tablespoons milk

Instructions

Use a whisk or hand mixer (on the lowest setting) to combine powdered sugar, vanilla extract, syrup, and 1 Tablespoons of milk into a smooth icing.
Add the rest of the milk a little at a time until it reaches the desired consistency.
Transfer to piping bags or a squeeze bottle for easy and precise decorating. You can also use a spoon to drizzle icing over each cookie or simple dip half of the cookie into the bowl of icing for quick decorating.
How to store cinnamon roll cookies?
Cookies are best stored in an airtight container or ziplock bag at room temperature for up to 5 days. They can be held for up to 10 days in the same containers and stored in the refrigerator.
To Freeze
These cookies are just a variation of sugar cookies, so they freeze beautifully. Wait for them to cool completely then store them in a freezer-safe ziplock bag. Store bag in an airtight container or another ziplock bag for added protection. The cookies will be good for up to a month. Just remove from the freezer and allow to thaw in the fridge overnight or on the counter for at least an hour before serving.
Tips and tricks for making cinnamon roll cookies
Use the best ingredients you can. There are only a few simple ingredients so using quality ingredients goes a long way.
Chill the dough. I know we already went over this, but it's really important. Just do it!
Fill dough to the edges…and beyond. Do yourself a favor. Don't skimp on the flavor.
Leave on the baking sheet for a few minutes after baking. This helps create an even more solid and delicious base so the cookies don't fall apart during transfer to the wire rack for cooling.
Squeeze bottles. These are my preferred method of decorating desserts because they provide a precise tip and easy storage. Make sure to choose squeeze bottles with tips that are wide enough to pass a thick icing without too much straining.
Pair with coffee or this white chocolate and cinnamon hot chocolate.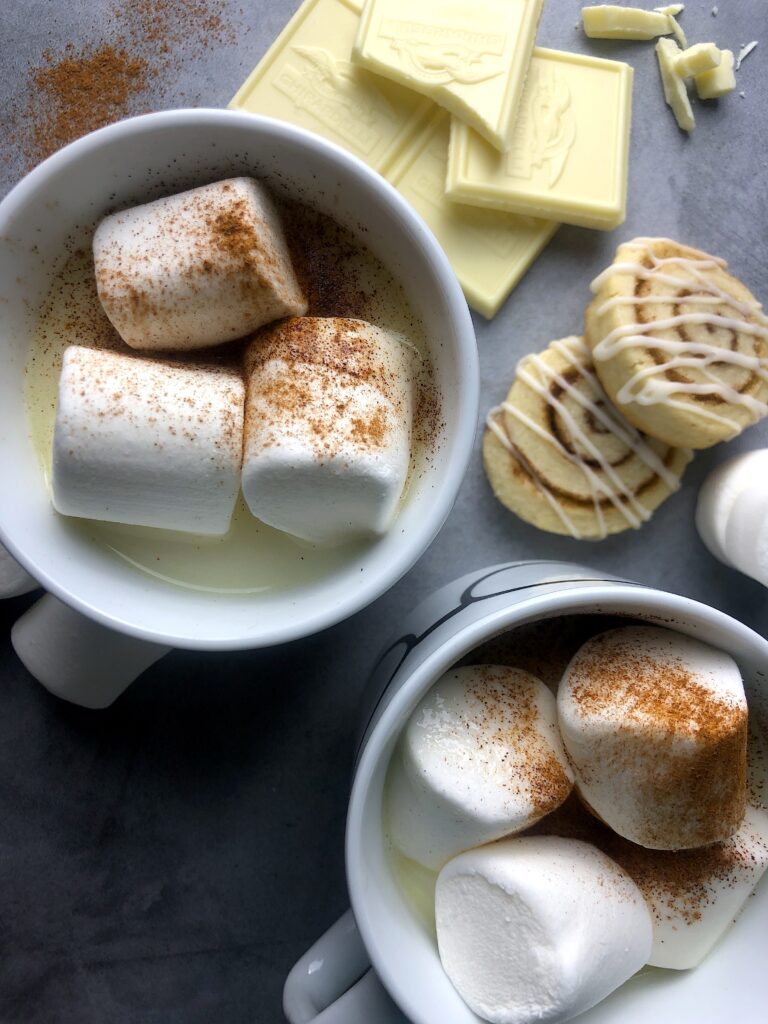 ---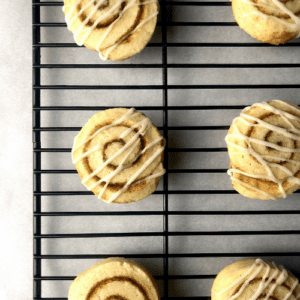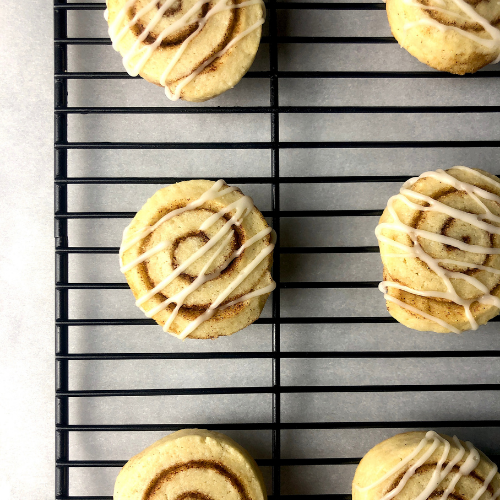 Cinnamon Roll Cookies
Like a delicious cinnamon roll, bursting with brown sugar and cinnamon flavor, except in a tender, convenient form of a cookie.
Ingredients
2 ¼

cups

all-purpose flour spoon & leveled

plus more as needed for rolling, for hands, pin, and work surface

½

teaspoon

baking powder

¼

teaspoon

kosher salt

¾

cup

unsalted butter

softened to room temperature 1.5 sticks

½

cup

granulated sugar

1

cup

light brown sugar

¼ for dough, ¾ for the filling

1

large egg at room temperature

2

teaspoons

pure vanilla extract

2-3

Tablespoons

ground cinnamon

Easy vanilla icing

see recipe above
Instructions
Whisk flour, baking powder, and salt together in a medium bowl.

In a large bowl using a hand mixer or a stand mixer fitted with a paddle or whisk attachment, beat the butter and granulated sugar and ¼ cup of the brown sugar together until completely smooth and creamy, about 2 minutes. Add the egg, vanilla, and almond extract (if using) and continue beating on a high speed until combined, about 1 minute. Scrape down the sides and up the bottom of the bowl and beat again as needed to combine.

Add the dry ingredients to the wet ingredients and mix on low until combined into a consistent dough. Dough will be relatively soft. If the dough seems too soft and sticky for rolling, add 1 more tablespoon of flour.

Divide the dough into 2 equal parts. Place each portion onto a piece of lightly floured parchment paper or a lightly floured silicone baking mat. With a lightly floured rolling pin, roll dough into a square or rectangle, less than ¼-inch thickness.

Sprinkle remaining brown sugar and cinnamon evenly across the dough. Carefully roll the dough into a tight log.

Repeat with the other rectangle of dough. Wrap securely with plastic wrap then refrigerate for at least 1 hour and up to 5 days.

Once chilled, preheat the oven to 350°F. Line a large baking sheet with parchment paper. Unwrap the log from the plastic then cut ½-inch thick slices of cookie dough from the log. Line onto a baking sheet at least 2 inches apart. Rewrap the remaining dough so cookies can be sliced and baked as needed.

Bake cookies for 12-13 minutes or until the bottom edges begin to brown. Let cookies sit on the baking sheet for 5 minutes before transferring to a wire rack to cool completely.

Whisk all of the icing ingredients together in a small bowl. Using a spoon or squeeze bottles, drizzle icing across the top of each cookie then let the icing harden (10-20 minutes) before storing or serving.