Looking for a way to use up some leftover spinach wraps? These Christmas Tree chips are baked chips made from spinach wraps and salted to make a perfect holiday-themed chip that pairs perfectly with all kinds of dips and salsas.
---
Your grocery list
Bread/Bakery
Spinach wraps (I used the XL size, but any size will work)
Pantry Items & Seasonings
Nonstick cooking or baking spray
Kosher or sea salt
Equipment/tools you'll need to make Christmas tree chips
Knife or pizza cutter
Cookie cutter shaped like a Christmas tree or scissors for freehand cutting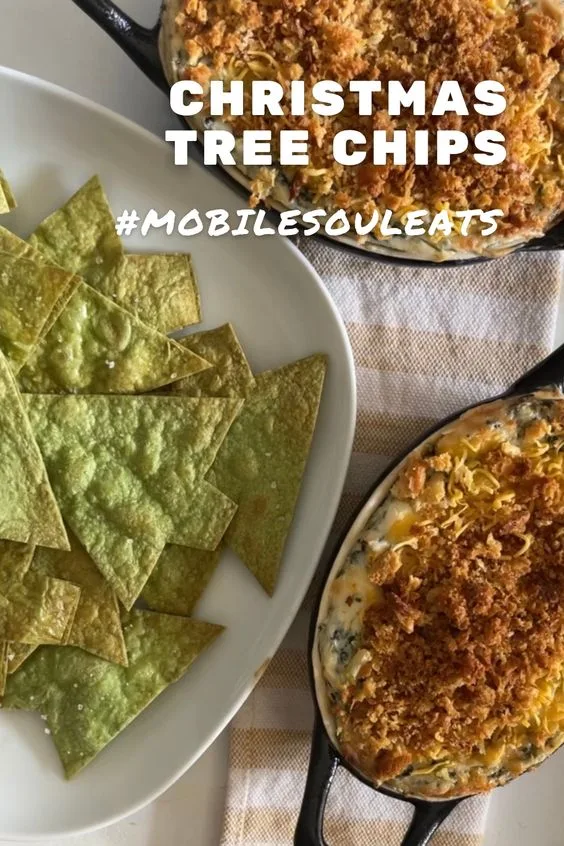 How to make homemade baked tortilla chips
These Christmas tree chips are just a variation of your regular corn tortilla chip, so it's good to have the process memorized. Don't worry, it's super simple.
STEP 1: CUT TORTILLAS INTO DESIRED SHAPE
Cutting each tortilla into 6 wedges works very well, but a cookie cutter or scissors can but used to make more uniquely shaped chips. In this case, we are cutting them into the shape of trees.
STEP 2: LIGHTLY GREASE + SALT THE TORTILLAS
With a neutral tasting cooking spray lightly coat the tortillas on both sides. You can also dip a pastry brush in oil to coat the tortillas too. Keep the oil coating to a minimum though. You don't want soggy chips drenched in oil. The chips will take longer to dry out and bake properly and this increases the risk of them burning. At this point you can season the tortillas with salt.
STEP 3: BAKE TORTILLA CHIPS
Now we are ready to bake the tortilla chips. Heat the oven to 350 degrees Fahrenheit and place the tortilla wedges on a baking sheet in a single layer. Bake for 5-10 minutes or until crispy, tossing or turning the chips half way though to make sure everything has baked evenly.
STEP 4: MORE SEASONING (OPTIONAL)
Don't be afraid to add more salt immediately after baking. You can play around with chili powders, garlic seasoning, etc.
---
Christmas Tree Chips
These baked chips are simple to make, festive, and delicious with any dip or even plain.
Ingredients
1

pack of spinach wraps

large or XL

Cooking or baking spray

Salt
Instructions
Preheat the oven to 350 degrees Fahrenheit.

Using a knife or pizza cutter, cut each spinach wrap in half then cut each half into 3 triangular sections. Use scissors to cut each section into the shape of a Christmas tree (see video below).

Line a baking sheet with parchment paper then add the trees in a single layer for baking. You will likely need to use more than one baking sheet or bake them in batches.

Spray both sides of the trees with nonstick spray and sprinkle with salt. Bake for 5-10 minutes or until the edges begin to brown and the chips are no longer flimsy.
Video
Notes
Cookie cutters also work for creating tree shapes from the spinach wraps.
If you don't have nonstick spray, brush a thin layer of avocado oil on both sides of each tree. Vegetable oil will work in a pinch, but as a last resort.
Follow the same steps to make tortilla chips from flour or corn tortillas. 
Store your chips in an airtight container at room temperature for 2-3 days.
Follow me on Instagram or Pinterest for more fun food content!