Spinach dip is a crowd-pleasure for sure. It's straightforward and cheesy, and the spinach addition helps us trick ourselves into thinking it's sort of healthy. This recipe turns it up a notch by adding a bunch of roasted garlic to the mix. It's perfect for parties, potlucks, or just pampering yourself after a long week.
---
Your grocery list
Produce
Fresh garlic (to be roasted and cooled slightly before adding to this recipe)
Dairy
Cream cheese

Sour cream

Parmesan cheese

Mozzarella cheese
Pantry Items & Seasoning
Kosher or sea salt

Black pepper

Panko or homemade bread crumbs
Frozen Section
Frozen spinach (or fresh spinach cooked down to 10 ounces-worth)
Equipment/tools you'll need
Mixing bowl

Hand or stand mixer (a whisk or spatula will work if an electric mixer isn't available)

Nonstick spray

Small baking dish or cast iron skillet
Tips and things to consider when making spinach dip
Use room-temperature cream cheese and sour cream
These ingredients can be thick and hard to combine with the other components when they are cold. The warmer, the easier it will be to whip up a smooth, creamy dip.
Shred the cheese yourself
Cheese just melts so much easier when it's shredded from the block right at home. It might take a few more minutes, but it's worth it every time for me. Pre-shredded cheese is coated with an anti-caking agent which keeps it from clumping together in the bag, but it gets a little weird when you want to melt the cheese.
Go ahead and use frozen spinach
Using frozen spinach will save you time and you won't notice any difference in the final dish. Frozen spinach (that has been thawed and squeezed to remove the excess liquid) is actually my preference when making this dip. It's already cooked down. Using fresh spinach is an option. Just be aware that it will take a lot more fresh spinach than you think to cook it down to 10 ounces.
To get rid of the excess liquid: Place thawed spinach in a clean, dry towel and squeeze repeatedly until there is barely any liquid is left.
Roast your garlic ahead of time
This recipe calls for roasted garlic to help boost the flavor of the dip. Roasting garlic is a simple process, but it does take some time and forethought so here's a recipe to walk you through that. If you don't have the time, you can still make this dip with 2-3 fresh minced garlic cloves or 1-2 teaspoons of garlic powder.
Taste, taste, taste!
Everybody's tastebuds are different and because most people don't really measure when they make a dip, the results may vary. That's okay! This dip doesn't contain any eggs or other ingredients that can't be eaten raw. Feel free to taste after each addition to see if it was enough. If you ever accidentally add too much salt, pepper, garlic powder, etc., adding more cream cheese or sour cream will help balance the dip.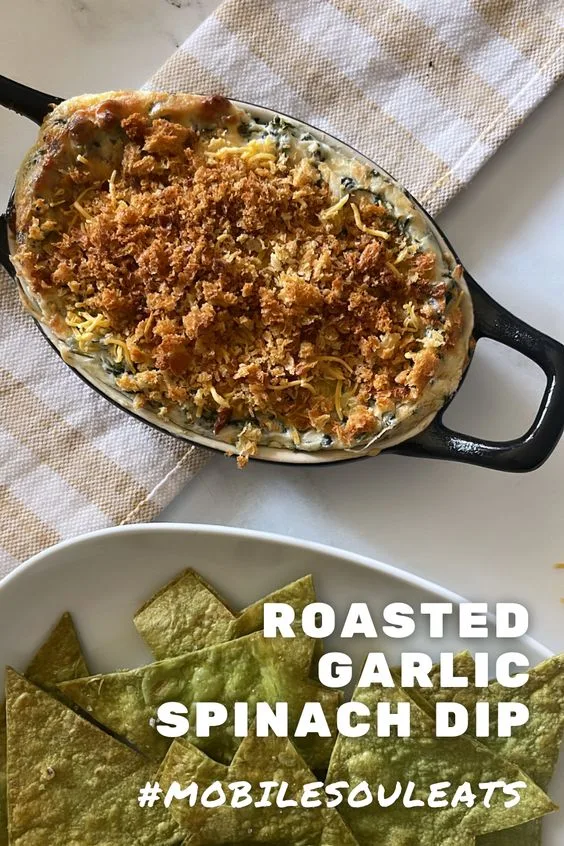 Switch it up
Add more vegetables
Consider adding even more vegetables to this dip. Artichokes, asparagus, and steamed broccoli are delicious choices. If the vegetable needs to be more tender, steam it before cutting it into small pieces and adding it to the dip. They don't have to be completely cooked (just to your liking). (1) They are vegetables and can be eaten raw and (2) they will cook a bit more in the oven.
Spice it up
Add 1/2 teaspoon of red pepper flakes and add pepper jack cheese to the mix.
Make it lighter
Use lighter-fat versions of cream cheese and sour cream or Greek yogurt. The dip won't lose any of its flavors, just a bit of the indulgent creaminess.
Try out different cheeses
Mozzarella and parmesan are my go-to's, but Colby jack and Monterey jack work well too. Really, whatever cheese you have will probably work, so don't be afraid to experiment!
---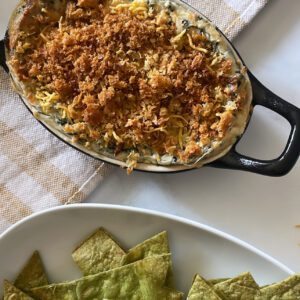 Roasted Garlic Spinach Dip
Spinach dip is a classic dip and appetizer with creamy, comforting flavors and lots of cheese. This recipe includes roasted garlic for another layer of deliciousness.
Equipment
Mixing bowl

Hand or stand mixer (a whisk or spatula will work if an electric mixer isn't available)

Nonstick spray

Small baking dish or cast iron skillet
Ingredients
8

ounces

cream cheese

softened

½

teaspoon

salt

½

teaspoon

fresh ground black pepper

3-4

cloves

roasted garlic

½

cup

sour cream

¼

cup

parmesan cheese

shredded

¼

cup

mozzarella cheese

plus more for topping, shredded

10

ounces

frozen spinach

thawed, excess liquid removed, and chopped

panko or homemade breadcrumbs
Instructions
Preheat the oven to 357 degrees Fahrenheit.

Thaw the spinach and squeeze as much water out as you can. Set aside to continue to drain/dry out.

In a bowl, combine cream cheese and sour cream until smooth with no large clumps. Use a hand or stand mixer, if necessary. Add all of the other ingredients and stir to combine. Chop up the spinach until it's fine. The reason I recommend chopping it is because the spinach stems get stringy in the dip if you leave them whole. Even with pre chopped frozen spinach.

Spray a baking dish with nonstick spray and transfer mixture to the dish. Spread it into an even layer with a spatula. Top with extra cheese and breadcrumbs.

Bake for 20-25 minutes or until cheese is melted and bubbly. If breadcrumbs are browning too quickly, loosely cover the dish with aluminum foil.

Serve with chips, fresh vegetables, baguette slices, etc.
Notes
I'd recommend chopping up the spinach before adding it to the dip, especially if you are mixing by hand. The spinach tends to be stringy if you leave it whole.
Cream cheese + sour cream can be substituted for greek yogurt + light sour cream for a lighter dip that can be enjoyed cold.