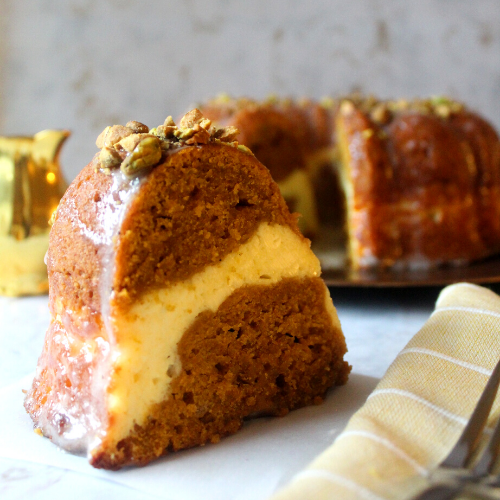 I've been thinking about pound cake for weeks now, but I didn't want a plain or a lemon glaze pound cake, even. So when I looked in the pantry and saw the cans of pumpkin puree, that set something off in my mind. I don't get caught up in the pumpkin spice craze every year, but I do enjoy the flavor. Especially when paired with cheesecake. So that sparked another idea.
One idea led to another which led to the whole point of this post: pumpkin spice & cream cheese pound cake. It is a pumpkin pound cake with a cheesecake-esque layer in the middle, a light cream cheese glaze, and chunky-crushed pistachios to top it all off.
Since I made the first one of these a few days ago, I've eaten it for breakfast, lunch, and dessert. The only reason I haven't had it for dinner yet is because my family sent me some of their famous chicken pie. More on that in another post at a later date. Back to this cake.
It's delicious. The spices plus the pumpkin give it warmth, the oil (which I look forward to playing around with flavor-wise) keeps it super moist, and the cream cheese layer adds a note of tartness that keeps each bite perfectly balanced.
I will likely go in a fill in this blog post with step by step photos and explanations, but for now, it will cover the following:
Overview of the process
Full recipe for the pumpkin spice and cream cheese pound cake
Quick video walkthrough of the recipe
This recipe was adapted from this delicious pound cake recipe.
The pumpkin spice & cream cheese pound cake-making process
This recipe is so easy, you don't even need a stand or hand mixer. Mixing the batter manually might even be better because it's less likely that you will overmix it mixing by hand.
Equipment that you'll need includes:
Four mixing bowls (2 large and 2 smaller ones) – Measuring cups/spoons (1 cup, 1 Tablespoon, 1 teaspoon) – Whisk – Rubber spatula – Nonstick cooking or baking spray – Bundt pan of your choice – A food processor for pistachios (optional – a knife and cutting board can be used)
For any pound cake, you want to make sure your ingredients are room temperature, so that's really the first step. Take your eggs out of the fridge.
The cake batter
Once things are room temperature, it's time to make your batter. First mix together flour, baking powder, cinnamon, ginger, nutmeg, and salt in one of the large mixing bowls. Set this bowl aside for later.
The second large mixing bowl will be used for the wet ingredients. Add pumpkin, sugars, oil, vanilla extract, and eggs and mix until well incorporated. The oil does take some finessing to get mixed in pretty well, but don't stress too much over fully incorporating it. Your cake will still mix and bake just fine, no worries.
Making the cream cheese center
In the third bowl, you'll mix together cream cheese, sugar, and eggs to make the cream cheese center of the cake.
Now, you can assemble your cake. Make sure to spray the bundt cake pan super thoroughly so it will come out whole with no problems. Pour half of the pumpkin cake batter into the pan. Then add all of the cream cheese and spread it into an even layer. Finally, top it off with the rest of the pumpkin cake batter and even this out as well.
Baking and finishing the cake
The cake will need to bake for at least 55 minutes. It is done when a skewer comes out almost clean. While it bakes, whisk together powdered sugar, cream cheese, and milk. Add as little or as much milk as you'd like to create the consistency you need. Thicker frostings require less milk.
I finished mine with chopped pistachios, but that is completely optional. Walnuts would also be delicious to finish this cake.
---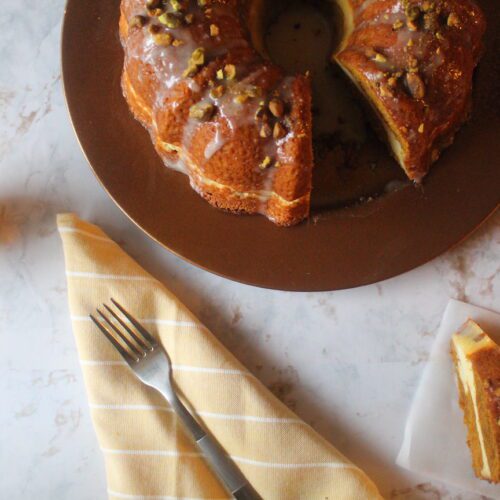 Pumpkin Spice & Cream Cheese Pound Cake
The perfect combination of pound cake, pumpkin pie & cheesecake.
Equipment
Four mixing bowls

Measuring cups/spoons

Whisks

Rubber spatula

Nonstick spray

Bundt pan

Food processor or knife and cutting board, for pistachios
Ingredients
Wet Ingredients
1

cup

granulated sugar

15

ounces

canned pumpkin

1

cup

light brown sugar

packed

1

cup

vegetable oil

4

large eggs

room temperature

2

teaspoons

pure vanilla extract
Dry Ingredients
3

cups

all purpose flour

1 1/2

teaspoons

baking powder

1 1/2

Tablespoons

ground cinnamon

1

Tablespoon

ground ginger

1/2

Tablespoon

ground nutmeg

1/2

teaspoon

salt
Cream Cheese Mix
12

ounces

cream cheese

room temperature

1

egg + 1 egg yolk

1/2

cup

granulated sugar
Glaze
2

ounces

cream cheese

softened

3/4

cup

powdered sugar

2-3

Tablespoons

milk

1/2

cup

pistachios

chopped
Instructions
Preheat the oven to 350º F. combine pumpkin, sugars, oil, vanilla, and eggs. Set this aside. In another bowl, whisk flour, baking powder, cinnamon, ginger, nutmeg, and salt together in a large mixing bowl. Pour the bowl of wet ingredients into the bowl of dry ingredients and fold the batter until it is fully incorporated. In a third bowl, mix cream cheese until it is smooth. Add sugar and cream together with the cream cheese. Add the egg and egg yolk and mix until everything is fully combined.

Spray bundt pan with non-stick spray. Pour half of the cake batter into the pan. Next pour all of the cream cheese mixture into the pan. Finally, pour the rest of the cake batter into the pan. Smooth the batter into an even layer. Bake for 55-65 minutes or until a skewer comes out clean.

While the cake is baking, mix together remaining cream cheese, powdered sugar, and milk to create a glaze. After the cake cools for 10-15 minutes, pour the glaze over the cake. Chopped pistachios and add to the top of your glazed cake to finish it.
Notes
If you are using a premade pumpkin spice blend instead, just use 3 Tablespoons total.
We are testing this recipe with butter instead of oil next, so stay tuned for updates.
Subscribe for more recipes like this
Sign up for weekly emails, free recipes, and access to our shared recipe folder where you can view and download more than 50 of my recipes!