If you're a fan of crispy, flavorful snacks, then you're in for a treat! These homemade Parmesan herb crackers are a delightfully easy-to-make snack that will satisfy those cravings. These crackers are flaky, crispy, and loaded with the irresistible taste of parmesan cheese, garlic, and herbs. Whether you're planning a casual get-together, a movie night, or simply want a tasty snack to enjoy, these crackers are the perfect choice.
Your grocery list
Dairy
Unsalted butter
Whole milk
Parmesan cheese (grated)
Pantry Items
All-purpose flour
Salt
Garlic powder
Dried oregano
Dried parsley
Produce (optional)
Fresh herbs like dill, parsley, chives, or thyme (if not using dried herbs like in the recipe)
Equipment/tools you'll need
Food processor (or mixing bowl, whisk, and pastry cutter to make your dough)
Parchment paper
Baking sheet
Rolling pin
Pizza wheel (or knife)
Step-by-Step Instructions
Now that you have all the ingredients ready, let's dive into the step-by-step process of making these delectable Parmesan herb crackers.
Step 1: Preparing the Dough
Start by preheating your oven to 375 degrees Fahrenheit. This will ensure that your crackers bake evenly and develop a golden, crispy texture.
Next, in the bowl of a food processor (or in a mixing bowl), combine the all-purpose flour, salt, seasonings and grated Parmesan cheese. Use the food processor or whisk the dry ingredients together until they are fully combined and the Parmesan cheese is evenly spread throughout the mixture.
Now, it's time to incorporate the butter into the dry ingredients. Slice cold butter and add it to the flour and Parmesan mixture. You can either use a pastry blender, food processor, a stand mixer with a paddle attachment, or two stiff forks to work the butter into the dry ingredients. The goal is to break down the butter into small pieces, ensuring that it is evenly distributed throughout the dough. The mixture should resemble coarse crumbs with small flecks of butter.
Adding a small amount of cream cheese at this step also adds some tang and a little something extra to your crackers.
Step 2: Adding the Milk
Once the butter and dry ingredients are combined, it's time to add the whole milk. Begin by drizzling the milk into the dough, stirring as you go. You may need the full 1/4 cup of milk, or you may only need around 3 tablespoons. The key is to add just enough milk to bring the dough together.
As soon as the dough starts to come together, use your hands to press it into a ball. Make sure to incorporate any dry ingredients that are still in the bowl as you form the dough. Avoid kneading the dough too much; instead, gently squeeze it until it forms a solid ball.

NOTE: If using fresh herbs instead of dried herbs, they can be chopped and pressed into the dough at this stage. If you add the fresh herbs to a food processor too early, they may be bruised and release excess oil into the dough.
Step 3: Rolling and Cutting the Dough
Place the dough onto a sheet of parchment paper. This will make it easier to roll out the dough without it sticking to your work surface.
Take another sheet of parchment paper and place it on top of one portion of the dough. Using a rolling pin, gently roll out the dough until it is less than 1/4 inch thick. If the dough starts to stick to the rolling pin, lightly dust it with flour.
When it comes to shaping the crackers, you have two options. Using a pizza wheel or knife, you can either (1) cut the dough into squares, rectangles, or triangles, or (2) you can use cookie cutters to create different shapes.
Let your creativity shine and choose the shapes that make you happy. Remember, these crackers are all about enjoying a homemade snack that reflects your personal touch.
Step 4: Baking the Crackers
Now, carefully slide the parchment paper with the crackers onto a flat baking sheet. Place the sheet in the preheated oven and bake the crackers for 22-25 minutes, or until they turn golden brown and become crispy. The baking time may vary depending on how thin you rolled out the dough, so keep an eye on them starting at the 15-minute mark.
Step 5: Cooling and Storing
Once the crackers are beautifully browned and crispy, remove them from the oven and transfer the parchment paper to a cooling rack. Let the crackers cool for a few minutes to allow them to become even crispier.
You can store the leftover crackers in an airtight container at room temperature. While they are best enjoyed on the same day they are baked, they can stay fairly crisp for 2-3 days if stored properly. However, we doubt they'll last that long once you taste their irresistible flavor!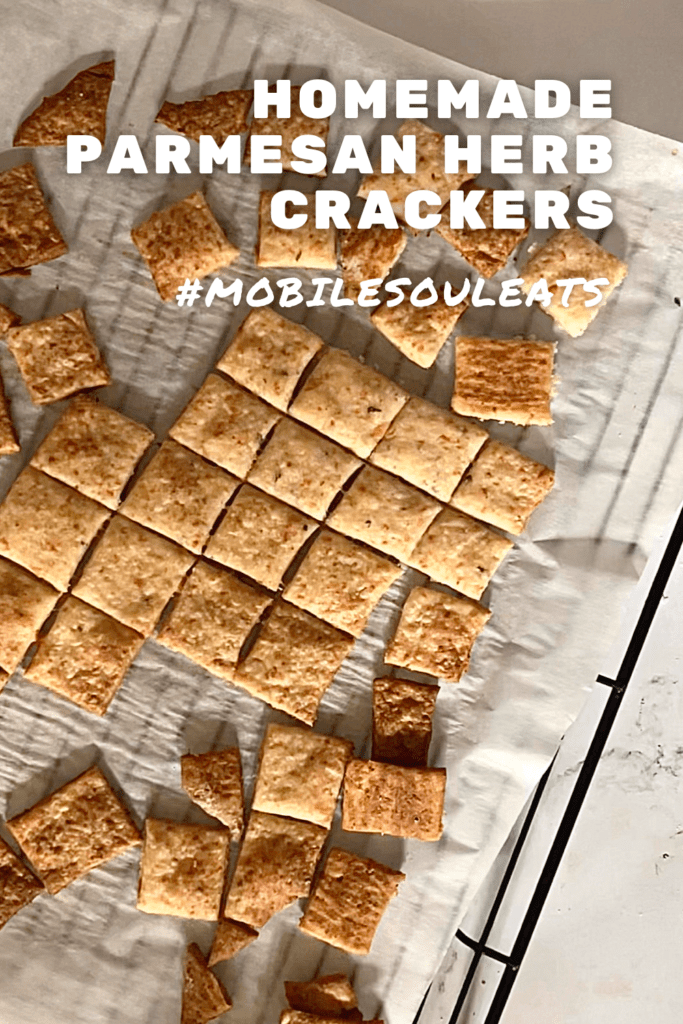 Serving Suggestions
Now that your homemade Parmesan herb crackers are ready, it's time to enjoy them in various ways. Here are a few serving suggestions to inspire your snacking adventures:
Cheese and Charcuterie Board: Arrange the crackers alongside an assortment of your favorite cheeses, cured meats, olives, and fruits for a sophisticated and flavorful cheese board experience.
Dips and Spreads: Pair the crackers with your favorite dips and spreads, such as hummus, spinach and artichoke dip, or baba ganoush. The crispy texture and savory flavor of the crackers will complement the creamy and tangy dips perfectly.
Toppings for Soups and Salads: Crumble the crackers and sprinkle them over your favorite soups or salads to add a delightful crunch and extra flavor. They can be a wonderful addition to a creamy tomato soup or a refreshing summer salad.
On-the-Go Snacks: Pack a few bags of these crackers for a quick and satisfying snack on the go. They are perfect for school or work lunches, road trips, or anytime you need a pick-me-up snack to keep you energized throughout the day.
However you choose to enjoy these homemade Parmesan herb crackers, one thing is for sure—they will add a burst of flavor and delightful crunch to any occasion.
---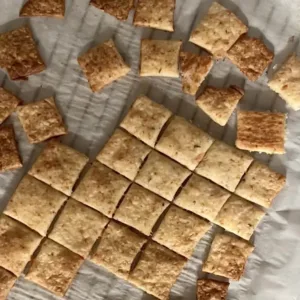 Parmesan Herb Crackers
These Parmesan herb crackers are crisp, nutty, buttery, full of flavor. They make a great snack, charcuterie board item, or soup and salad garnish.
Equipment
Measuring cups/spoons

Food processor

Parchment paper

Rolling Pin

Baking sheet
Ingredients
1

cup

all purpose flour

½

cup

grated or shredded parmesan cheese

½

teaspooon salt

½

teaspoon

garlic powder

½

teaspoon

dried oregano

½

teaspoon

dried parsley

4

Tablespoons

unsalted butter

cold, sliced

½

Ounces

cream cheese

optional

¼

cup

whole milk

cold

additional flour

for rolling the dough
Instructions
Preheat oven to 375 degrees F. Line a sheet pan with parchment paper and set aside.

Add all dry ingredients into a food processor. Process for 15 seconds.

Add sliced cold butter and cream cheese (optional), process for 10 seconds.

Add milk and process dough until it begins to gather together (about 20 seconds).

Place dough on a clean surface and gently knead it 3-4 times to shape dough into a smooth, flat, square disc.

Lightly dust the parchment with some all purpose flour, move the ball of dough onto the parchment and carefully roll dough into a 10 x 10 inch square (or some sort of shape - it doesn't matter).

Score dough into 1 X 1 inch squares (using a ruler) or just freestyle it (I used a pizza wheel). Transfer entire sheet of parchment and dough onto the baking sheet.

Bake crackers (in the middle rack of the oven) for 23-26 minutes or until golden in color (don't let them brown all the way). Break crackers apart and place pan on a wire rack to cool completely.

Crackers can be stored in an airtight container for 3-4 days.