Summary
There are few things better than homemade sweet potato pie. But one of those few things is sweet potato hand pies. The convenience, portability, and the feeling that this whole delicious thing is just for you?! Priceless. And, for us crust-lovers, it doesn't hurt that all of the filling is completely surrounded by a flaky, buttery crust that complements both sweet and savory ingredients perfectly! This recipe can be made using our easy all-purpose pie dough recipe or with pre-made pie dough.
---
Your Shopping List:
Produce
Dairy
Baking & Pantry Items
All-purpose flour
Sea salt (can be used for filling, but mainly for topping)
Ground cinnamon
Ground nutmeg
Brown sugar
Evaporated milk
Vanilla extract
Frozen Section
Bonus! (Optional)
Your favorite bourbon
White sugar (to make cinnamon-sugar topping)
Fresh ground ginger or ground ginger
Black and white sesame seeds (for alternative topping)
Equipment you'll need:
Measuring cups/spoons
Mixing bowls
Rolling pin
Silicone mat or parchment paper
Pizza cutter or round biscuit/cookie cutters (for easy dough cutting)
Baking sheet
The history of hand pies
Whether they're called hand pies, empanadas, patties, small portable pies with both sweet and savory fillings exist in cuisines all around the world. What they're called just depends on where you are.
In the Caribbean, a patty often refers to a dough that is filled with spiced ground meat and enjoyed with coco bread.
Empanadas are popular in countries of Spanish origin and involve pastry being filled with savory fillings.
Meat pies and hand pies have roots in European cuisines.
My most fond memory of hand pies are the fried apple hand pies my Uncle Connie, one of my dad's brothers, would make for family gatherings – Fourth of July, specifically. They are good piping hot, luke warm, and even straight out of the refrigerator.
The point is, it is safe to assume every person in the world has run into some form of hand pie in their life. Like rice, hand pies are a culinary reminder that we are more similar than we often seem.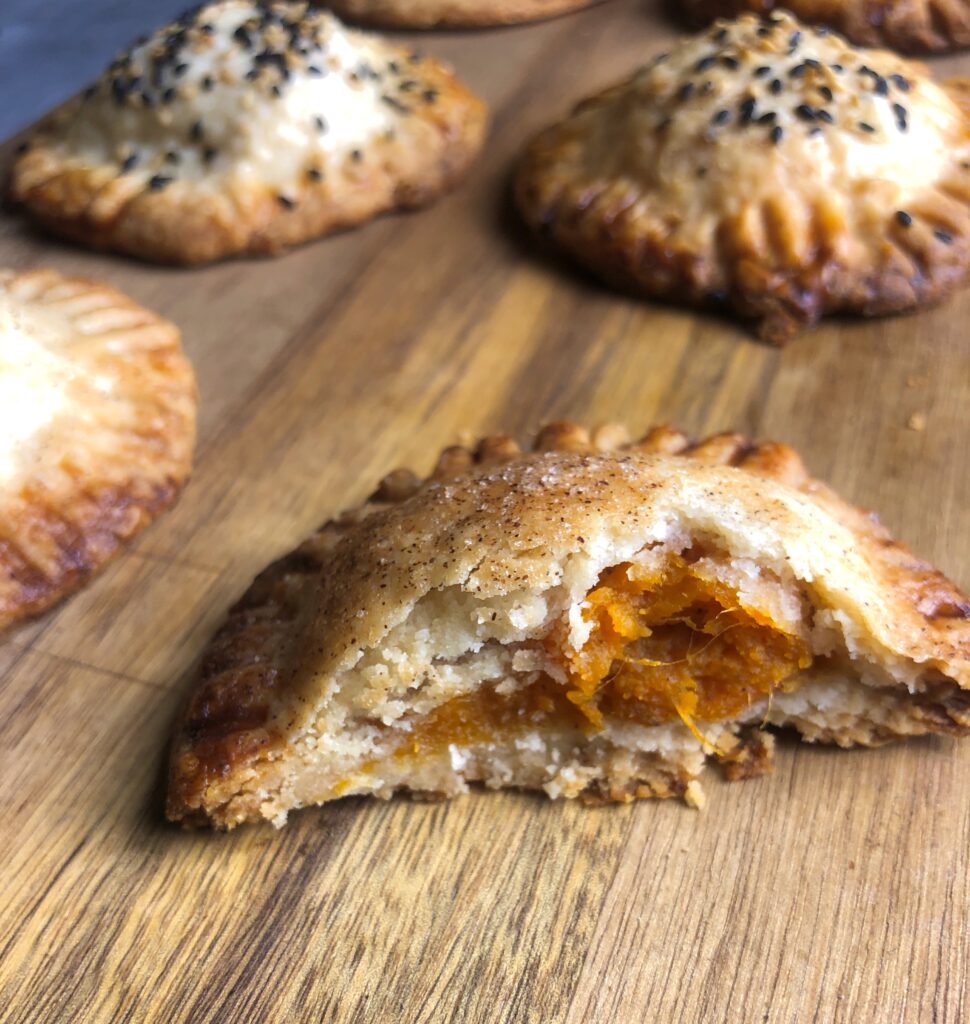 A note about stringy sweet potatoes
Sweet potatoes may vary in the level of stringiness, but almost all varieties that are available to us will likely have some strings. BUT, there are ways to minimize the stringiness and make a filling that is consistently smooth and creamy.
How to minimize stringiness in your filling
If (oven) roasting the sweet potatoes:
Cut off both ends of the roasted sweet potato
Let the sweet potatoes cool
Split the skins in half (the long way) and open the potato
Carefully remove any obvious strings from the potato, leaving behind the pulp
Use a blender or food processor to combine filling ingredients
If boiling the sweet potatoes:
Peel and cut the sweet potatoes into 1-inch rounds
Finish dicing into (approximately) 1-inch pieces
Boil in a large pot until a knife can easily pierce the potato
Drain and let the sweet potatoes cool
Use a blender or food processor to combine filling ingredients
Making sweet potato hand pies: an overview
Making hand pies is pretty similar to making regular pie. Just prepare your filling and your pie dough, assemble, and bake.
Boil or Roast the potatoes
To cook the sweet potatoes before making the filling, you can roast or boil them. Roasting concentrates the sweet potato flavors and makes for a tastier filling, but boiling is somewhat of a quicker process – taking only 20 minutes or so to boil, depending on the size
Before boiling the potatoes, you will have to peel and dice them into small chunks.
So it's up to you. If you don't feel like peeling them, but have an hour or so to spare for roasting, I recommend that.
Mash potatoes and let them cool
After the potatoes have cooked, remove any excess strings you see or feel then begin mashing them. Be very careful if mashing while the sweet potatoes are still hot.
Leave the mashed potatoes for about 30 minutes to cool before adding the rest of the ingredients for the filling. You don't want your eggs cooking before it's time to bake the hand pies.
Make pie filling
Combine mashed sweet potatoes, sugars, eggs, vanilla extract, ground cinnamon, and ground nutmeg in a bowl. Whisk vigorously to eliminate any clumps and to further break down any remaining strings.
You can even use a food processor or blender to give your filling a truly consistent texture.
Roll out and cut dough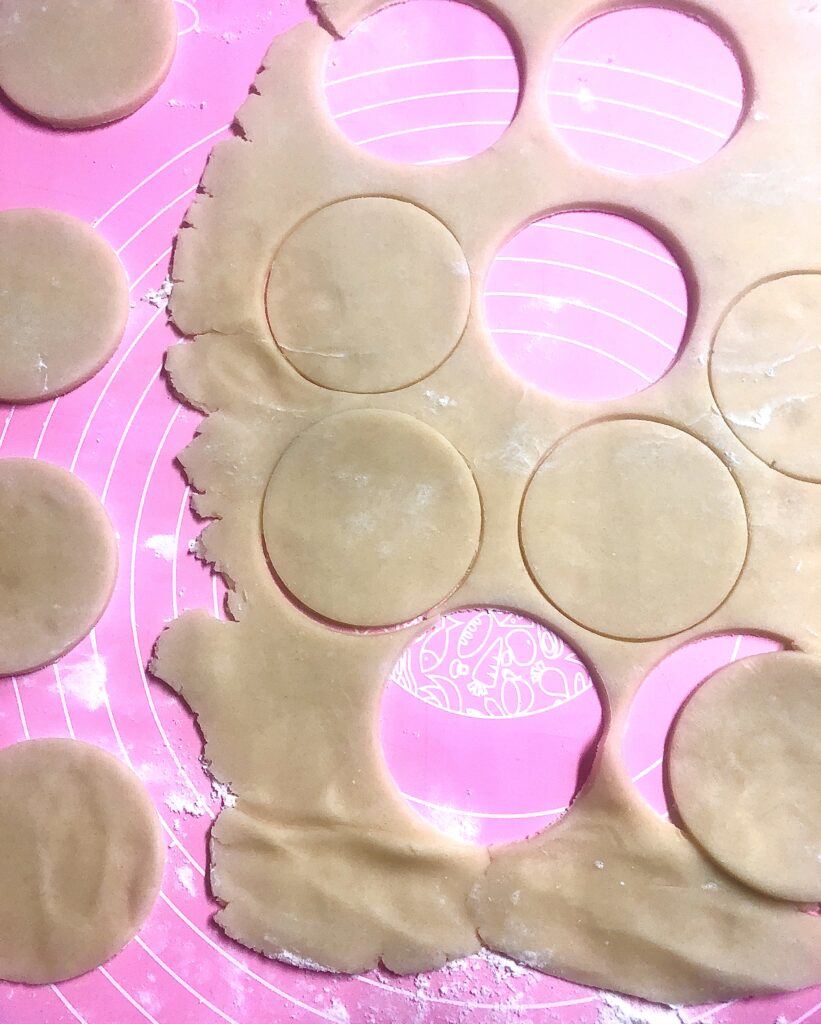 The dough should be rolled to about 1/8-inch thickness and it can be cut into either 4×4-inch squares or 4-inch round pieces of pie dough.
Assemble pies
To make larger hand pies, use one piece of pie dough as the base, brush along the edges with egg wash, add another piece of dough to use the top cover.
For smaller hand pies, a single piece of pie dough can be filled, folded over, brushed with egg wash, then sealed.
Use a fork to press along the edges and completely seal the filling into the pie dough.
Use a butter knife to cut small slits into the top of each pie. This helps steam escape from the inside while they cook instead of accumulating and potentially breaking the top crust.
For extra crunch and a golden brown outside crust, brush the tops of each hand pie with more egg wash.
A light sprinkle of sea salt will add even more crunch and will help balance the sweetness in the filling.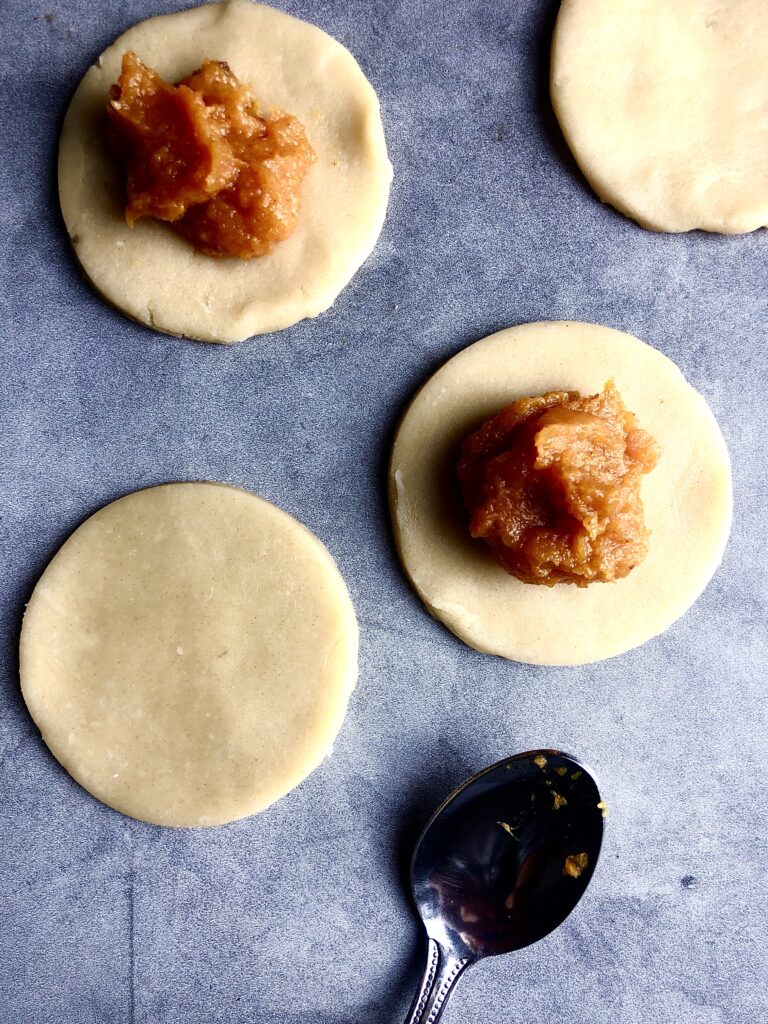 Bake and enjoy!
Preheat the oven to 400º F (205º C) or 375º F (190º C) in a convection oven. Line assembled hand pies on a parchment-lined baking sheet at least 1 inch apart.
Bake for 11-15 minutes or until the crust is golden brown. The larger the hand pies, the longer they will take to finish.
I know it's hard, but try to wait at least 15 minutes before digging in. The filling's consistency is much more pleasant once it is no longer piping hot.
How to store sweet potato hand pies
Storage
Store in an airtight bag or container in the refrigerator for up to 7 days.
How to freeze
After assembling but before baking: the pies can be placed on a parchment-lined baking sheet and frozen. Once frozen, they can be wrapped in plastic wrap and stored in freezer-safe bags or containers for up to 3 months. To bake them: remove them from the freezer and bake immediately in a 400º F oven for 20 minutes.
Freezing baked hand pies: wrap thoroughly in plastic wrap then stored in freezer-safe bags or containers for up to 3 months. To warm: Place in a 300º F oven and warm for 10 minutes. Keep in mind that the texture will change over time.
Tips and tricks to remember
Roasting is better than boiling. Roasting caramelizes the natural sugars and concentrates the sweet potato flavor, which makes for a more flavorful filling. It also eliminates the extra water that's involved in boiling the sweet potatoes.
Use evaporated milk. You can use lots of kinds of milk for your filling – whole milk, half-and-half, almond or oat milk – but evaporated milk brings a unique sweetness and creaminess.
Avoid using pumpkin spice. Whether it's pre-made or homemade, pumpkin spice is for pumpkin pie. Sweet potato pie doesn't require a bunch of spices, just let the natural sweet potato flavor shine.
Keep your dough cool. While mixing the filling and working with one sheet of pie dough, keep the other dough in the fridge to keep it cool. The tender flakiness of your finished hand pies depends on it.
Use enough filling, but not too much. Leave at least 1/4-inch of empty space around the edge of each pies of dough. You want enough space to brush with egg wash and crimp the edges.
Substitutions and modifications for your sweet potato hand pies
No evaporated milk? That's okay! Use whole milk, heavy cream, half-and-half, almond milk, or oat milk. If you're in a pinch, you could even use a bit of water to help the filling come together.
Instead of light brown sugar, use the same amount of dark brown sugar, white sugar, natural (raw) sugars, splenda, honey, agave syrup, or maple syrup can be used.
If you want an even more homemade and tastier experience? Use homemade pie crust. Here's our favorite all-purose pie dough recipe.
Add a splash (1-2 tablespoons) of your favorite bourbon for another layer of flavor.
Want even more of a kick? Add a little bit of ground ginger or minced fresh ginger to the filling.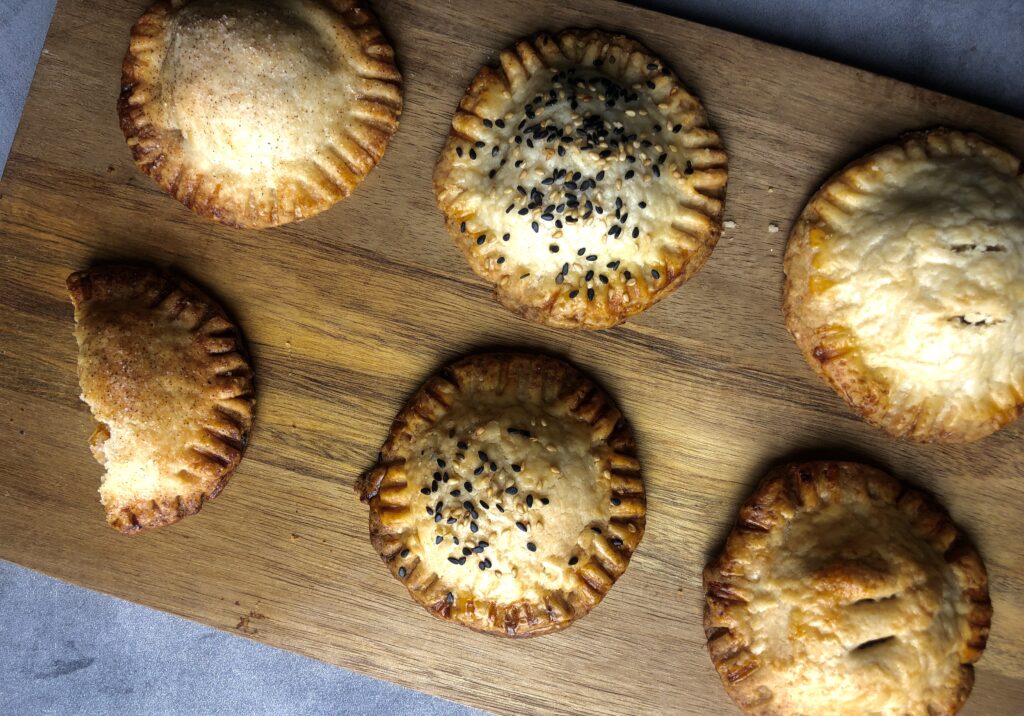 ---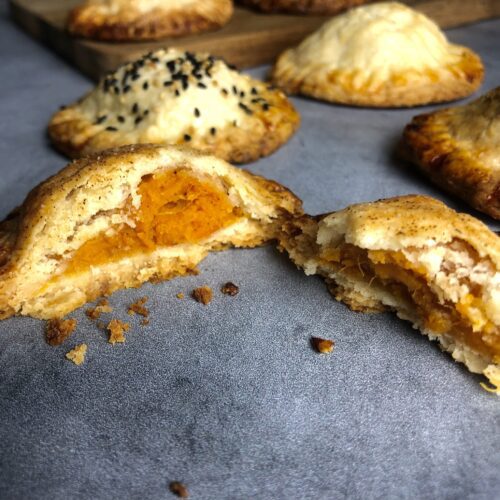 Sweet Potato Hand Pies (made with premade dough)
Small pockets of luscious sweet potato pie baked to flaky, golden perfection.
Equipment
Measuring cups/spoons

Mixing bowls

Rolling Pin

Silicone mat or parchment paper

Pizza cutter or biscuit/cookie cutters (for easy dough cutting)

Baking sheet
Ingredients
1-2

large sweet potatoes

⅛

cup

evaporated milk

2

tablespoons

¼ stick unsalted butter, melted

⅓

cup

firmly packed light brown sugar

½

tablespoon

vanilla extract

¼

teaspoon

ground cinnamon

⅛

teaspoon

ground nutmeg

optional

⅛

teaspoon

sea salt

1

box

2 sheets of pie dough (15-20 oz.)

1

large egg + 1 tablespoon of water
For the cinnamon-sugar topping:
1

part cinnamon to 4 parts white sugar
For sesame seed topping:
1

part black sesame seeds to 1 part white sesame seeds
Instructions
Heat oven to 350°F (175°C).

Pierce sweet potatoes several times with a fork to allow steam to release as the potatoes cook. Place potatoes on a baking sheet lined with aluminum foil. Bake for one hour until sweet potatoes are tender enough to be pierced all the way through with a knife. Allow sweet potatoes to cool to the touch, about 30 minutes. Alternatively, peel the skin of the potatoes, diced into 1" pieces, and boil in a large pot until tender, 15-20 minutes.

For roasted potatoes: Peel the skin of the sweet potatoes, and chop the flesh into large cubes.

For boiled potatoes: Drain water and allow to cool for 30 minutes.

Place sweet potato cubes, evaporated milk, and butter in a mixing bowl, high-powered food processor, or blender. Cover and blend on high speed until the mixture is a smooth consistency. Stop the food processor occasionally to scrape sides or scrape the sides of the bowl if mixing by hand. Add brown sugar, vanilla extract, 1 ½ teaspoons chai spice, and sea salt and continue mixing. Blend on high speed just until combined.

Increase oven heat to 400°F (205°C).

Roll out one 9-inch refrigerated pie crust (keep the other crusts in the refrigerator) onto a clean work surface or piece of parchment paper. Use a pizza cutter or 3.5-inch circle cutter to cut 6-7 circles from the pie crust. Collect the remaining pie crust scraps and re-roll to ⅛ inch thick. Cut an additional 2-3 circles. If you find the dough is sticking to the work surface or cracking when rolled out, you can add a small amount (less than 1 teaspoon) of flour to the counter, pie crust, and/or the rolling pin to keep it from sticking. Be careful to not add too much flour, or you will ruin the dough texture.

Beat egg with 1 tablespoon of water in a small bowl to create an egg wash.

Cut two slits on top of half of the pie crust circles using a sharp knife. These will become the top crusts. With the remaining 5 pie crust circles, add 2 tablespoons of sweet potato filling to the center. Brush around the edge of the bottom crusts with egg wash.

Lay the top crusts over the sweet potato-filled crusts. Seal the edges by crimping with the tongs of a fork.

Arrange the hand pies 1 inch apart on a parchment-lined baking sheet. Store in the freezer while assembling the remaining pies. Repeat the assembly process with the remaining pie crust(s).

Remove the assembled pies from the freezer. Thoroughly brush the top of each pie crust with the egg wash mixture using a pastry brush.

Mix cinnamon sugar or alternative topping while the pies bake. Sprinkle 1 teaspoon of topping on each hand pie. Be careful to keep the mixture in the middle of the pocket pies. Toppings around the edges may burn.

Bake for 13-17 minutes or until the pie crust has turned golden brown. Transfer pies to a cooling rack until they've cooled to the touch. Serve warm or at room temperature.

Store leftover pies in an airtight container in the refrigerator for up to 5 days.
Notes
Turbinado sugar or another raw sugar can be used instead of cinnamon sugar
For some added spice: add 1 teaspoon of ground ginger or minced fresh ginger to the filling
1-2 tablespoons of your favorite bourbon can be added to the filling for some kick