Milk bread is a popular and delicious bread that is incredibly soft, fluffy, and light. It is made using some sort of milk as one of its main ingredients, which gives it a unique taste and texture. The other 4 ingredients are sugar, yeast, flour, and salt.
Most recipes I've read for milk bread use some combination of whole milk, evaporated milk, and butter to add fat to the dough. I wanted to cut down on ingredients as much as possible, so I substituted the milk and butter combination for heavy cream. The fat content of heavy cream makes it perfect for this.
Sometimes I like to use evaporated milk and heavy cream just for the nostalgic, old-school flavor that evaporated milk brings.
Your grocery list
Pantry items
All-purpose or bread flour
Kosher salt
White sugar
Active dry yeast
Dairy
Heavy cream (you could also use a combination of heavy cream, evaporated milk, and/or whole milk, depending on what you have on hand)
Equipment/tools you need
Measuring cups/spoons
Stand mixer
Small pot, microwavable bowl, OR measuring cup (for heating heavy cream and sugar)
Large bowl and towel (used for the first rise)
Digital/Instant-Read Thermometer
1 loaf pan
Nonstick baking spray
Wire rack (for cooling)
What is yeast? What is it used for in baking?
Yeast is a type of fungus that is used as a leavening agent in baking. It is used to make bread dough rise and become light and airy. Yeast works by consuming sugar and producing carbon dioxide gas, which causes the dough to expand and rise.
What is a "rise"?
A "rise" in baking refers to the period of time when the dough is allowed to rest and expand before baking. During this time, the yeast in the dough produces carbon dioxide gas, which causes the dough to increase in volume and become lighter and fluffier.
Why is there a first and second rise?
There are typically two rises in bread baking. The first rise, also known as the bulk rise or fermentation, occurs after the dough has been mixed and kneaded. During this time, the dough is left to rest in a warm, draft-free place for 1-2 hours, or until it has doubled in size. The second rise, also known as the proofing or final rise, occurs after the dough has been shaped and placed in a loaf pan or on a baking sheet. The dough is again left to rest in a warm, draft-free place for 30-60 minutes, or until it has risen to the desired size. The second rise helps to develop the dough's flavor and texture, and also helps the dough to rise evenly in the oven.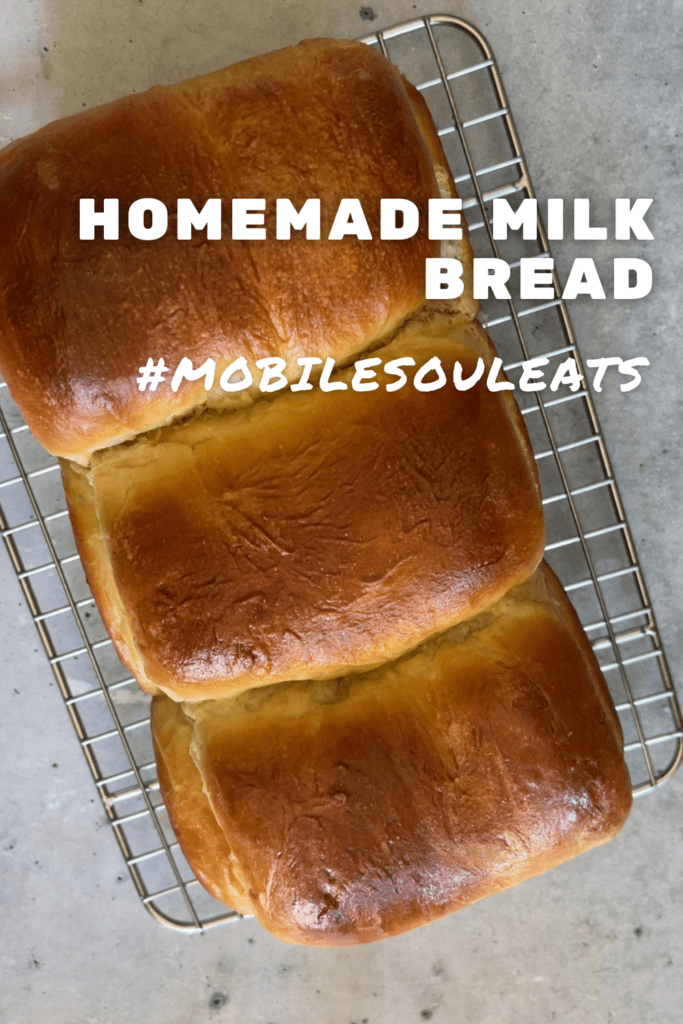 Why and how should I shape my milk bread loaf?
WHY?
Shaping loaves of bread before baking them is an important step in the bread-making process. Here are a few reasons why:
Proper shaping helps create a good structure: By shaping the dough, you help create a good gluten structure, which is important for the bread to rise properly and have a good texture.
Uniformity: Shaping helps make sure that each loaf is the same size and shape, which is important for even baking and consistent results.
Aesthetics: Shaping can also help create a more attractive loaf. For example, shaping a round loaf into a boule can create a beautiful, rustic-looking bread.
Control: Shaping the dough allows you to control the final shape and texture of the bread. For example, shaping a baguette involves rolling the dough into a long, narrow shape, which helps create the distinctive texture of a baguette.
There are many ways to shape your loaf of bread before baking, including not shaping it and just letting it rise in and conform to the loaf pan, but shaping the loaf makes for an even bake, uniform crumb, and sturdier slices to use however you'd like.
HOW?
Step 1: After the first rise, divide the dough into 3 equal parts. You can eyeball it. They don't have to be exactly the same size/weight, but close.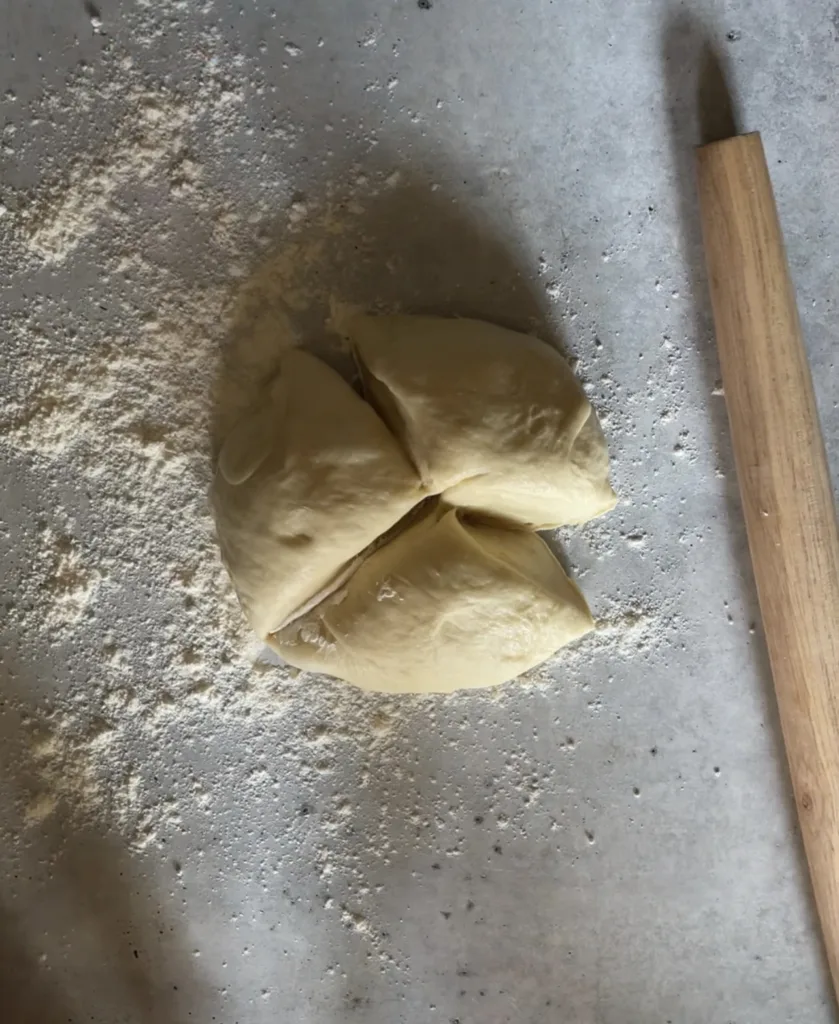 Step 2: Take the first portion of the dough and shape it into a ball. Then roll that ball out into an oblong shape that is about 1/4″ thick. Again, don't worry about the exact thickness here. The goal is to try to have an even thickness across the shape so the roll is even.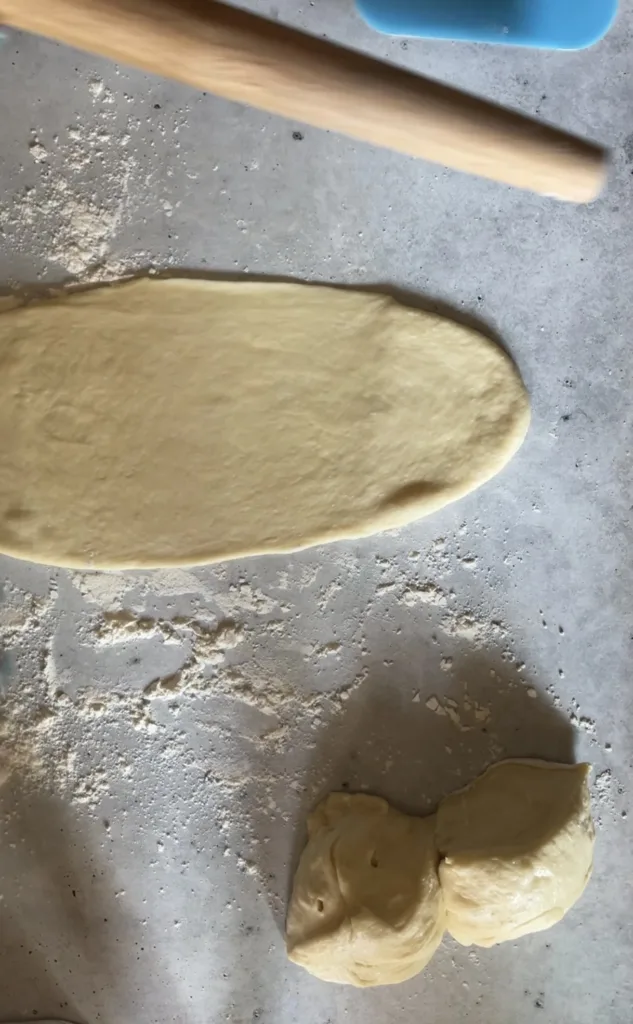 Step 3: Fold the long sides of the oblong shape of dough over toward the center, just enough to form a sort of rectangle with two rounded ends at the top and bottom.
Step 4: Starting at the top (furthest end from you), roll the dough into a tight log all the while keeping the sides that we folded earlier, tucked.
Step 5: Pinch the loose end to secure the log. Place into the loaf pan and repeat with the 2 remaining portions of dough.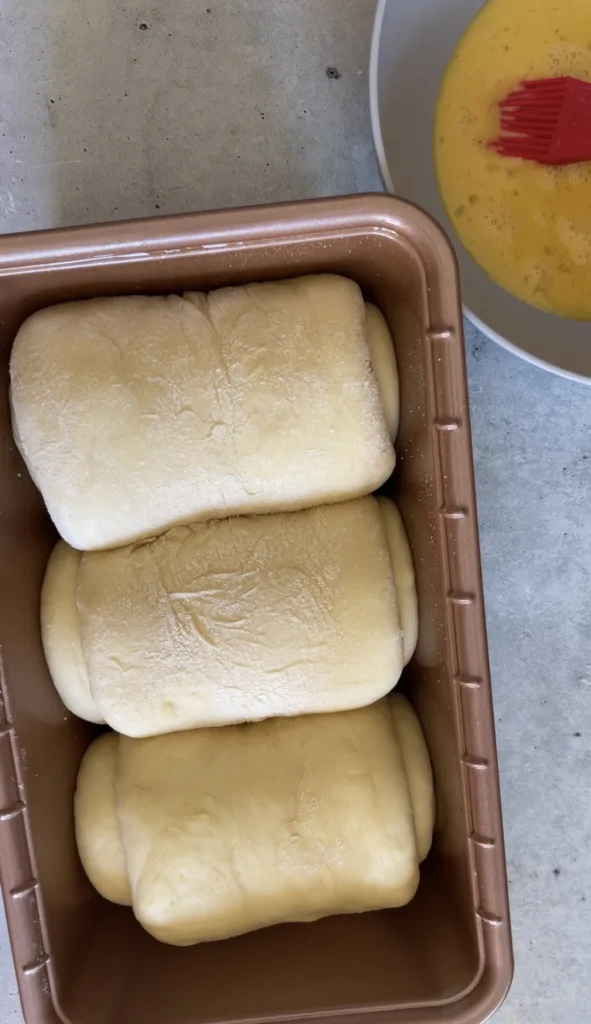 What is the difference between Japanese and non-Japanese milk bread?
Japanese milk bread is milk bread that is made using the tangzhong method. It may be hard to believe, but this milk bread is even fluffier and softer than regular milk bread.
The tangzhong method involves mixing a small amount of flour with water or milk and heating it until it becomes a thick paste. Then this paste is added to the dough mixture, which helps to create a lighter and more tender bread.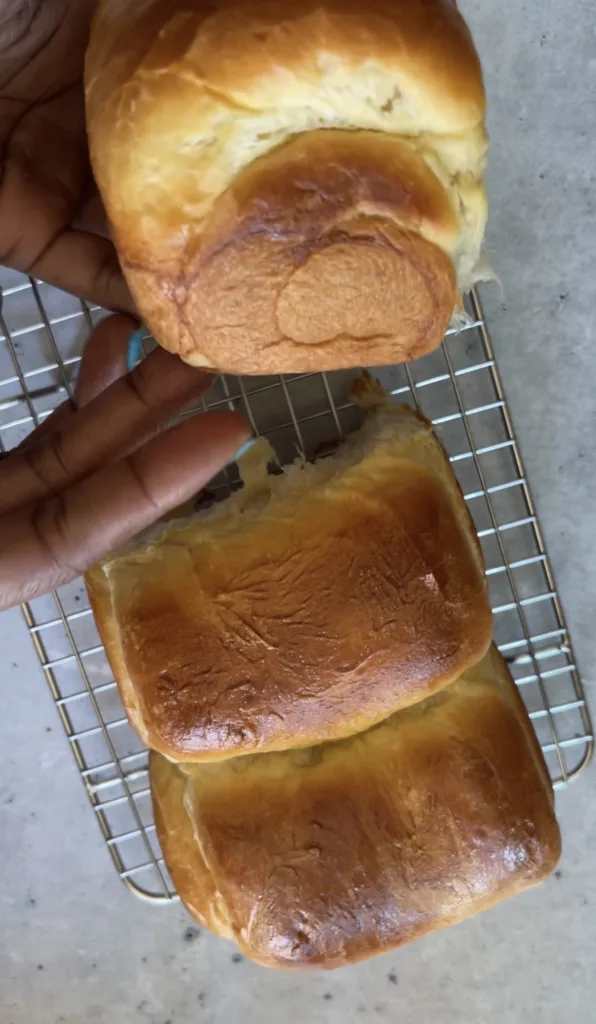 Tips for making great milk bread
If you are looking to make milk bread at home, there are a few things that you should keep in mind to ensure that you get the perfect loaf every time.
Use a bread machine or stand mixer to knead the dough. This can save you a lot of time and effort, and it also ensures that the dough is evenly mixed and kneaded.
Use the best quality ingredients you can find. This recipe only uses 5 ingredients so use the freshest, highest-quality ingredients you can afford.
Don't forget the nonstick spray. This will keep your bread from getting stuck in the loaf pans. Alternatively, a thin layer of butter or oil can be rubbed onto every corner and crevice of the inside of the pan.
Try substituting half of the heavy cream for evaporated milk. Evaporated milk gives baked goods an old-fashioned, classic flavor that I love. If you have some on hand, you can substitute half of the heavy cream for evaporated milk.
What can milk bread be used for?
Milk bread is a versatile bread recipe that can be used in a variety of dishes and recipes.
It is perfect for making sandwiches, especially those with strongly flavored toppings like grilled cheese with cheddar cheese or gouda or a patty melt with ground beef, American cheese, and grilled onions.
Milk bread can also be used for making French toast, hamburger buns, yeast rolls, garlic bread, or croutons.
And, of course, milk bread can be used as a base for many other dishes, such as bread pudding or stuffing.
With its soft and fluffy texture, milk bread is a great addition to any meal or recipe that calls for bread.
---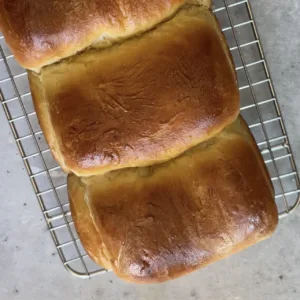 Homemade Milk Bread
This simple bread recipe makes 2 soft, fluffy loaves that are great for sandwiches, french toast, and more.
Equipment
Measuring cups/spoons

Stand mixer

Small pot

or microwavable bowl/measuring cup

Large bowl and towel

Digital/Instant-Read Thermometer

1 loaf pan

Nonstick baking spray

Wire rack (for cooling)
Ingredients
2

cups

bread flour

½

teaspoon

salt

1

cup

heavy cream

or heavy cream and evaporated combined

¼

cup

sugar

1

Tablespoon

active dry yeast

1

egg

beaten

1

teaspoon

water or heavy cream
Instructions
In a large bowl or the bowl of your stand mixer, whisk together the flour and salt.

In a small pot over medium heat (or using a microwavable bowl or cup), combine the heavy cream and sugar. Heat until the mixture reaches between 110 - 115 degrees Fahrenheit (43 - 46 degrees Celsius).

Once the cream is within this temperature range, sprinkle the yeast across the surface of the bowl or cup. Let this sit for about 10 minutes until the mixture is frothy.

Next, pour the cream and yeast mix into the flour and knead (with the paddle attachment or by hand) for 8-10 minutes, or until the dough is smooth.

Place the dough in a greased bowl, cover it, and let it rise in a warm place for 1 hour or until doubled in size.

Punch down the dough and knead it briefly. At this point, you can divide the dough into 3 parts and shape each smaller section into a mini-loaf OR shape the entire ball of dough into 1 loaf and place it in a greased 9x5-inch loaf pan.

Cover the loaf and let it rise in a warm place for another 30 minutes or until it has risen to the top of the pan.

Combine egg and cream or water to make an egg wash. Gently brush the top and any exposed sides of the loaf with the egg wash to create an even more golden brown crust.

Preheat the oven to 350 degrees Fahrenheit (175 degrees Celsius). Bake the bread for 30-35 minutes or until golden brown.

Remove the bread from the oven and let it cool in the pan for 5 minutes before transferring it to a wire rack to cool completely.