If you're looking for a delicious and nutritious breakfast or brunch dish that's sure to impress, then look no further than this creamy smoked salmon scramble! This scrumptious dish is packed with flavor and protein and is so easy to make that you'll be having it on repeat in no time. Whether you're a fan of smoked salmon or are just looking for something new, this recipe is sure to become a family favorite.
Your grocery list
Produce
Chives or scallions
Fresh parsley, dill, and/or basil
Dairy
Large eggs
Heavy cream
Unsalted butter
Cream cheese
Deli/Seafood
Pantry Items & Seasonings
Kosher salt
Black peppers
Equipment/tools you'll need
Whisk (for eggs)
Cutting board and knife (for herbs and salmon)
Nonstick pan
Rubber spatula (for gentle folding of the ingredients as they cook)
What is an egg scramble?
An egg scramble is ANY dish made by whisking eggs with milk or cream and cooking them in a pan with butter or oil, often with other ingredients such as diced vegetables, meat, cheese, or herbs. The mixture is stirred with a spatula, breaking up the curds as they form, until the eggs are cooked to the desired level of doneness. Egg scrambles are a quick and easy breakfast or brunch option and can be easily customized to suit individual tastes and dietary preferences.
How is smoked salmon made?
Smoked salmon is typically made by first brining the salmon in a mixture of salt, sugar, and sometimes other seasonings.
The brined salmon is then rinsed and dried before being smoked. The smoking process can be done using a hot or cold smoking method.
In hot smoking, the salmon is exposed to smoke and heat until it is fully cooked, while in cold smoking, the salmon is exposed to smoke without heat for a longer period of time to impart flavor and preserve the fish. The resulting smoked salmon can be eaten on its own or used as an ingredient in various dishes.
What's the difference between lox and smoked salmon?
Lox and smoked salmon are both cured salmon, but the difference lies in the method of preparation. Lox is made by curing the salmon in a salt and sugar mixture, while smoked salmon is brined and then smoked using either a hot or cold method.
Lox has a silky, smooth texture and a milder flavor, while smoked salmon has a smoky flavor and a firmer texture. Additionally, lox is typically served cold, while smoked salmon can be served hot or cold and is often used in cooking.

Preparing the smoked salmon
Before you get started, you'll need to prepare the smoked salmon. Start by removing the skin and any bones from the salmon. Most packaged smoked salmon will have these steps done for you already. It will usually be thinly sliced too. To prepare the salmon, roughly chop it into bite-sized pieces. If it is a smoked filet, slice it thinly then chop or just dice the salmon into the smallest pieces you can manage.
Steps to making any kind of scramble
To make the scramble, melt the butter in a skillet over medium heat. Once the butter is melted, add the onion and garlic and sauté until they are fragrant and beginning to soften. Then add the smoked salmon and stir to combine. Next, crack the eggs into a bowl and whisk until they are well blended. Pour the eggs into the skillet and stir to combine with the smoked salmon and vegetables. Cook for about 5 minutes, stirring frequently, until the eggs are cooked through.
At this point, add the cream cheese and stir until it is melted and evenly distributed. Once the scramble is cooked to your liking, season with salt and pepper. Remove from heat and set aside.
Adding the finishing touches
To finish the scramble, add a tablespoon of chopped fresh herbs such as parsley, chives, basil, or dill. This will add a nice fresh flavor and a bit of color to the dish. If you're feeling adventurous, you can also add some diced tomatoes, bell peppers, or spinach to the scramble.
How to serve a creamy smoked salmon scramble
This creamy smoked salmon scramble is delicious whether it's served on its own or with some toast or a bagel. Top with a dollop of sour cream, Greek yogurt, or creme fraiche, and some extra fresh herbs (like dill, basil, or parsley) or arugula (my favorite!) for an extra special touch.
Tips for the perfect smoked salmon scramble
For the best results, it's important to use fresh, high-quality smoked salmon. This will ensure the best flavor and texture. If you're using pre-smoked salmon, make sure to check the package to make sure it's fresh and not expired.
Also, be sure to cook the scramble over medium heat. This will ensure that the eggs are cooked through without getting tough or dry. Finally, don't forget to season the scramble with salt and pepper before serving. This will really bring out the flavors of the dish.
Variations of the smoked salmon scramble
This smoked salmon scramble is incredibly versatile and can be customized to your tastes. For a lighter, healthier version, you can use egg whites instead of whole eggs and omit (leave out) the cream cheese. You can also add some vegetables such as spinach or diced tomatoes for extra flavor and nutrition.
Make a vegan "salmon" scramble using tofu for eggs and carrot "smoked salmon".
For an even more decadent scramble, add shredded cheese.
Add some spice with red pepper flakes.
Whatever your preferences, you're sure to find a variation of this smoked salmon scramble that you love.
FAQs
Q: Can I make this scrambled egg dish ahead of time?
A: Yes, this smoked salmon scramble can be made ahead of time and reheated when ready to serve. Just be sure to store it in an airtight container in the refrigerator until ready to use.
Q: Is this a healthy breakfast option?
A: Yes, this smoked salmon scramble is a great option for a healthy breakfast or brunch. Smoked salmon is packed with protein and healthy fats, and eggs are a great source of vitamins and minerals.
Q: If I want to make this for a brunch I'm hosting, how can I keep it at its best for guests to eat?
Because there are eggs involved, it is difficult to keep the scramble at its peak for very long. I'd suggest making everything else before making the egg dishes and leaving the scramble as the last thing to make and plate. Once it's garnished, the wow factor it will add to your brunch spread will be well worth any waiting your guests had to do.
---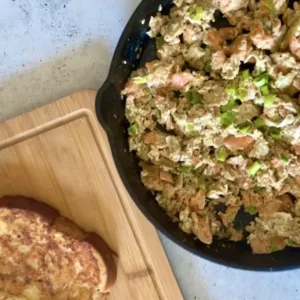 Creamy Smoked Salmon Scramble
Equipment
Whisk

Cutting board and knife

Nonstick pan

Rubber spatula
Ingredients
8

eggs

1

tablespoon

heavy cream

1

teaspoon

kosher salt

½

teaspoon

freshly ground pepper

2

tablespoons

unsalted butter

¼

lb.

sliced smoked salmon

(about 8 oz. roughly chopped)

4

oz.

cream cheese

cut into cubes with a wet knife (or 1/4 cup of sour cream)

2

tablespoons

chopped fresh chives or scallions

green onions

1-2

teaspoons

minced fresh dill

optional
Instructions
In a bowl, whisk together the eggs, cream, salt and pepper just until thoroughly blended. Beat until the whites and yolks are thoroughly combined.

In a nonstick pan over medium-low heat, melt the butter. Tilt the pan to cover the bottom evenly with the butter. Add the egg mixture and cook until the eggs begin to set, about 20 seconds. Stir with a heatproof (rubber) spatula, scraping up the eggs on the bottom and sides of the pan and folding them toward the center. Repeat until the eggs are barely cooked into moist curds. Add the smoked salmon and cream cheese and stir to distribute throughout the eggs.

Remove the pan from the heat and let the eggs stand in the pan to allow the residual heat to finish cooking them and warm the salmon and cream cheese, 1-2 more minutes.

In a small bowl, combine the chives and dill. Sprinkle over the scramble and serve immediately. Serves 4 to 6.
Notes
This can be made with only egg whites for a lighter scramble.
Cream cheese is optional and can be substituted by garnishing the scramble with sour cream or creme fraiche.
Add butter or cream to your scrambled eggs before cooking for a fluffier, more flavorful egg.
If using a pan that is NOT nonstick, make sure to use plenty of nonstick spray or oil to keep the eggs from sticking and burning onto the pan.
Smoked salmon can be substituted by smoked turkey, bacon bits, flaked trout, or ground Italian sausage.