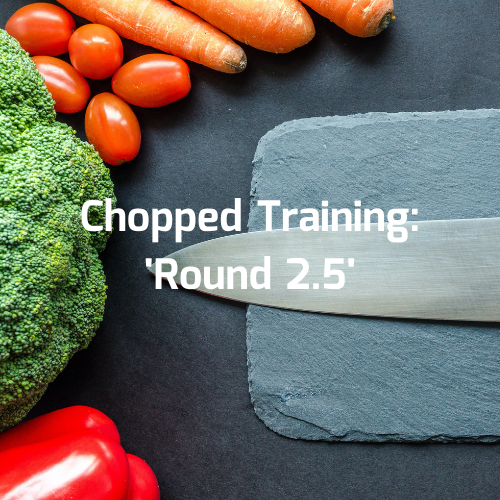 I had no idea that putting bananas in burgers would be the best decision I've made so far in 2020. Okay, that is a bit dramatic, but still. This mystery box challenge was surprising, enlightening and tasty. A win for sure.
Some background
I mentioned in my introduction to this Chopped training series that a part of my training involves creating hypothetical meals from hypothetical mystery baskets. I periodically use a list generator website to give me 4 random food items. From these lists, I write out quick preparation and plating ideas for meals that I could make from those ingredients.
Last weekend I figured I would make one of these baskets a reality. So I went through my notepad (where I first started keeping the lists) and my Asana (a tool that helps me keep my entire life together nowadays) looking for a dish that looked interesting…
Round two…and a half
I already had a taste for a burger, so when I saw a list of mystery basket ingredients including "beef", it was an easy choice. This wasn't a true round of Chopped training since I didn't have only 30-60 minutes to conceptualize, cook, and plate the dish; however, I only deviated slightly from my original plan (check the notes??) – thus this round being Chopped training round 2.5.
I had my friend Eddie come over to taste and judge the final product. Check out my YouTube channel for some (very random) live footage from the round.
Ingredients
Beef (I chose to use ground beef)
Bananas
Honeydew melon
Blue cheese
---
Why a burger?
Besides the fact that I already had a taste for a burger, blue cheese and beef just screamed "burger" to me. Also, using ground meat for a burger or a meatball is the best (easiest) way to incorporate unusual flavors, in my opinion. Also, burgers give you a great opportunity to showcase toppings and other elements of the dish. Cooking a burger is pretty simple, so making something that stands out was a challenge that I welcomed.
---
Bringing everything together
The burgers
Since bananas are super sweet, I knew I wanted some spice to counteract all the sugar. I picked up jalapenos to dice and add to the burger along with my standard diced onion, garlic, salt, pepper, etc. Along with the jalapeno, I added red pepper flakes for more heat. The fat content of the beef was pretty high (30%) so I opted not to add an egg to this batch. For leaner ground beef selections, I add 1 egg per pound to keep the patties to keep from falling apart.
The salsa
I've had mango salsa a million times, so substituting honeydew melons in for mango seemed like the natural best idea for using the honeydew. Jalapenos were also used in the salsa to tie the burger and salsa together even further.
Blue cheese sauce
I love blue cheese because my dad loved blue cheese and I wanted to do everything like him apparently. I know a lot of people who don't care for it though, so I wanted to make a sauce from the blue cheese that cut the tart, slight-mold flavor and helped tie this element in with the others.
Yogurt is my go-to condiment enhancer nowadays, so I crushed up the blue cheese crumbles and mixed them in with greek yogurt and some lime juice.
*tasted it*
The extreme mold flavor had been toned down, but it was still missing something. I had plenty of acids already, and there was honey sitting right in front of me on the counter… so I just grabbed that and started squeezing. One day my impulsivity is going to get the best of me, but that day was NOT the day. The honey mellowed out the blue cheese in a way that I didn't expect at all. It was balanced and pretty darn tasty.
Other elements
I like my burgers to have vegetables on them. It just makes me feel better about eating a burger. Sauteed sweet yellow onions and bell peppers seemed like a great addition to this burger. They continue to add subtle sweet notes to a burger with plenty of jalapeno pepper, black pepper, and red pepper flakes.
Results
The burger was delicious. These aren't just my words. Eddie doesn't even like bananas or blue cheese, and his burger was gone before I could really have a seat at the table! I made these burgers with regular hamburger buns, but I am very interested in developing this recipe a bit more and using more obvious spice elements and a different bread, like Hawaiian sweet rolls or a brioche bun.