Get the same fluffy, tender, melt-in-your-mouth deliciousness that our buttermilk biscuits offer except without any dairy. The same pro tips apply when making vegan buttermilk biscuits as with any other biscuits. There are just a couple of elements – you guessed it, the vegan butter and the vegan buttermilk – that differ and deserve a little bit more discussion. So let's get into it!
Your grocery list
Produce
Baking & Pantry Items
All-purpose flour
Granulated sugar
Baking powder
Kosher salt
Coconut milk (if not using almond milk)
Dairy alternatives
Unsalted plant butter (here's our favorite brand right now)
Almond milk (if not using coconut milk)
Equipment/Tools You'll Need:
Cutting board and knife
Measuring cups/spoons
Food processor (or two forks to cut butter into the flour)
Mixing bowl
Biscuit scraper
Biscuit cutter
Baking sheet
How to make vegan buttermilk
It's super easy to make vegan buttermilk. Just combine non-dairy milk with either lemon juice or vinegar then let it sit for 10 to 15 minutes. Voila! Vegan buttermilk.
For every 1 cup of milk, add the juice of 1/2 lemon.
Tips for making great biscuits
(Yes, these are the exact same tips as we gave for our original buttermilk biscuits…because they always apply! We meant that.)
Use frozen butter and very cold buttermilk
The colder, the better when it comes to making biscuits. Keeping the dough (more specifically, the butter in the dough) cold allows it to release steam and aid in rising when the butter melts while the biscuits bake. If the butter melts prior to baking, the dough becomes a homogenous mixture and bakes into a dense biscuit instead of one that is light and fluffy. Some people even put their mixing bowl, whisk, and any other tools in the freezer for 10 minutes prior to prepping the dough. After mixing the non-dairy milk and lemon (or vinegar) together, place it back in the fridge to keep that as cold as possible, too.
Use high-quality ingredients
Because there are only 7 ingredients in this recipe, you want to make sure the quality is as high as you can afford. You will taste the difference in the butter or in the honey if you choose to use that as a sweetener instead of sugar.
Avoid over-mixing/kneading the dough
Anytime dough is handled, gluten is formed in the dough. Some gluten is good and helps creature the structure that is needed for most baked goods. However, over-mixing and kneading the biscuit dough will cause them to become tough instead of melting in your mouth.
Make the most of the first roll-out
Every time you roll out a new batch of biscuits from the leftover scraps, the texture of the final biscuit changes. This happens because the flour needed to keep them from sticking to the counter will inevitably mix into the new batch of biscuits and affect their texture. The difference may not be drastic, but there will be a difference. When cutting biscuits, leave little to no space between biscuits. You could also make square biscuits to eliminate even more potential for leftover scraps. As a matter of fact, that's one major reason why our Biscuit Club biscuits are square.
Check out this post for more pro tips for making great biscuits.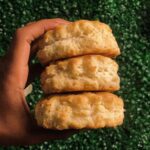 Print
Vegan Buttermilk Biscuits (from scratch)
The same fluffy biscuits without the dairy products.
Ingredients
2½

cups

all purpose flour

2

Tablespoons

baking powder

1

Tablespoon

granulated sugar or honey

1

tsp

kosher salt

½

cup

frozen plant butter

4 oz/117 g

1

cup

cold almond or coconut milk

1

Tablespoon

lemon juice
Instructions
Preheat the oven to 430º F. Combine coconut or almond milk with lemon juice and let it sit in the fridge for 10 to 15 minutes.

Use a sift or whisk to thoroughly combine flour, baking powder, sugar, and salt in a mixing bowl.

Add flour and diced plant butter to a food processor or use two forks to cut butter into the flour until the mixture resembles small pebbles.

Add the very cold buttermilk to the flour and butter mixture and gently combine into a scraggly dough. Empty the dough onto a clean, lightly floured surface and gently (but quickly) pat it into a rectangle (3/4 to 1 inch thick).
To make square biscuits
Use a knife or cake decorating spatula to remove a thin slice from the edges of your rectangle of dough. Cut the rectangle in half lengthwise. Then cut the biscuits to your desired size. They will rise, but the size won't change much in the oven.
To make round biscuits
Use a biscuit or cookie cutter to make uniform round biscuits.
Baking the biscuits
Line biscuits onto a baking sheet approximately 1/2 " apart. Bake for 20-22 minutes, depending on the size of the biscuits and your preferences.
Notes
If using honey instead of sugar, mix honey into the buttermilk before adding it to the flour mix.