Baked salmon is a versatile and nutritious dish that is both delicious and easy to prepare. Whether you're cooking for a special occasion or a simple weeknight dinner, it's worth it to know how to whip up a quick salmon dish and this recipe will guide you through the process of selecting the best salmon, preparing it, and adding flavorful seasonings to create a mouthwatering meal.
Your grocery list
Seafood
Whole side of salmon or 4-6 salmon fillets (skin on)
Pantry Items
Olive, canola, or avocado oil
Seasonings of your choice:

Salt
Pepper
Garlic powder
Onion powder
Creole seasoning
Old Bay seasoning
Produce
Equipment/tools you'll need
Baking sheet
Parchment paper or aluminum foil (optional)
Choosing the perfect salmon
Opt for fresh, wild-caught salmon if possible.
Look for salmon with firm flesh and a vibrant color, ranging from pink to orange.
If fresh salmon is not available, frozen salmon is a good alternative. Thaw it in the refrigerator overnight before using it.
Preparing baked salmon
1. Preheat your oven to 375°F (190°C) and line a baking sheet with parchment paper.
2. Rinse the salmon fillets under cold water and pat them dry with a paper towel.
3. Place the salmon fillets on the prepared baking sheet, skin-side down.
4. Drizzle oil over the salmon to keep it moist during cooking and enhance the flavors.
5. Season the salmon with salt and pepper, or experiment with herbs and spices like dill, garlic powder, or lemon zest for added flavor. Top with lemon slices (optional).
Baking the salmon
1. Bake the salmon in the preheated oven for about 13-15 minutes, depending on the thickness of the fillets. A whole side of salmon should be cooked for 20-25 minutes.
2. To ensure even cooking, check for doneness by inserting a fork into the thickest part of the salmon. It should easily flake apart.
3. If you prefer a crispier texture, broil the salmon for an additional 3-5 minutes.
Seasoning suggestions
Classic Lemon and Dill: Top the salmon with fresh lemon slices and sprinkle it with chopped dill before baking.
Garlic and Herb: Mix minced garlic, dried herbs (such as thyme, rosemary, and parsley), and a squeeze of lemon juice. Spread this mixture over the salmon before baking.
Asian-inspired Glaze: Combine soy sauce, honey, minced ginger, and minced garlic. Brush the glaze onto the salmon before baking for a sweet and savory twist.
Blackened/Cajun: Seasoned with a blend of spices such as:

paprika,

garlic powder,

onion powder,

cayenne pepper, thyme, oregano, salt, and pepper.
How to store salmon
Before cooking, store fresh salmon in the refrigerator at or below 40°F (4°C) and use it within two days.
Cooked salmon can be stored in an airtight container in the refrigerator for up to three days.
To freeze cooked salmon, wrap it tightly in plastic wrap or place it in freezer bags. It can be stored for up to three months. Thaw it in the refrigerator overnight before reheating or consuming.
---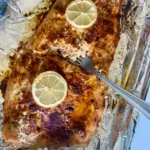 Print
Baked Salmon
This baked salmon recipe is a quick and easy way to prepare a delicious and healthy meal. With just a few simple ingredients like salmon fillets, olive oil, lemon juice, and seasonings, you can create a flavorful dish that will impress your family and friends.
Equipment
Baking sheet

Aluminum foil or Parchment paper

Optional
Ingredients
4-6

fillets or a whole side of salmon

Olive oil

Lemon

Salt

Black pepper

Garlic powder

Smoked paprika

Old Bay seasoning
Instructions
Preheat the oven to 375°F (190°C). Place the salmon fillets on a baking sheet lined with foil or parchment paper.

Drizzle olive oil over the salmon. Season with salt, black pepper, garlic powder, and dried dill.

Gently rub the seasonings onto the salmon to ensure even coating.

Bake the salmon in the preheated oven for about 20-25 minutes, or until it flakes easily with a fork.

Broil for 3-5 minutes for some extra crisp.

Remove from the oven and let it rest for a few minutes before serving.
Notes
If you are using individual portions of salmon instead of an entire side like in the recipes, reduce the amount of time the salmon bakes to 13-15 minutes - depending on thickness of the fillets.