With a gooey, warm, cinnamon-laced apple filling and a perfectly crunchy, crumbly topping, this cinnamon apple crumble recipe is an absolute crowd-pleaser. This recipe is prepared in individual ceramic ramekins instead of a single casserole dish because I just love ramekins, but feel free to throw all of the ingredients into one single pan for holiday parties, family dinners, and other group-sharing situations.
Your grocery list
Produce
Apples (Gala, Pink Lady, and Granny Smith apples are my favorites to use)
Lemon
Baking & Pantry Items
All-purpose flour
White sugar
Brown sugar (light or dark will work)
Ground cinnamon
Ground nutmeg
Dairy
Equipment you'll need
Knife and cutting board
Measuring cups/spoons
Mixing bowls
Wooden spoon or rubber spatula
6-8 oz. ramekins or a 9×9″ roasting/casserole pan
How to make the apple filling
To make an apple filling for apple crumbles, you will need the following ingredients: 4-5 apples, 1/4 cup of white sugar, 1/4 cup of brown sugar, the juice of half a lemon, 1 teaspoon of cinnamon, 1 tablespoon of flour, and 2 tablespoons of butter.
Begin by peeling and chopping the apples into small pieces. Place the chopped apples into a medium-sized bowl. Add the sugars, lemon juice, cinnamon, and flour, and mix until everything is combined.
Some will say the apples should be cooked down before baking, but I find that to be an extra and unnecessary step. The ingredients will bake more than enough in the 35-40 minutes they're in the oven.
Transfer the filling to a baking dish or 4 ramekin dishes, and prepare the crumble topping before baking.
How to make the crumble topping
To make a buttery crumble topping for an apple crumble, you need the following ingredients: 1 cup of all-purpose flour, 1/2 cup of cold butter, 1/4 cup of sugar, and 1 teaspoon of ground cinnamon.
In a medium bowl, combine the flour, butter, sugar, and cinnamon until the mixture resembles coarse crumbs.
Spread the crumble topping over the top of the apple filling in the baking dish or ramekin dish. Bake the apple crumble at 350°F for about 35 minutes, or until the top is golden brown.
Allow the apple crumble to cool before serving. Enjoy!
Can I use the same apple filling for a pie instead?
A quick answer is YES! The flavors and desired textures for both apple dishes are similar. The only difference is how the apples are usually cut. 
For an apple pie, thinly sliced apples are usually preferred because they make for a more uniform slice.
For a crumble, the fruit can be diced into more rustic cubes since the crumble/cobbler will likely be spooned out and it's less important how nice and neat the apples appear.
What other fruits and flavors can be substituted for apple and cinnamon?
There are many flavor combinations that make for a delicious crumble dessert. You can try combining fruits such as strawberries, blackberries, raspberries, peaches, and blueberries with spices like cinnamon, nutmeg, ground ginger, and allspice. You can also try combining bananas and walnuts with brown sugar and a hint of vanilla extract.
Additionally, try combining apple slices with orange zest, dried cranberries, and chopped hazelnuts or topping the crumble with ice cream or fresh mint. These flavor combinations will create a delicious and unique crumble dessert that your friends and family will love.
How to serve cinnamon apple crumbles
Top them with a scoop of vanilla ice cream and a drizzle of salted caramel sauce.
Top your crumbles with a dollop of whipped cream and a sprinkle of cinnamon.
Serve your apple crumbles with a side of warm custard or a scoop of Greek yogurt.
---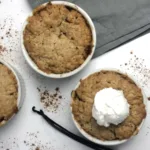 Print
Apple Crumble
Equipment
Knife and cutting board

Measuring cups/spoons

Mixing bowls

Wooden spoon or rubber spatula

6-8 oz. ramekins or a 9x9" roasting/casserole pan
Ingredients
Apple Filling
4-5

apples

gala, pink lady or granny smith apples are my favorites to use

1/4

cup

white sugar

1/4

cup

brown sugar

Juice of half a lemon

1/4

cup

all-purpose flour

1

teaspoon

cinnamon

1/4

teaspoons

nutmeg

2

tablespoons

unsalted butter

diced
Crumble Topping
1

cup

all-purpose flour

1/2

cup

cold unsalted butter

1/4

cup

sugar

1

teaspoon

ground cinnamon
Instructions
Preheat oven to 350°F. In a large bowl, mix together diced apples, sugar, flour, lemon juice, flour, cinnamon, and nutmeg until the apples are evenly coated. Pour the apples into a 9-inch square baking dish (or individual ramekins). Top with diced pieces of butter

In a small bowl, mix together the flour, butter until they resemble a coarse crumb. Sprinkle the crumble mixture over the top of the apples.

Bake the apple crumble for 30 to 35 minutes, or until the topping is golden brown and the apples are tender. Serve warm with a scoop of vanilla ice cream or a dollop of whipped cream.
My name is Lena aka The Biscuit Lady, and my favorite part about cooking, baking, and experimenting with food is realizing that something isn't as hard as I previously thought. It's the learning, growth, and immense pride that come with developing new, delicious skills.
My style of cooking combines familiar flavors and ingredients with techniques I've picked up from traveling, reading, and eating all kinds of cuisines. I believe that food is one of those things (like music) that truly moves and connects us and this blog is my way of introducing that concept, plus a few others relating to food and community to anyone who's interested.
Besides being in the kitchen, I enjoy visual art, photography and documentaries, forests, rivers & beaches, Jeopardy! (RIP Alex Trebek), and playing made-up games with my nephews.