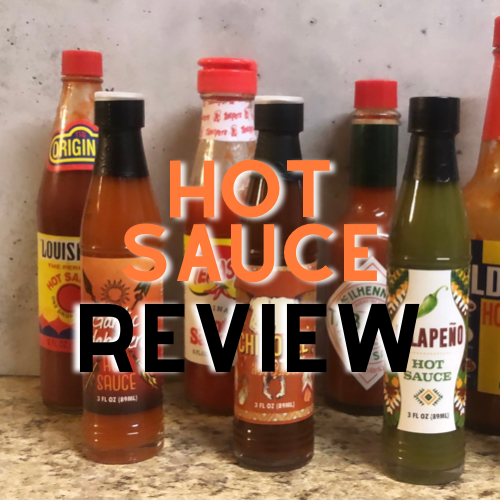 This post is in no official way affiliated with the popular hot sauce-tasting interview show/series Hot Ones via First We Feast's YouTube channel.
Fried chicken and hot sauce go together like peanut butter and jelly. Sure, you an enjoy chicken without hot sauce, but if you can take the heat, why not launch your fried chicken experience into the stratosphere?
There are thousands of hot sauces in existence with various flavor profiles and heat levels. I just wanted to take some time to eat some chicken and try out all of the new hot sauces I have in my pantry.
Keep reading to learn about:
Hot sauce history
Reactions to each featured sauce
Which hot sauces were winners
History of hot sauce
Chili peppers are believed to be among the earliest plants cultivated by humans. Their use goes all the way back to the beginning of civilization.
Archeological digs have found evidence of chili peppers being eaten as far back as 7,000 BC. Several millennia later, chili peppers would be domesticated. It was around this time that the earliest hot sauces were invented. Humans have a long history of using them as condiments to enhance the flavor and nutritional value of foods.
Early hot sauces would have been consumed on early versions of the corn tortilla. They consisted of the peppers along with water and perhaps herbs. In short, the Aztecs are who invented hot sauce.
Colonialism and commerce spread the use of hot sauce world wide and the industrial revolution expanded the market so several brands could try their hand at mass producing their own hot sauce recipes. Some of which, Tabasco and Crystal, still exist today.
Featured hot sauces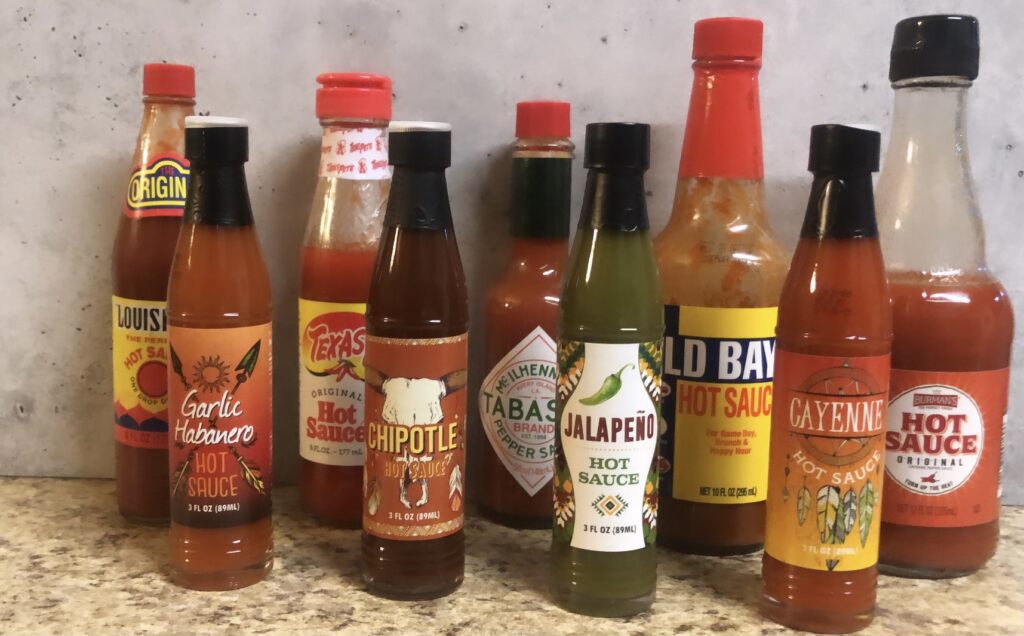 Texas Pete – 750 SHU – Thin, almost see through – Spice lingers longer than chile and vinegar flavor

Louisiana Hot Sauce – 800 SHU – Chiles, herbs, and citrus notes throughout – Flavor lingers longer than spice

Old Bay – 700 SHU* – just Old Bay in sauce form – perfect for seafood

Tabasco -2,000 SHU – similar consistency to Texas Pete – flavor contains some of the same herby flavors as the Louisiana hot sauce – spice lingers long after the flavor

Garlic Habanero – 750 SHU* – tastes like the garlic was a bit too browned before adding to the sauce. It's really pungent and the chiles are an afterthought – not my favorite, but could be useful in very deliberate applications like as a skirt steak marinade

Burman's – 450 SHU – very similar to another popular hot sauce, Frank's – on the thicker side of hot sauces – spice lingers longer than flavor

Chipotle Hot Sauce – 750 SHU* – a delicious blend of bbq sauce and hot sauce – deep, peppery flavor that lingers after spice

Jalapeño Hot Sauce – 700 SHU* – thin – tastes like jalapeños were blended down with vinegar – straight to the point

Cayenne Hot Sauce – 700 SHU* – similar to Texas Pete, Louisiana and Tabasco – chiles and vinegar base with not much else added
SHU = Scoville Heat Units – a measurement of the number of times capsaicin needs to be diluted by sugar-water. The number of Scoville Heat Units in a pepper or even hot sauce indicates the amount of capsaicin present. The higher the Scoville rating, the hotter the pepper.
*These sauces did not have specified SHU listed so these levels have been estimated by comparing their spice levels to the ones that did have exactly SHU measurements.
Results
Hot sauces were tasted and judged with the following criteria in mind:
Spice level – how hot was it?
Flavor – did it taste like anything or was it just spice?
Consistency – was it thick or water?
Lingering Effect – did the spice or flavor linger longer?
And the stand out hot sauces were…
Spiciest (out of this selection)
Tabasco. This was one of the first hot sauces invented and mass produced in America in the mid-1800's and it still has plenty of kick.
Most Unique/Surprising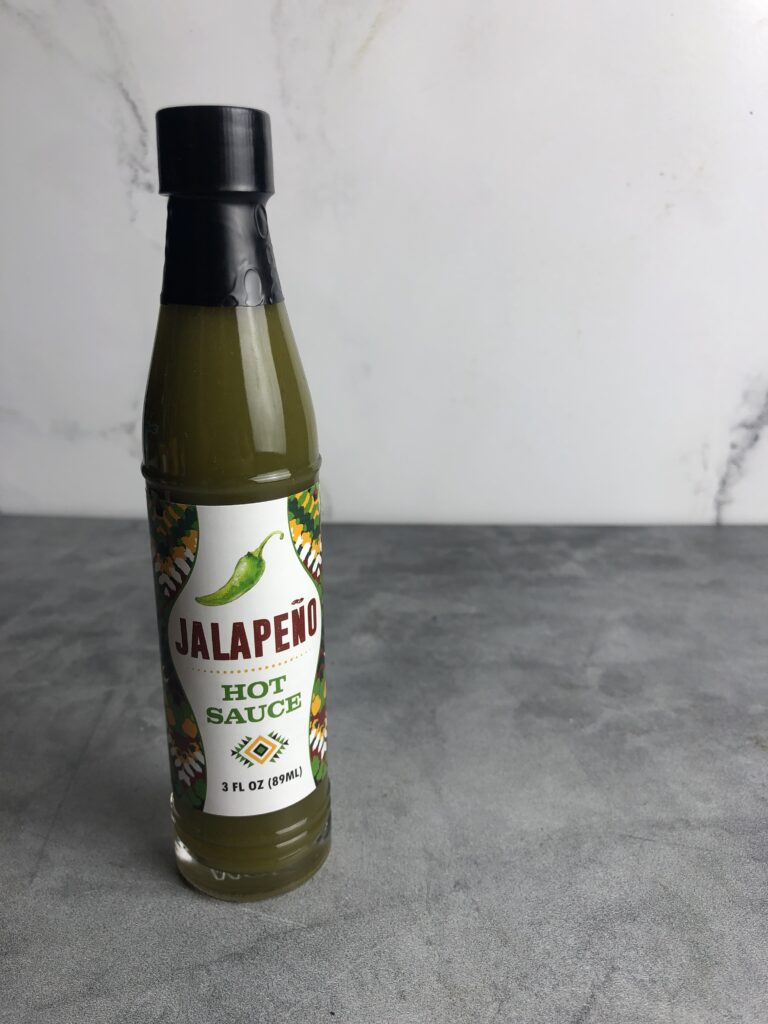 Jalapeño. It literally tasted drops of fresh jalapeño! It would be great anywhere a sliced jalapeño garnish is used – tacos, chili, salads, nachos, etc.
Best All Around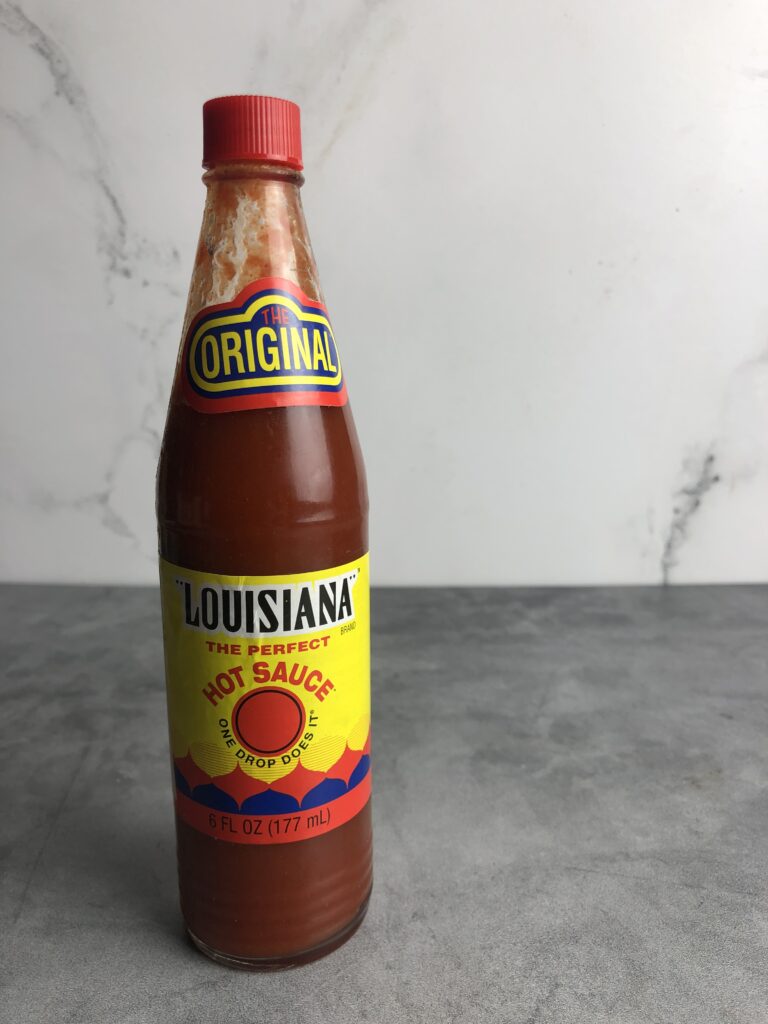 Louisiana. The perfect blend of a straight-chiles-and-vinegar sauce and one with herbs, spices, and sugar. The flavor lingers longer than the medium spice. There's even something bright and citrus-y about the aftertaste. Great on chicken, tacos, chili, eggs, and pretty much anything that needs some spice.
---
This Desert Heat collection was purchased from Aldi, but it is a seasonal item so it may be available for purchase online from the vendors.